Netherlands
▶ Investigations into police violence in Antwerp and Brussels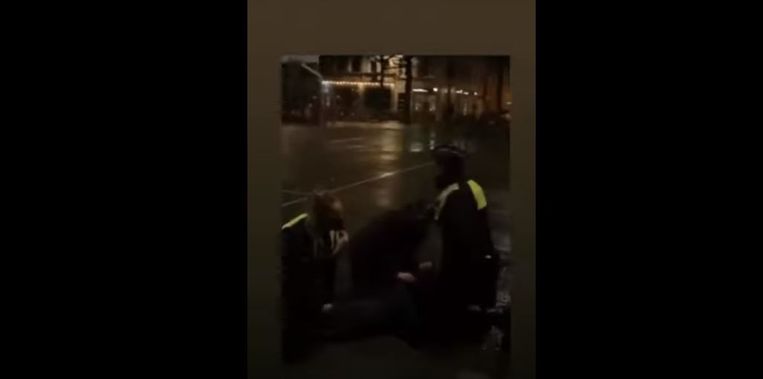 "One of those cops came up to Adam, first gave me a hard push on my chest and I fell backwards. I came back straight, I wanted to see how Adam was doing and then I was hit hard in the face by a cop. "
That is what Kagiso, a 16-year-old boy, explains to the Internal Supervision Service of the Antwerp police. The boy speaks about facts that happened in December at the Antwerp Dageraadplaats. The Antwerp public prosecutor's office has now started an investigation into the crackdown by the police against Kagiso and his friend Adam.
Read more below the video.
Also read: Public Prosecutor's Office investigates police violence in Antwerp. Young people testify: 'Yes, at the time I thought he was dead'
The public prosecutor's office has also started an investigation into alleged police brutality in Brussels. The owner of the restaurant Le Prince in Saint-Gilles got a knee punch from a police officer last year. Police violence – and more specifically these two issues – was also discussed in the vrt program on Wednesday evening Pano. Especially since the death of George Floyd, such cases have regularly surfaced in the media.
"The attention that has been paid to the Black Lives Matter protests has also left its mark on Europe," says criminologist Christophe Vandeviver (UGent). "But at the level of the public prosecutors, police violence has always been given a lot of priority. That is also necessary. The police have a monopoly on violence in our society. If police officers use force when it is not proportional or necessary, it undermines the legitimacy of the rule of law. "
Has anything changed within the police as a result of the recent attention to the theme? Police union ACOD, for example, turned against the crackdown on federal agents during a rally against class justice on January 24 in Brussels. But according to criminologists, it is difficult to say whether there is a cultural change.
Numbers
Jelle Janssens, criminologist at Ghent University, thinks that all that attention can also have negative consequences. If society has a bad image of the police, it has an effect on the behavior of police officers. Scientific research has already shown this. "If officers feel that they are also not receiving support from their superiors, they are more likely to turn a blind eye and not intervene," says Janssens. "But it also works the other way around. If cowboys use excessive violence, the higher levels would rather cover it up. "
According to criminologists, Belgium still lacks real transparency. Committee P keeps track of complaints about the police, but those figures are not unambiguous. An increase in the number of complaints about aggression between 2018 and 2019 could also be due to a different subdivision of the complaints, Committee P stated at the time. "Problematic", says Janssens.
"If I could make a recommendation, it would be to provide better figures," says VUB criminologist Sofie De Kimpe. "The figures are now spread over Committee P and the public prosecutors. That is also disadvantageous for the police. With good grades, they would be better able to defend themselves against allegations of increased police brutality. Now we just don't know. "
▶ Investigations into police violence in Antwerp and Brussels
Source link ▶ Investigations into police violence in Antwerp and Brussels