Education
15th Krajicek Playground in Utrecht opened, children play outside for free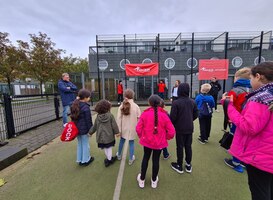 With the arrival of the Playground, the municipality wants to give an extra impulse to neighborhood involvement. In addition to the professional guidance by SportUtrecht, DOCK and JoU, the Krajicek Foundation motivates young people from the neighborhood to organize sports and games themselves.
Krajicek Scholarshippers
In return, Krajicek Scholarshippers, as these young people are called, receive a scholarship and participate in the Krajicek Academy in which they can further develop their social talents. Three Scholarshippers will start at Playground De Weide Wereld in the coming academic year.
Urban Mix
The opening of the Playground was part of the Urban Mix activities. Throughout the afternoon, children could participate for free in various sports and cultural activities, such as bubble football and basketball, but also hip-hop dance, graffiti spraying and a real DJ workshop.
Despite the autumnal weather, the afternoon was a great success and a welcome distraction from the holiday. The Urban Mix was made possible by the neighborhood partners in Vleuterweide: the Brede School Vleuterweide, the DOCK foundation, SportUtrecht, the JoU foundation, SUB, Cultuur19, Klub19 and DURF.
Krajicek Playground
De Weide Wereld is already the eighth Krajicek Playground in Utrecht. The municipality of Utrecht and the Krajicek Foundation have had a sporting and social partnership for over 15 years.
Also Prof. dr. Paul Verweel of the University of Utrecht (USBO) has played an important role in the development of the foundation. From 2007 to 2012, he researched the significance of Krajicek Scholarshippers for the neighbourhood. His conclusion: "Krajicek Scholarshippers are gold for the district."
Free outdoor sports
There are currently 10 Scholarshippers active who together ensure that many Utrecht children can exercise and play outside for free every week.
By: National Education Guide
Image: Krajicek Foundation
15th Krajicek Playground in Utrecht opened, children play outside for free
Source link 15th Krajicek Playground in Utrecht opened, children play outside for free