Education
2000 knives and other weapons surrendered during 'drop your knife' action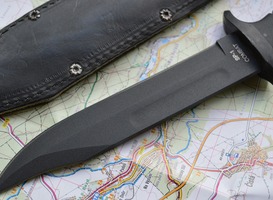 Last week, 3300 weapons were handed in during the national surrender campaign. Among other things, machetes, butterfly knives and stilettos, but also kitchen knives and homemade stabbing weapons disappeared in the appropriate barrels at police stations throughout the country. Between 11 and 17 October, people could hand in their stabbing, striking and thrusting weapons anonymously and without penalty in 218 municipalities. The campaign was mainly aimed at young people. In some of the municipalities it was also possible to make an appointment to hand in firearms, ammunition and explosives. This is reported by the Ministry of Justice and Security.
The total of 3300 weapons handed in concerned more than 2000 knives, 200 other stabbing weapons, almost 500 firearms and 600 other weapons. In addition, large quantities of ammunition were handed in. This is evident from the provisional count. Any weapon that has been surrendered can no longer be used in street violence.
'Drop your knife'
In addition to reducing gun ownership in society, the aim of the surrender action is also to make it clear to young people that carrying a gun is not normal and very dangerous. The Ministry of Justice and Security started the campaign on 13 September 'drop your knife', which is aimed at young people who take to the streets with a knife.
Weapons and Youth Action Plan
The number of young people aged 12 to 17 who are suspected of fatal and serious violent crimes and attempts to do so has risen sharply in recent years. That is why ministers Grapperhaus (Minister of Justice and Security) and Dekker (Minister for Legal Protection) launched the Weapons and Youth action plan last November. The aim of the action plan is to reduce the possession and use of weapons among young people through the use of preventive, proactive and repressive measures. The action plan has been drawn up in consultation with the Ministry of Education, Culture and Science (OCW), the police, the Public Prosecution Service, Halt, youth probation services, the Child Protection Board, CCV, VNG and fifteen municipalities with urgent weapons problems.
By: National Education Guide
2000 knives and other weapons surrendered during 'drop your knife' action
Source link 2000 knives and other weapons surrendered during 'drop your knife' action