Entertainment
5 very strong films and series that appeared in week 29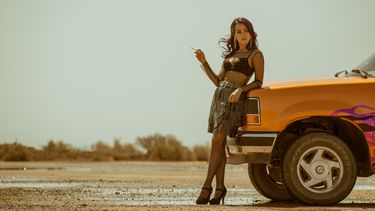 Also in week 29 of 2021, the necessary new films and series have appeared on Netflix. For example, since this week you can watch a bizarre dating show, the second season of The Movies That Made Us and more.
This week, a number of beautiful new titles have been added to Netflix. For example, the streaming service comes with the most bizarre dating show ever and we are presented with a delicious portion of movie nostalgia. Furthermore, the Tarantino-esque series Sky Rojo got a second season, we go back to the Chernobyl nuclear disaster and become in worden The Last Letter From Your Lover overloaded with romance.
New on Netflix in week 29
1. Sexy Beasts (season 1)
reality series
Genre: dating
Dating shows come in all shapes and sizes these days. Coming up with something new to stand out is quite a challenge, but Netflix succeeds with flying colors. Sexy Beasts is without a doubt the most bizarre dating show of the moment. The participants are transformed into monsters by make-up artists. As a result, they have no idea what their date looks like. The result is a very interesting social experiment full of bizarre scenes. You've never seen a dating show like this.
2. Sky Rojo (season 2)
Series
Genre: Drama / Action
The creator of La Casa de Papel has made another series worth checking out. Especially if you are a fan of Quentin Tarantino's work. Sky Rojo could have come straight out of the top hat of that legendary director. In this Spanish-language Netflix Original we follow three women who are on the run. They are being chased by their employer. The three women have caused quite a few problems in the brothel where they worked. We saw what happened in season one and now the frenzied manhunt continues. Pulp as pulp is meant to be.
3. The Movies That Made Us (season 2)
Series
Genre: documentary
There are movies that you will never forget and watch endlessly. True cult classics that have become part of your childhood. Netflix has put those films in the spotlight with the docuseries The Movies That Made Us. In it, the actors, directors and insiders go back in time to look back at their blockbusters from the past. In the second season they are Jurassic Park, Back to the Future, Pretty Woman and Forrest Gump.
4. Chernobyl 1986
Movie
Genre: drama
On April 26, 1986, the worst nuclear disaster ever occurred. A mistake caused one of the reactors at the Chernobyl nuclear power plant to explode. A disaster that killed many thousands of people. In the Netflix movie Chernobyl 1986 Let's go back to when everything went wrong. Here we follow a firefighter who is called in to prevent worse. Together with an engineer and military diver, he embarks on the most dangerous mission of his life.
5. The Last Letter From Your Lover
Movie
Genre: romance
Ellie is a young journalist from London. While researching for a new article, she discovers a series of love letters from 1965. They tell her the story of Jennifer Stirling and Anthony O'Hare. Ellie is captivated by the romance and wants to find out what happened to them. She investigates and delves into the mystery of a secret affair. A romantic quest ensues that also leads Ellie to new love.
Last week on Netflix
Check out the five new series and movies on Netflix that we highlighted last week.
Seen a mistake? Mail us. We are grateful to you.


5 very strong films and series that appeared in week 29
Source link 5 very strong films and series that appeared in week 29