Netherlands
A natural leader: Simon Kjaer, the Danish captain who saved the life of his friend Christian Eriksen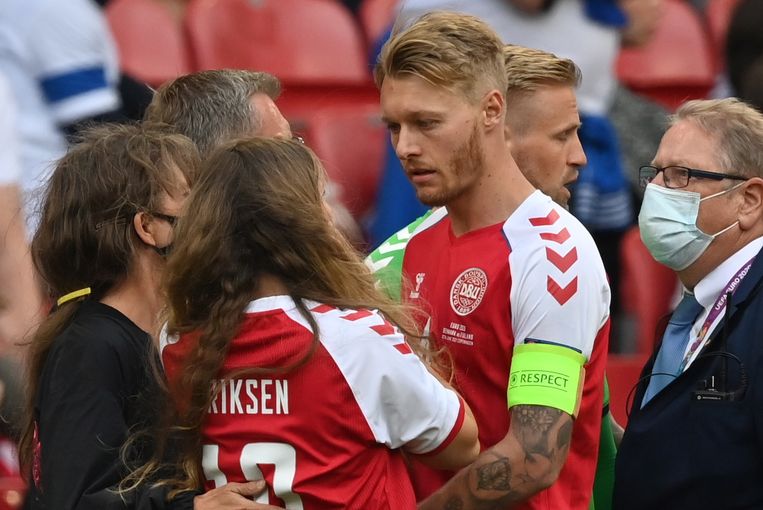 Emotionally, Kjaer (32) couldn't take it anymore. After the calm and the compliments came the knock.
Fifteen minutes after the restart of Denmark-Finland, the captain of the Danes asked for his replacement. "He was deeply, deeply affected by it," said national coach Kasper Hjulmand. "He thought he could continue playing. He tried, but he just couldn't go on."
The people. He had held on long enough. In the panic after Eriksen collapsed, he showed great leadership. Lucidity, serenity and empathy. He had the good reflex to free Eriksen's tongue. It was he who urged his teammates to build a wall around his unfortunate teammate—the human shield against snoopers. And it was he who flew comforting into Mrs. Eriksen's arms when she came to ascertain her husband's condition. Human actions with which Kjaer already took a shot at the title of 'Player of the Tournament'.
The friend in need Eriksen could count on.
Christian Eriksen and Simon Kjaer, you should know, are quite close. A bond that has been strengthened even more since they played together in the same city. One at FC Internazionale in Milan, the other at city rival AC Milan. Compatriots look for each other.
Kjaer took care of Eriksen during the first lockdown in 2020. Eriksen was new in Italy. He had not yet found a home for his family and was forced to stay at the Inter training complex after the hotels closed. There were many phone calls back and forth. To talk about anything and everything. Kjaer was Eriksen's helpline. Even more than his teammates at Inter.
"Simon Kjaer helped me a lot," Eriksen said earlier this year. "He plays for the wrong team, but luckily we are in the same city. I know Kjaer very well. On and off the field. Our families are very close. We have a lot of fun together."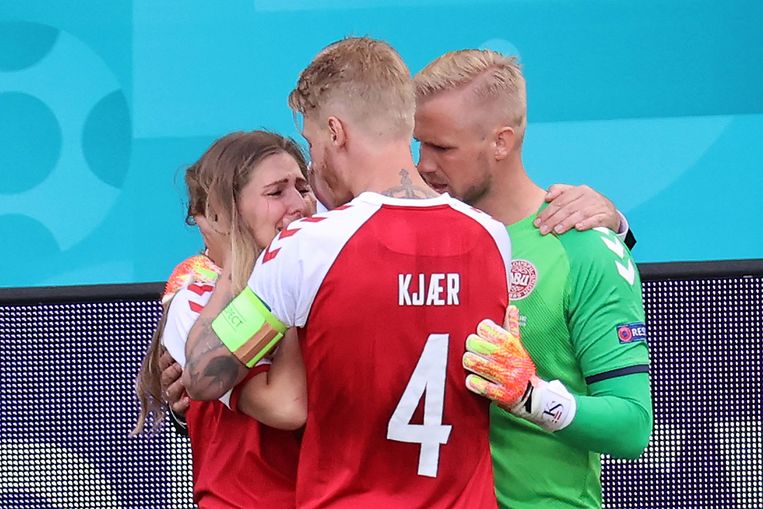 It puts the hug for Sabrina Kvist Jensen even more into context. Mrs Eriksen's fear of losing her husband. A captain's fear of losing a friend. They found support in each other during a difficult moment.
Natural Leader

The tough defender of AC Milan is known in his own country as not a man of big words. A reserved personality: he still doesn't like to talk about himself. His name is a family man who prefers home life, with second wife Elina and the two sons, to restaurant outings with teammates. A film freak and emotional person.
See also the answer to the question why it clicks so well between him and Stefano Pioli, the AC Milan coach: "On the first day he asked me a few simple questions: 'How are you?', 'How are you? with your family?'" It was the last one that stuck. "But it also went further than that: he asked me for advice. How about the defense? How did he get the best out of me on the pitch? I need the feeling that people trust you."
Kjaer is a globetrotter. At the age of eighteen, in 2008, he left his parents in Horsens, Denmark, for an adventure in Italy. Youth club FC Midtjylland, where his dad is team manager, he exchanged for Palermo. The club won him over with a villa with a swimming pool. Twelve years later, after wandering around Wolfsburg (Germany), AS Roma, Lille (France), Fenerbahce (Turkey), Sevilla (Spain) and Atalanta (Italy) in January 2020, he ended up in Milan. As a child, he only dreamed of one thing: to shine in the national team shirt, to listen to the national anthem. Kjaer: "Nothing feels better than representing your country." He mirrored himself to John Terry, because of his presence, and to Paulo Maldini, now his technical director at Milan.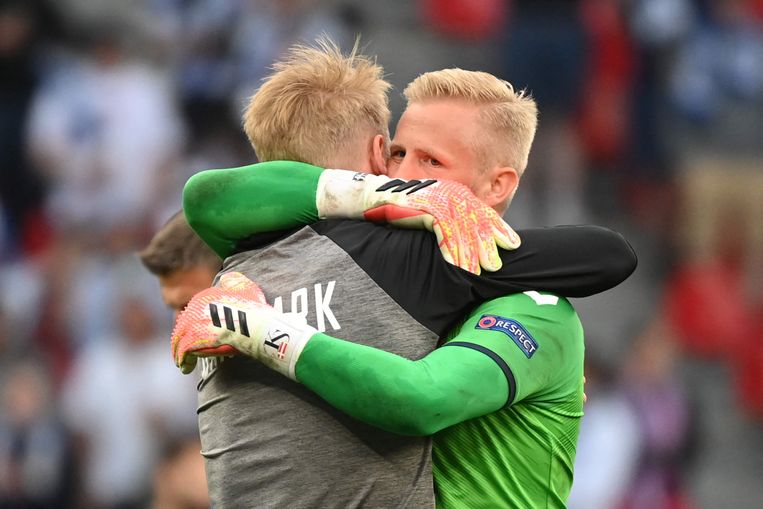 They also know the Kjaer they saw in Copenhagen on Saturday. Together with Zlatan Ibrahimovic, he is the natural leader. A taciturn boss who 'leads by example'. He leads by leading by example. "You become a leader with achievements," he says. "On, but also off the field. For example, by going to the gym every day. By showing the right mindset. Milan got me as leader, but for me it was simple. I also wore the band in Denmark. They also consider me a natural leader there. I have always been serious about my job. I want to reflect that on the others."
He tries to inspire at press conferences. At the beginning of October, just before Eriksen's hundredth cap, he spoke nothing but praise for his friend.
"I hope that one day he can become a record international. He must stay hungry. When we reached the 75 cap mark together, I think I told him that I'll be able to tell my kids later that I once played with Christian Eriksen. The way he sees the game is not for everyone. Even after so many years he still amazes me. He doesn't do ordinary things. He's just a good, humble guy."
Eriksen possibly owes part of his life to this friend.
A natural leader: Simon Kjaer, the Danish captain who saved the life of his friend Christian Eriksen
Source link A natural leader: Simon Kjaer, the Danish captain who saved the life of his friend Christian Eriksen