Education
Allowance parents in contact with youth protection? Inspection finds out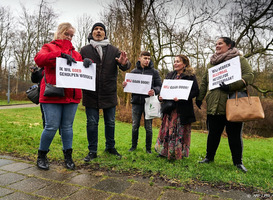 The investigation was launched after it emerged that 1115 children of victims of the allowance affair were placed with a foster family or in an institution between 2015 and 2020. Opposition parties had previously requested an independent investigation into the evictions, an initiative of MP Pieter Omtzigt.
No separate committee
But the outgoing cabinet does not feel like setting up a separate committee to look into the matter. That takes a long time, while "the inspectorates have the necessary powers, expertise, independence and possibilities to thoroughly investigate the functioning of the youth protection chain", writes Dekker. "This allows the inspectorates to quickly start their investigation." The results of this are expected at the end of next year. The independence of the investigation "is also guaranteed in the inspections", he says.
Fraud hunt
If it turns out that parents who were victims of the ruthless fraud hunt by the tax authorities indeed came into contact with youth protection relatively more often and subsequently received different treatment, the inspectorates will look at "how this could have happened". The cabinet recently acknowledged "that financial problems may have caused an accumulation of other problems for the family" that put them in earlier contact with authorities in the youth protection chain.
Plan of approach
The cabinet is currently consulting with stakeholders about "a joint approach" for victims of parents whose children have been removed from their homes. But there is "no fully worked out plan of action yet". Parents have asked that the plan not be published until there is actually a proposal. With the plan, Dekker wants in any case to acknowledge the suffering of the victims and to see whether reunification ("recovery of the family situation") is possible.
In addition, parents can decide for themselves whether they want help or not. "We do not want to offer help from the government where it is undesirable," says Dekker.
Self-reflection
The Child Protection Board has also said "it will reflect on their own actions" with families who were in financial difficulties due to the tax authorities.
By: ANP
Allowance parents in contact with youth protection? Inspection finds out
Source link Allowance parents in contact with youth protection? Inspection finds out