Entertainment
At the This Art Fair art fair, it is the artist's turn: to build yourself, present yourself, sell yourself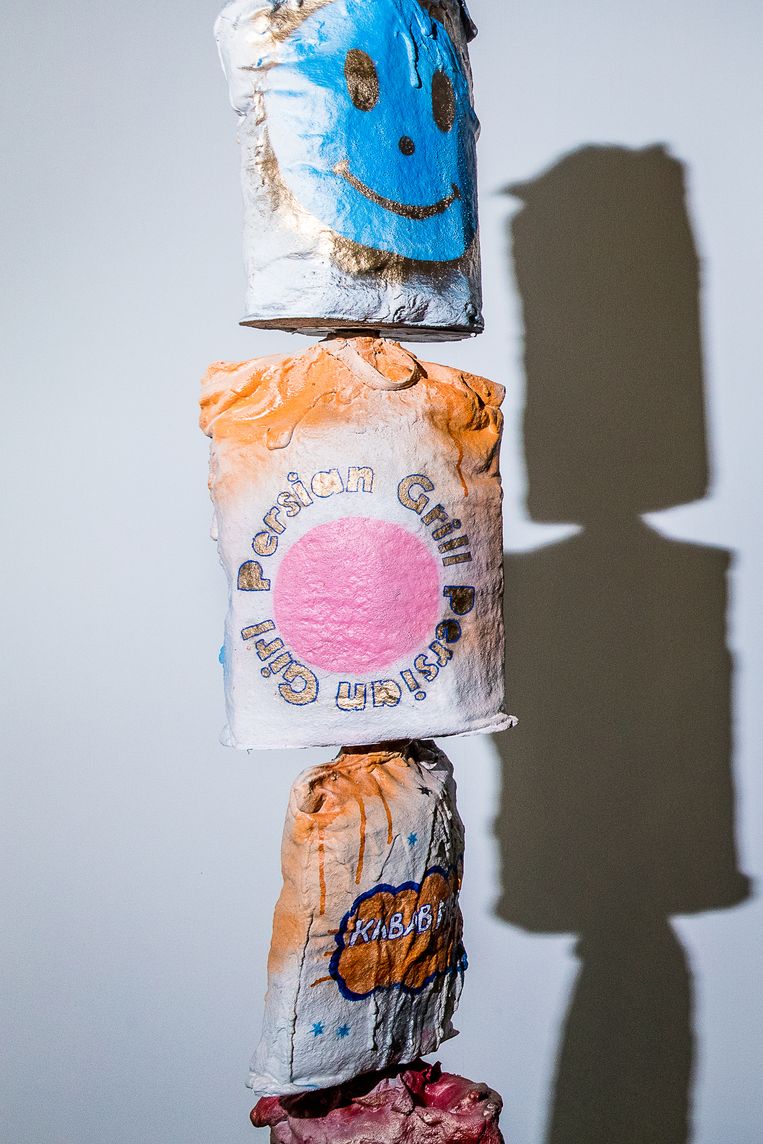 'Now all the walls are empty', says Mette Samkalden, 'but in a few hours it will be full of art. Building up is my favorite moment of the fair. In a short time the whole space is transformed.'
We walk through the Kromhouthal, an impressive former factory hall in Amsterdam. The preparations for This Art Fair, of which Samkalden is the director, are in full swing. Hand trucks fly back and forth, a piece of the wall is quickly painted frog green. These are not strange scenes during the construction of an art fair, but here the artists themselves are busy.
Up to and including 29 August, more than 120 artists will show their work at This Art Fair. Unlike many other art fairs, they do this without the intervention of a gallery. The artists rent a place here themselves. They stand next to their work to explain and sell it.
The art is incredibly diverse, from rough concrete sculptures to sleek pencil drawings and colorful tapestries. More famous names such as Bas Kosters and Oscar Peters stand next to very young talent. Sympathetic: in the run-up to the fair, This Art Fair offers participants workshops on presenting and praising work. Coaching programs are also available in collaboration with the LAM Museum in Lisse. De Volkskrant spoke to three participating artists.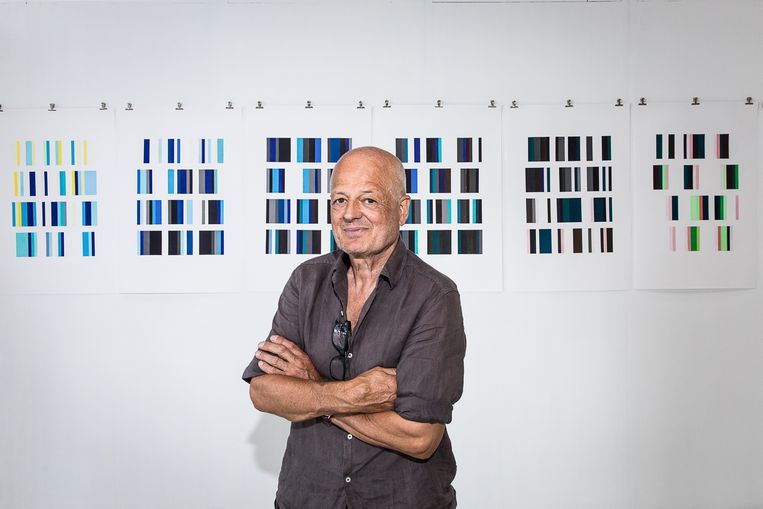 Henk Schut (64)

'Normally I make large installation artworks in which sound plays an important role, which of course does not fit at a busy fair.
'That's why I brought 52 collages with me. It is actually sheet music that will form the basis of a new sound artwork. I plan to give the sheets to different composers who can each give it their own interpretation. All those pieces of music later come together in a video installation. The collages are also for sale here at the fair, you buy a piece of the larger work of art.
'I participated once before and I especially remember the beautiful conversations with the audience. I spend a lot of time alone in my studio, sometimes collectors or curators come to visit, but of course not the general public. Here you come into contact with art lovers in an accessible way.'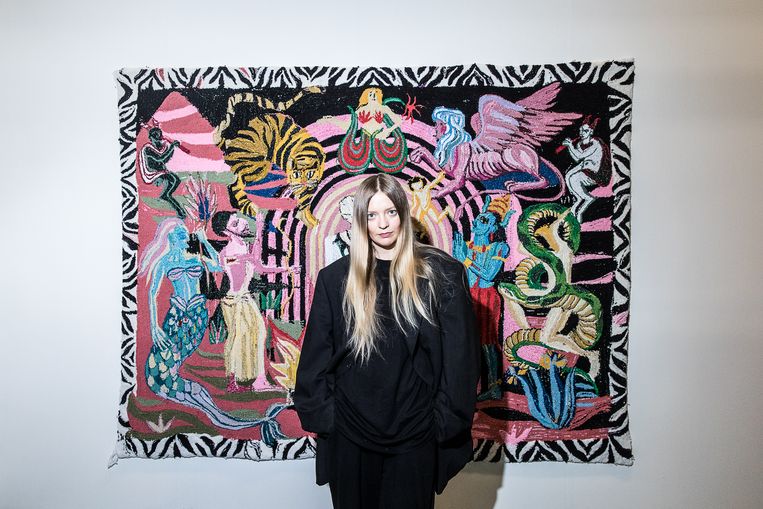 Julia Kiryanova (27)

"It's my first time participating. I am happy that there is finally an opportunity to show my work again. That is very welcome after the isolation and canceled exhibitions.
'I brought paintings and tapestries. Thanks to a grant from the Mondriaan Fund, I started tufting last year. My paintings and tapestries are narrative, I am inspired by myths and symbols, and I give them my own twist. Identity and gender are important themes in my work. For example, you often do not see whether a figure I am portraying is male or female. I find that ambiguity interesting. That is also in the tufting itself: the carpets have a soft, feminine appearance, but it is also muscle work.
'I do think I'm going to sell something, but that's not the main reason for being here. I especially hope to expand my network.'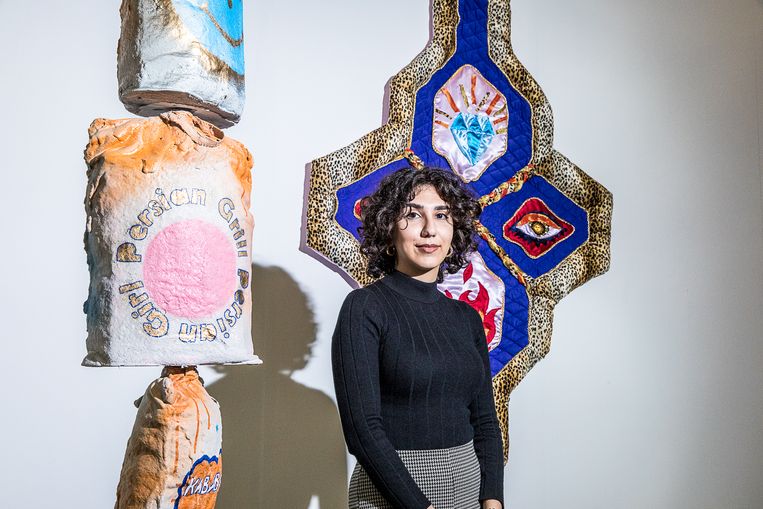 Hemaseh Manawi Rad (25)

'The sculpture you see here is a totem pole made of rice sacks. My parents are from Iran and food, especially rice, is very important in Persian culture. In the embroidered wall hangings, some of which I will be showing at the fair, I incorporate personal memories and family stories, which often have to do with migration and growing up between two cultures.
'I also took part in 2018, when I had just graduated. At that time, many great opportunities arose, such as invitations to group exhibitions. This year I was able to participate thanks to sponsorship of Inversion, which is a talent development program for Brabant artists.
'I especially learned from the workshops and coaching that This Art Fair offers how to determine the prices of your works of art. There are guidelines for paintings, but they do not apply to my wall hangings. It was nice to get tips.'
This Art Fair can be seen until 29/8 in the Kromhouthal, Amsterdam.
At the This Art Fair art fair, it is the artist's turn: to build yourself, present yourself, sell yourself
Source link At the This Art Fair art fair, it is the artist's turn: to build yourself, present yourself, sell yourself