Netherlands
Brussels meets its own vaccination target at this rate months too late: only on January 21, 2022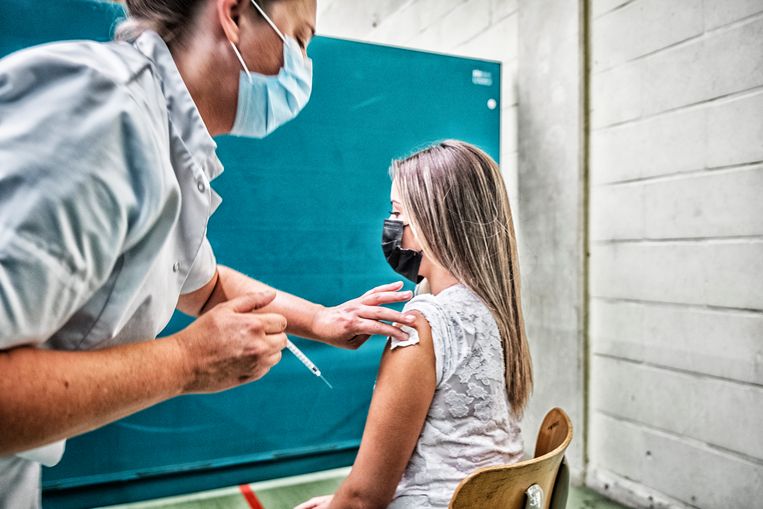 The Brussels government has today taken the next step in extending the corona pass from 1 October. It should not only stop an autumn wave of infections. The pass should also help boost the rickety vaccination coverage in the capital region. In Brussels, only 53.3 percent of the entire population has received at least a first shot, compared to 79.9 percent in Flanders and 68.5 percent in Wallonia.
The Brussels health services realize that these Flemish or even Walloon figures are unattainable. The hope and target was therefore set at at least 65 percent some time ago. Target date: end of October.
But at the current pace, even that tame target remains a distant dream, according to an analysis of the latest Sciensano figures. On average, there are now just over 1,100 first vaccinations with Pfizer or Moderna or shots with a Johnson & Johnson vaccine every day in Brussels. That is 0.09 per 100 inhabitants, which means that the region has the fastest pace in the country, but not nearly enough to keep up with the other regions.
If no more shots are added every day, the target of 65 percent will only be reached in more than four months, on January 21, 2022 to be exact. At the end of October, 57.5 percent would have received a first shot, at the end of November 60 percent, and by the end of the year 63 percent.
To reach 65 percent by October 31, the pace should increase to 3,145 first shots per day from today. That is 0.25 per 100 inhabitants, or almost three times as many as is currently the case.
Every day that that target is not met, the pace at which new shots should be added increases.
School

For the time being, there is no sign of an increase in pace. The Joint Community Commission, which is responsible for health policy in Brussels, says it does expect an increase in vaccination figures in the coming weeks.
For example, as of today, young people in Dutch-speaking schools in Brussels have been vaccinated. Vaccinations are also carried out in companies. "First we raise awareness very well. We have to discuss almost every individual," Inge Neven, head of the Brussels health inspectorate, said during a press conference on Monday. Those local initiatives now account for a third of vaccinations, with some of the major centers closed.
Brussels meets its own vaccination target at this rate months too late: only on January 21, 2022
Source link Brussels meets its own vaccination target at this rate months too late: only on January 21, 2022