Education
Compulsory citizenship in education, while language and math are not in order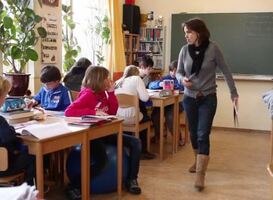 Since this month, all primary school students are required to learn the basic conditions of the democratic constitutional state: freedom, equality and solidarity. Also called a citizenship lesson. The only question now is whether this will not be at the expense of subjects such as math and language. This is reported by EenVandaag.
What exactly the citizenship lesson entails, schools are allowed to define themselves. In general, it is about schools paying attention to knowledge that helps pupils to function in society now and later. This could mean that in kindergarten you learn how to stand up for yourself and that in group eight you learn what Prinsjesdag means and that we live in a democratic constitutional state.
There are already concerns about current education. "The basic skills such as math and language are not going well in the Netherlands. Now we are going to deal with such major issues that not all children can handle. Let's first make sure that the basic skills are in order," said Anna Bosman, professor of Pedagogy at the Radboud University.
How these new ambitions will be implemented in education remains to be seen. There is a lot of enthusiasm among teachers, but there are also teachers who can't help themselves right now.
By: National Education Guide
Compulsory citizenship in education, while language and math are not in order
Source link Compulsory citizenship in education, while language and math are not in order