Netherlands
Covid-19 is hitting hard in Russia: 'I'm looking forward to it'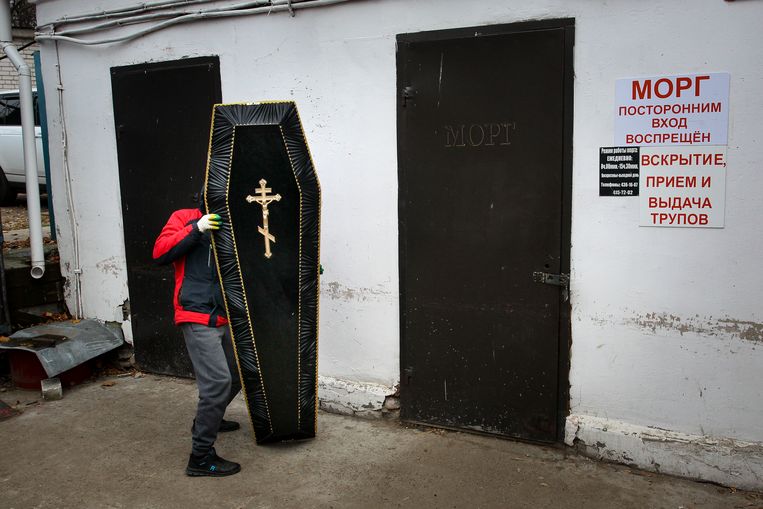 In the poorly vaccinated Russia, the corona virus is spreading unprecedentedly, according to our correspondent in Moscow Tom Vennink. 'The enormous indifference among the population really amazes me.'
Hi Tom, how would you describe the current corona situation in Russia?

"As worse than ever. Even worse than previous corona waves we've had here. Thousands of people die every day, according to official figures. By looking at excess mortality earlier during the pandemic, we know that the actual numbers were three times higher than the official numbers. We break new records every day."
How did that happen?

"Almost no one is vaccinated. Russians are suspicious of their own government anyway. They were, of course, often lied to in the days of the Soviet Union. But even after that: Russians are constantly being fooled."
"So when the government says 'Hey, we have the world's first corona vaccine', Russians don't believe it. People immediately thought they were being vaccinated with something that hasn't been properly tested. Because in the beginning it was not completely through the test phase."
"I've heard many people say they would like a foreign vaccine, but Russia only allows Russian vaccines. Sputnik is the best known of these and also the only one that is scientifically substantiated, in science magazine The Lancet. Almost nothing is scientifically known about the other Russian vaccines. Some people therefore decide to go on 'vaccination holidays' to, for example, Serbia, where they can get other vaccines."
At least a thousand people die every day and many become seriously ill. Doesn't that also ensure that more people get vaccinated?

"No, I notice a lot of indifference among the population. I was at an injection site last week and there I mainly spoke to people who were happy that they were still alive. Most people there had waited a long time, were very ill and only then were vaccinated."
"More than half of Russians are not afraid of the virus at all, according to opinion polls. More than 600,000 Russians are dead and more than half of the population shrugs. I just got off the subway and it's very busy there. People stand close to each other, most without a mask or only half on. The cafes are full. Young people in particular feel safe without vaccination, but don't think about older compatriots."
"Virologists also hold the government responsible for this. The Russian government has already said a few times that they have overcome the virus. For example, there was a strict lockdown last year, but it was suddenly ended in June of that year. Then Putin held a referendum on a constitutional amendment that would allow him to remain president until the end of his life. Then he also used the argument that the virus was as good as defeated."
"Doctors see it with sadness: less than a third of the population has been vaccinated, while hospitals are still in crisis. Russians are very difficult to convince, as this pandemic has shown. And so we will have a very strict lockdown here again."
In Moscow, the catering industry and non-essential shops will close next week, but nationally Putin opts for a 'corona holiday' in which people do not have to work for a week. Why is Russia taking such strange measures that you don't see elsewhere?

"He calls it 'non-working days', a term he also used in the first outbreak last year. Putin has been trying not to sell bad news from the start of the pandemic. Announcing a lockdown is unpopular. So he handed over the corona policy to the governors of the provinces. The mayor of Moscow has actually become the leader of the corona policy, he always has to announce unpopular measures."
"Now Putin comes with those non-working days, but that's really just a hard lockdown. It is nice for civil servants and employees of state-owned companies, they continue to be paid. But everyone else doesn't get paid."
You are of course in Russia to report, but you also live there. How is this situation for you?

"I am amazed, I think this is the biggest surprise of my correspondentship. The vaccines are ready, they seem to work great, and yet people don't come to get them. That enormous indifference absolutely amazes me."
"I know people who have died from the virus, I know people who are old, such as my girlfriend's relatives, who are vulnerable and also not vaccinated. So also in my area there are unvaccinated people that I find it difficult to understand. Of course it is sad when they become very ill."
Do you think the tide can still be turned?

"Officials and employees of public services and state-owned companies are required to be vaccinated. As a result, the vaccination rate has increased somewhat. At injection sites I speak to people who don't want a vaccine at all, but otherwise don't have a job."
"And maybe this lockdown will also help. It will be the first since June 2020. Maybe people will be shocked and realize that this will not go away if the vaccination rate remains so low. But it's going very slowly. I don't see a shocked population yet."
Covid-19 is hitting hard in Russia: 'I'm looking forward to it'
Source link Covid-19 is hitting hard in Russia: 'I'm looking forward to it'