Netherlands
Crazy about the noise in the house? This designer came up with a 'tiny office' for the garden | Work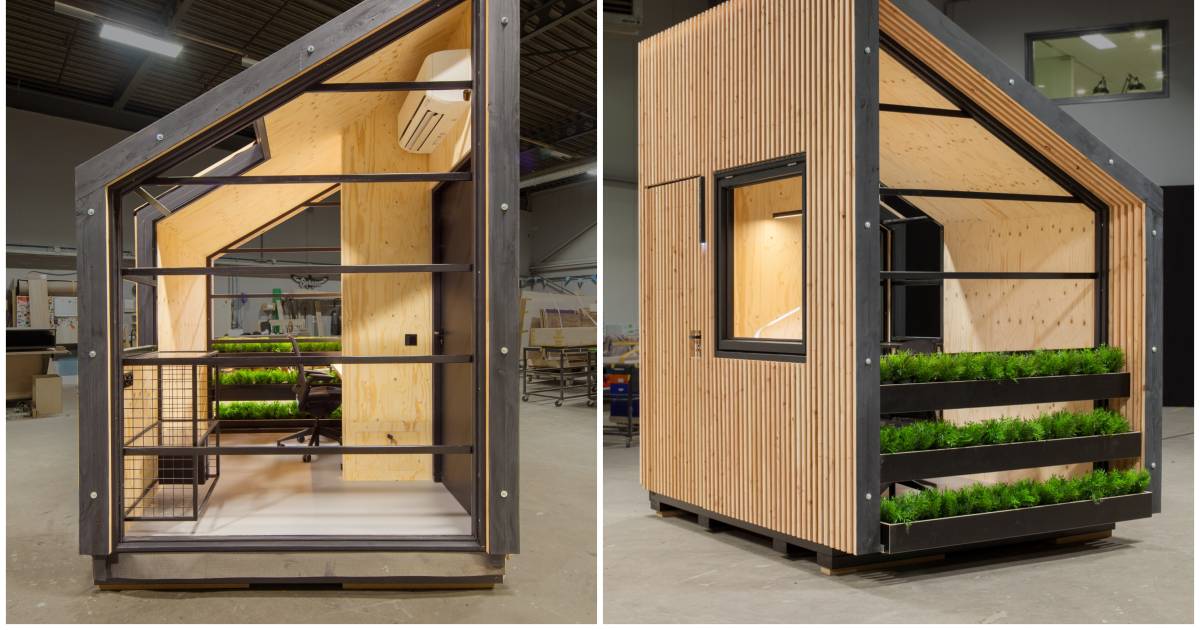 With all the distractions from family life around you, it is not always easy to concentrate at home. Those who no longer feel like calling partners and playing children can now order their own mini office. The Dutch design can be placed in the garden without a permit.
Their own home office, for sale under the name My Home Office, turns out to be a direct hit. Recently, designer Cosmas Bronsgeest from Harderwijk announced his new project on LinkedIn and in no time hundreds of requests were received. "It was unprecedented. Within a day the message was viewed more than 100,000 times, " he says. "The mailbox has really exploded. Two weeks ago I wondered what I could do in 2021. Now I am busy all day long. "
Bronsgeest also suddenly had to work from home much more often due to the corona virus. "My house is not designed to allow you to retreat to Zoom. My son, for example, was attending lectures in the front room. My daughter was also online all day while I was working. We went crazy for each other, " he says with a laugh. "Although I have a studio in Harderwijk, I thought it would be nice to have my own place in the garden."
Latest home trends
With that idea he started brainstorming with Bart Berkhout of Marques Vormmakers. Together they developed the My Home Office. According to Bronsgeest, the office is made according to the latest interior trends. "It has a high ceiling and steel frames. The inside is made of wood and has black details. After all, the eye also wants something. " Work can be stored at a sit-stand desk and extra items in a black steel cupboard.



It is a beautiful and peaceful place for the home, but it is not in the house

Cosmas Bronze Spirit
The office is made of sustainable materials. There is also double glazing and the building is completely insulated. In front of the green detail, there are three planters at the front to create your own vegetable garden, for example. According to the designer, the small office is also winter and summer-proof, with heating and air conditioning as options. "It is a nice and quiet place for home, but it is not in the house." A permit is not required to place the office in your garden.
Lease
How much should that cost? You can order the standard Home Office for 15,750 euros. Those who go for the more luxurious version with lighting, a whiteboard and folding bed will lose 18,695 euros. Those who do not want to pay in one go can also lease the office per month.
It is also possible to customize your own office. "About half of the applicants want something extra, such as a shower or another workplace. Some people want to use it as a guest room. That is no problem at all. "
Good luck
In addition to private individuals, many companies are also interested in the latest design by Bronsgeest. "We have received requests from all over the Netherlands. But also from Belgium, Germany and Austria, " he says proudly.
"We did not expect it to be such a success in advance. When we got the hang of it, we built everything up in a week so that we are now completely ready to build the offices. "
Watch all our videos about work here:
Free unlimited access to Showbytes? Which can!
Log in or create an account and don't miss out on the stars.

Yes, I want unlimited access for free
Crazy about the noise in the house? This designer came up with a 'tiny office' for the garden | Work
Source link Crazy about the noise in the house? This designer came up with a 'tiny office' for the garden | Work