Education
Do you want to attract the right teaching staff? You can do this!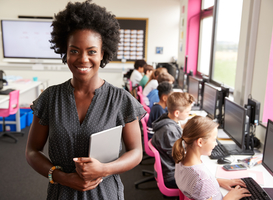 It is a recognizable situation for many schools: permanent staff who transfer to another school or stop after reaching retirement age. That creates a new situation. One has to act quickly in the search for a new teacher, who preferably can act at the same level. However, if schools are unable to immediately find the desired staff, they switch too quickly to expensive alternatives, such as outsourcing application procedures to external parties. How can a school itself keep the reins and attract the desired teaching staff?
Investing in new education professionals
The situations from which people enter education can differ from each other. For example, education makes large-scale use of lateral entrants, who want to transfer their expertise from the business community. Many young professionals also come from education-related courses. These are two completely different target groups, which will enter education at their own level. The fact that they do not always enter at the desired level does not have to be a problem for schools. What's up with that?
Time and money for teaching staff
To support schools in their search for staff, various schemes are in place that make it easier for schools. These relieve schools both financially and within their time management. An example can be found in the wage cost subsidy. For example, are you unsure about hiring a candidate? Then you as a school can also opt for a trial placement. Within this trial placement, you as a school have direct staff for the class. If this turns out to be disappointing afterwards, you can transfer to the next candidate and be financially compensated for the investment.
If you want to invest in new staff for the class in the longer term, the apprenticeship program is also an interesting option. Such a process is regarded as a structural and sustainable solution to the staff shortage. The candidate is trained internally to become a full teacher, concierge or IB'er. And because supervising and training the candidate costs time and money, the school has subsidies and schemes available within the apprenticeship program to cover any risks.
Structural solutions for education shortages
Shortages in education: everyone is directly or indirectly affected by them. Children do not receive the desired guidance and do not reach their potential level, schools and teachers have to deal with a high workload, and it is even conceivable that a school will eventually have to close its doors. Undesirable situations, which require decisive solutions. The wage cost subsidy and the apprenticeship program are good examples of this. Such schemes make the step for professionals in the direction of education accessible and more interesting, while education itself also benefits fully from the possibilities.
Do you want to attract the right teaching staff? You can do this!
Source link Do you want to attract the right teaching staff? You can do this!