Education
During V-100, young scientists assess cabinet's financial policy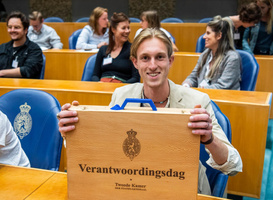 The V-100 takes place on the Monday after Accountability Day. The event is intended to directly involve citizens in the controlling task of the House. The participants in the V-100 come up with questions about the ministries' annual reports, based on pre-selected themes. These questions can be submitted by MPs to ministers prior to legislative consultations on the annual reports or during the plenary Accountability Debate on 9 June.
accountability day
Every year, the government accounts for the policy pursued in the previous year in the form of the National Annual Report, which includes the annual reports of the ministries. This is presented by the Minister of Finance to the House of Representatives on the third Wednesday of May: Accountability Day. This day, May 18 this year, is part of the budget cycle.
scientific glasses
The V-100 is part of this year's two-day knowledge event Claiming and Proving – Meeting between science and politics, which will take place on May 23 and 24. This event focuses on the scientific underpinning of policy and the interaction between science and politics. That is why the House has chosen to invite young scientists to this edition of the V-100 who look at the annual reports from a scientific perspective.
By: National Education Guide
Image: House of Representatives
During V-100, young scientists assess cabinet's financial policy
Source link During V-100, young scientists assess cabinet's financial policy