Netherlands
Education breathes a sigh of relief: 'Restrictions are understandable, closure really no longer' | Coronavirus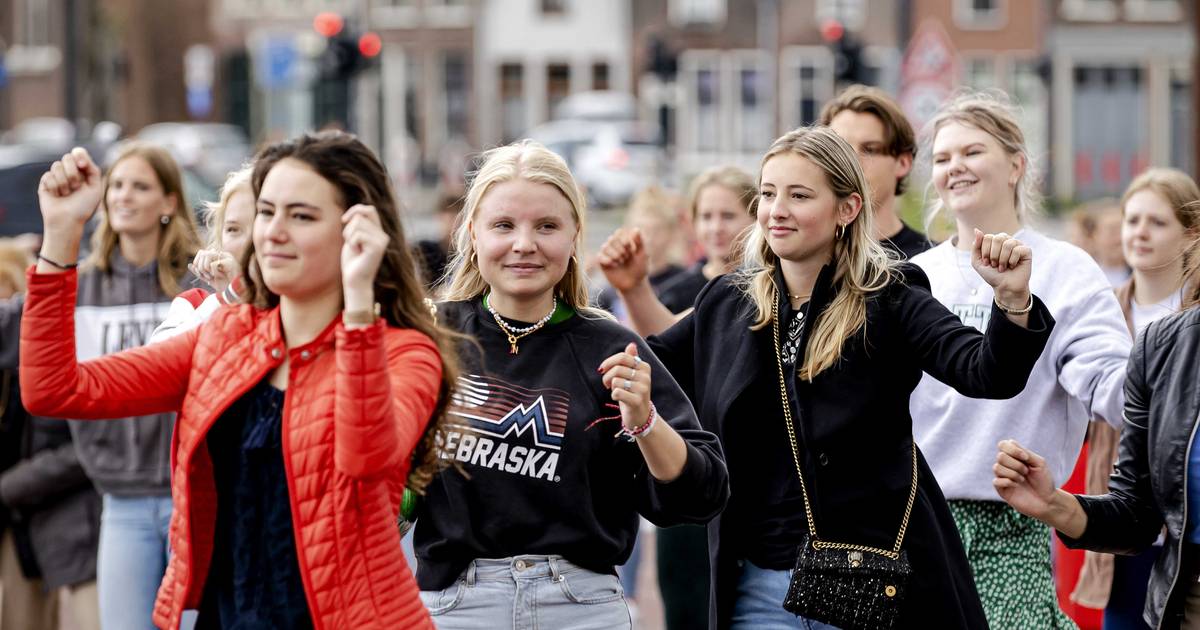 Education is pleased and relieved that physical education can be given again instead of purely online. All education is now open again. For senior secondary vocational education, a maximum of 75 people per room and self-testing twice a week applies. Primary education as well as secondary schools and after-school care opened their doors on Monday.
The cabinet also advises to wear a face mask both inside and outside the lecture hall. Homemade or cloth face masks are not recommended. Disposable mouth caps, especially the so-called 'type 2' variants, are preferred. Students are advised to do a self-test in case of complaints. These can be obtained free of charge through the educational institution.
"Good news that education can be given physically again and that students and teachers can meet each other on campus again," said Pieter Duisenberg, chairman of the umbrella organization Universities of the Netherlands. "Given the rising infection rates, we handle this as safely as possible and we pay full attention to concerns among employees and students. Of course, we therefore stick to the well-known safety measures, such as good ventilation. The use of mouth caps will also be extended to all situations in which it is not possible to keep 1.5 meters away.
For universities, a maximum group size of 75 people applies again, as was the case between November 13 and December 17, 2021. What is new is that a mouth mask must be worn when it is not possible to keep one and a half meters away. In practice, this will mean that students will almost always wear a mouth-nose mask, even when they are in class.
According to the Interstedelijk Studenten Overleg (ISO), the relaxations give students the breathing space they crave, even with a mouth cap. Chair of the Interstedelijk Studenten Overleg (ISO) Lisanne de Roos calls it 'actually the only correct decision' to reopen education. ,,Physical education gives students the breathing space they so desperately need; even with a mask on. The need for this relaxation is high: restrictions are understandable, a closure really no longer."
cry for help
As of Monday 17 January, all MBO students can go back to school. Adnan Tekin, chairman of the MBO Council: ,,That is fantastic news, in the first place for the students. The last few weeks of lockdown have been really tough, we are happy that the cabinet has taken our cry for help from last week seriously." In a letter to the government, student organizations and educational institutions argued in favor of opening MBO and higher education on Wednesday.
Tekin shares with the cabinet that opening the schools is not only necessary, but also exciting. "The number of infections is increasing and will undoubtedly increase further due to the opening of education. Our concern therefore continues to be focused on creating a safe working and learning environment for everyone. I therefore also appeal to all students and employees in MBO to adhere to the measures. The mask obligation can of course be quite difficult, but let's all do our best to stick to it. For our own health and for everyone around us."
Understandable measure
The National Student Union (LSVb) reacts with relief to the news that students can follow physical education again. LSVb chairman Ama Boahene: ,,Sitting at home a lot causes concentration problems, loneliness and psychological complaints in students. It is very good news that that is now coming to an end. Now it is important to hold on to this and not to close education again."
Boahene: ,, If mouth caps provide more safety during class, it is an understandable measure. It is important to keep an eye on whether this does not hinder students too much during education."
Hard time
After the Council of Ministers, Minister Robbert Dijkgraaf (Education) already said today that the resilience of the students is starting to run out. Students he spoke to last week indicated that their resilience has reached a limit. Today, the Current Dutch Suicide Registration Committee reported that the number of suicides among young people up to the age of 30 has increased by 15 percent.
The Youth Organization for Vocational Education (JOBmbo) reports that it has been a difficult time for MBO students due to the closure of schools. JOBmbo is happy that it has now been decided to reopen the mbo schools. "The opening of other sectors is also positive for MBO. The indispensable practical internships of the students can now take place in more places." says JOBmbo chairman Quin Blokzijl. "MBO is a social meeting place that should not be underestimated. Students lose their motivation and suffer mentally as a result of having few social contacts. After all, MBO is a practice-oriented form of education, so online education is often inapplicable. Let's keep education open this time, please."
Last Closing
CNV Education insists that after the last closure of education, we now really look at the long term. Chairman Daniëlle Woestenberg: ,,The most important question must be; how can we safely keep education open, even during a crisis like this. In addition to mouth masks, air cleaning and ventilation, we must consider what lock-downs, the lack of internships, failure of classes and teacher shortages mean for educational institutions, professionals, pupils and students. It is about devising measures now how we deal with study and learning delay, how we deal with teacher shortages and also how we can safely remain open in the coming months and school years."
Free unlimited access to Showbytes? Which can!
Log in or create an account and never miss a thing from the stars.

Yes, I want free unlimited access
Education breathes a sigh of relief: 'Restrictions are understandable, closure really no longer' | Coronavirus
Source link Education breathes a sigh of relief: 'Restrictions are understandable, closure really no longer' | Coronavirus