Netherlands
Employers are shocked when Bettine (32) says she is hard of hearing | Work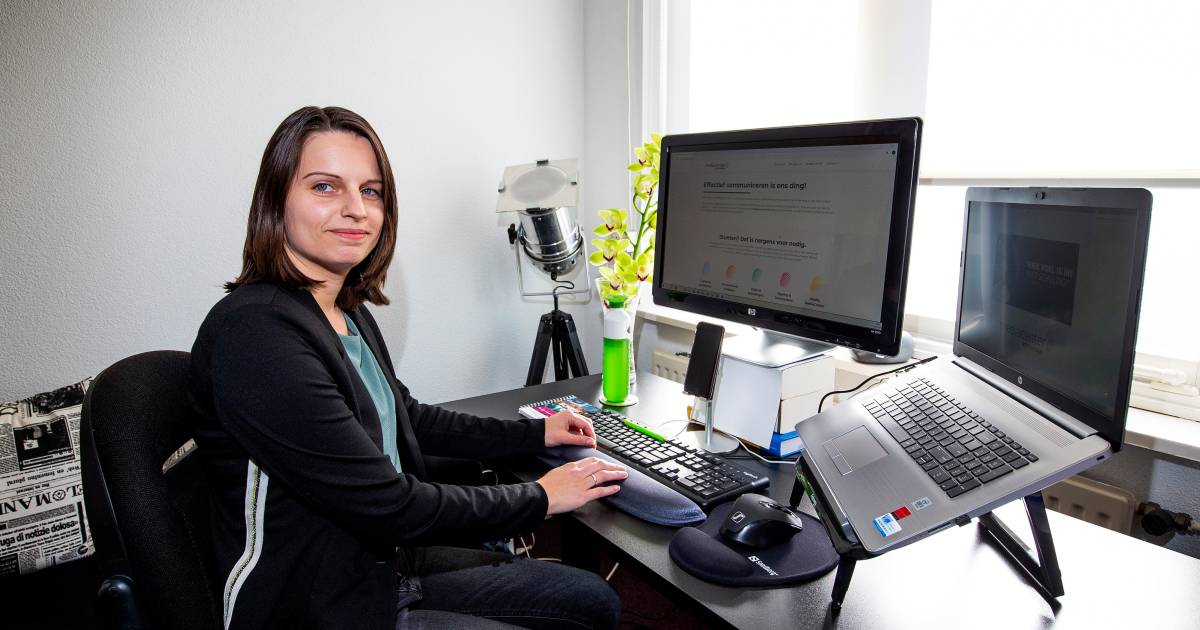 A large number of Dutch people with a physical disability are unemployed at home. While they would like to work. But how do you find a job if you are hard of hearing, chronically ill or are in a wheelchair? Many employers seem to shy away from it. In this series, four workers with an occupational disability talk about their experience in the labor market. Today: Bettine Verseput (32).
Since her birth, Bettine Verseput (32) from Monster has been hard of hearing. In the meantime she does not hear anything at all. Finding a job is extremely difficult due to her hearing impairment. Fortunately, she found a job as a senior commercial administrative assistant at project agency MediaCenter two years ago. She is very happy with her job and an employer who believes in her. But at the start of the corona crisis, Verseput became very afraid that her job would be jeopardized. Contrary to her own expectations, she was nevertheless offered a permanent contract. "I am very happy that they wanted to keep me."
Verseput was already busy applying for jobs, because her hearing impairment makes finding a job quite a challenge. "Employers are very reticent and anxious. They think that telephone calls, for example, will become a problem and are afraid that they will have to hire someone extra for it. But I can function normally and do the administrative tasks just fine. "
Conversations
Like her twin sister, Verseput was born hard of hearing. But her parents only find out later because the sisters lean very much on each other and their disability is not noticeable for so long. Then they both get a hearing aid. That goes well for many years. But when Verseput gives birth to her son in 2014, her hearing deteriorates seriously due to the heavy delivery. "My hearing continued to deteriorate. I could no longer follow the radio, TV and conversations on birthdays. Before that, it was still possible with lip reading, but understanding became increasingly difficult. "
Three years ago, Verseput received a cochlear implant (CI). A CI converts sound into electrical signals that are passed on to the auditory nerve. The implant has made Verseput-Borgstein's life a lot easier. "Now I can follow conversations again, although it takes a bit more energy."
Letter selection
It also makes looking for an administrative job a bit easier. She finds her current job through Emma at Work, an agency that helps physically challenged people, especially young people, find work. After she sees a nice vacancy, she contacts the agency. "Emma at Work arranged the meeting and then I was allowed to come along for two days to see if it would work. But it clicked well, then I got the job. "
But it might not have been possible to find work without an intermediary. Many hearing impaired people do not even make it through the letter selection. "If you put it on your resume or in your letter, they often don't even invite you. In the beginning I didn't say it in advance, but then I saw that people were shocked when I mentioned it in the conversation. " Employers should be more open to the hearing impaired, says Verseput. "Many employers immediately look at what you cannot do. Start the conversation and let that person explain how the person is dealing with his or her disability. What also helps is to let the candidate participate in your company. "



Many employers immediately look at what you cannot do. Start the conversation and let that person explain how the person is dealing with his or her disability
Hearing impaired can simply participate in the company, there are plenty of creative solutions for that, says Verseput. Even if her CI broke down, she would be able to carry out her work as usual. "Talking to colleagues will be a bit more difficult, although I can still have a small conversation with some. I can follow them through lip reading. If they want to say more, they can always do so by e-mail. "
Indication
Because she now has an office job, she can show that working with a hearing impairment does not cause any major problems. And that you do not necessarily need an indication from the UWV to be in with a chance of a job. Verseput explains that many employers do ask for this, because that way they can receive a wage cost subsidy for the work that employees with an occupational disability cannot do. In this way, employers can also be reimbursed for costs for any adjustments in the workplace.
The subsidy is intended to encourage employers to hire employees with an occupational disability. According to Verseput, the scheme is sometimes counterproductive. "I came across companies that only wanted to hire me if I registered with the UWV." An employer can make use of the wage cost subsidy to compensate the difference between wage value and minimum wage. "But if you do that, your wages will also be adjusted. In addition, I don't even get an indication, I'm too good for that. "
With her story she hopes to inspire others with a physical disability to do it mainly on their own. "Keep going and persevere. Don't be pigeonholed, because society still does this far too much. You remain the same person with the same qualities. With or without indication. "
A lot of talent is unused at home

Sitting at home on benefits is not an option for a large number of Dutch people with a physical disability. Fortunately, there are many possibilities to help people with a physical disability to find work. Certainly with the right facilities, says Ronald van Zijp, national manager of facilities and reintegration resources UWV. "By offering the right facilities, this group has a better chance of finding work and study. There is still a lot of labor potential in the bank now. For example, 60 to 70 percent of blind Dutch people do not have a job. "
View all videos related to work here:
Free unlimited access to Showbytes? Which can!
Log in or create an account and don't miss out on the stars.

Yes, I want unlimited access for free
Employers are shocked when Bettine (32) says she is hard of hearing | Work
Source link Employers are shocked when Bettine (32) says she is hard of hearing | Work