Education
Extra opportunities for young people with ME/CFS during The Social Challenge November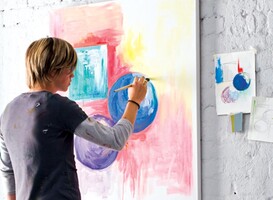 You are young and have a debilitating, chronic illness. Then it is often less easy for you to keep up with society. Meeting up with friends, getting an education, finding a job, living on your own. These are all things that 'healthy' young people often don't even consider. But those for young people with ME/CFS, better known as chronic fatigue syndrome, are often not or hardly accessible. This reports ME/CFS Netherlands Foundation.
Social Challenge is part of the national MDT Social Service Time project, specifically aimed at young people with a chronic illness. Here, these young people can embark on a journey to become the best version of themselves, develop their talent, meet others and volunteer for charities, social organizations or the business community. Within the Social Challenge, one-on-one guidance from the MDT coach is available for the young people. The project can take place both physically and online and is fully adapted to the ambitions and possibilities of the young person.
Social Challenge
In April of this year, a group of young people with ME/CFS started the Social Challenge as a pilot group. For example, the young people learned to develop websites, various marketing classes and some young people have become proficient in fundraising for charities. Another group followed the creative process and designed a product line for the web shops of various charities entirely at their own discretion. A number of young people went to work physically at the local animal shelter, a toy exchange house and a recycling center in their hometown.
Procedure
Participant Mandy is now completing her MDT: "What struck me was that it is so flexible, I had all the space to indicate what was and wasn't possible and then I could look for options with the coach. The weekly contact was both a big stick behind the door but also a motivation and support for what I was doing. The gratitude of the charities I worked for gave me new energy every day. I can recommend anyone with a chronic illness to do this course!". After completing her trajectory, Mandy continues to work as a volunteer for charity, but has now also received two paid assignments based on her new knowledge and experience.
After the pilot phase, 100 places are now available for young people to participate in this project. The Social Challenge lasts a maximum of six months and you can invest from two to 16 hours per week, according to your own wishes and possibilities.
By: National Education Guide
Extra opportunities for young people with ME/CFS during The Social Challenge November
Source link Extra opportunities for young people with ME/CFS during The Social Challenge November