Netherlands
Female walrus spotted by accident on Schiermonnikoog: 'She was very big for a seal' | Inland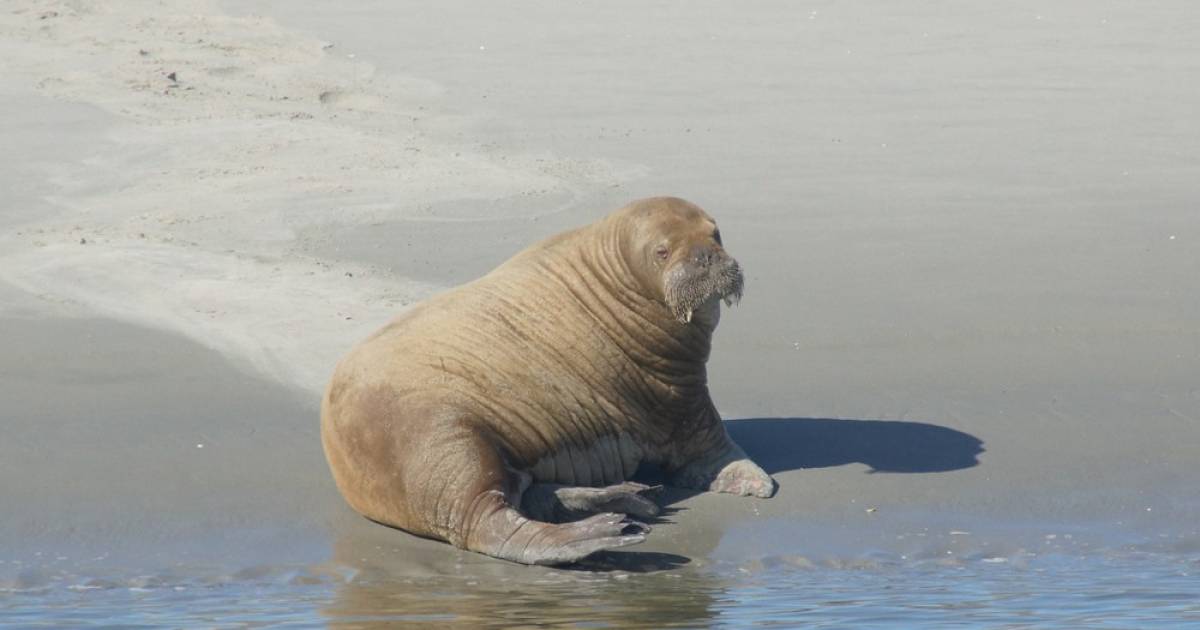 A walrus in the Netherlands? Yes, you would think in the Dolfinarium in Harderwijk. But Marcel de Vries and Ralf van Hal really saw one on Schiermonnikoog on Monday. The last time a walrus was seen in our country was in 1998, before that in 1981. "At first I thought it was a large stone."
It was a big surprise for them. Especially because Marcel de Vries and Ralf van Hal are in the Wadden area for completely different reasons. The researchers from Wageningen Marine Research are sailing for an annual fish count in the Wadden Sea.
Very large seal
"So not related to the walrus," Van Hal tells this site about the imposing pinniped. The researchers saw something they could not place on a sandbank next to Schiermonnikoog. ,,There were a lot of seals, and somewhat aloof something that was actually too big for a seal. It was actually quite a bit further away."
unbelievable
The two men had passed her before, but they thought it was a large seal or even a rock. Van Hal: ,,On the way back we saw that it had to be a very large stone. But then she lifted her head. At that moment my colleague was able to take a picture with his camera."
The researchers still do not believe that they have spotted a wild walrus for the first time since 1998. ,,We only got to the sandbar for a short time,' continues Van Hal. "Actually, we didn't believe it ourselves. It wasn't until we looked closely at Marcel's photo that we realized it was really a walrus."
The last sighting of a walrus in the Netherlands was on January 21, 1998 on Ameland. The last time before that was in 1981. According to observation.nl, the walrus in 1998 even made the national news. The beast probably weighed about 1000 kilos.
Don't scare
The walrus in question is a female and has been spotted along the coast of Europe since September. For example, photos of her have already been taken at the German Wadden Islands. The suspicion was therefore that she would move to our country. Conservation organizations advise watching the walrus from a distance so that it is not startled.
Walruses are actually social marine mammals that live on shellfish and crustaceans. It's not clear how this female got lost leaving her alone.
Free unlimited access to Showbytes? Which can!
Log in or create an account and don't miss out on any of the stars.

Yes, I want free unlimited access
Female walrus spotted by accident on Schiermonnikoog: 'She was very big for a seal' | Inland
Source link Female walrus spotted by accident on Schiermonnikoog: 'She was very big for a seal' | Inland