Netherlands
First Dutchmen back from Morocco via Brussels: 'It was really chaos' | Inland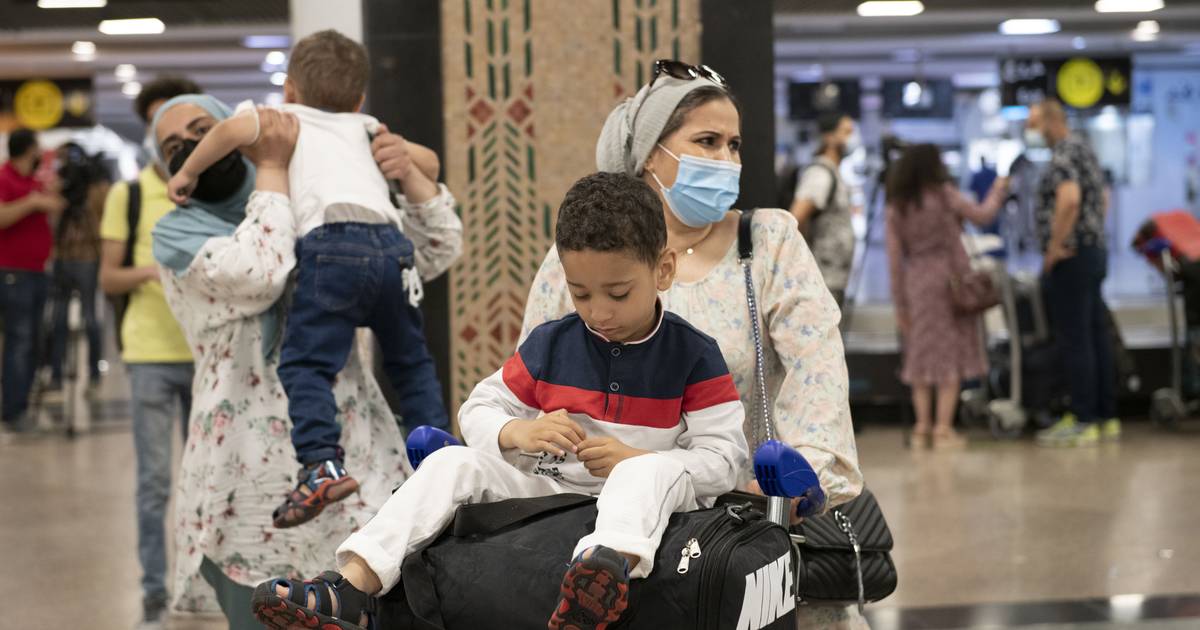 Repatriation flightsIn the meantime, the first Dutch people who were detained in Morocco have returned via a chaotic journey through Brussels. Transavia is still waiting for permits to be able to use a number of repatriation flights.
After the Moroccan government decided to suspend all flights to and from the Netherlands, it was uncertain for some 3,500 Dutch people when they could return home. This also applies to the Dutch Saida Hammout-Bejja from Ede, whom we spoke earlier this week about the uncertainty that she would not be able to return to her husband and children in the Netherlands. She stayed in Nador, a city in the northeast of Morocco. When she arrived at the airport, her RyanAir flight was found to have been canceled even though the airline had said it would continue to fly.
Fortunately Saida is now home again. "In Nador, all possible flights were already fully booked, so we decided to take a ten-hour bus trip to Casablanca (a city on the west coast of Morocco, ed.). From there we flew to Brussels, where my brother picked us up and brought us to the Dutch border, and from there my sister took us home. We are really wrecked, but we are finally home." The journey took about a day.



Come on, we're all still human, aren't we?

Saida Hammout-Bejja
Chaos
Everywhere Saida went during her trip it was very busy. "It was really chaos on the road. The airports were full of people who all wanted to go home one way or another. And not only in Morocco, but also in Brussels you only saw Dutch license plates in the parking lot. I also heard from people who went to Morocco from the Netherlands via Brussels. Then you think: what's the use of this? This decision, out of nowhere, without even giving people a few days to breathe and pack their things, I don't think that makes any sense. Come on, we're all still human, aren't we?"
Saida says that the Moroccan government sometimes doesn't seem to understand their own rules: ,,The situation at customs was very messy. Some people who tested negative were even left behind because they were not vaccinated. "That's the new legislation, you must be vaccinated," the guards said. I had just asked around, and half the people on the plane were just sitting there with a test without a vaccination. I didn't understand. It could have something to do with the fact that the people who stayed behind had a Moroccan nationality, but I'm not sure. In any case, I keep in touch with them, and try to help them."
Repatriation
The Ministry of Foreign Affairs reported on Twitter yesterday that Dutch Ambassador Jeroen Roodenburg has held a conversation with the Moroccan Ministry of Foreign Affairs, and that Morocco has stated its willingness to allow a number of commercial flights to bring Dutch people home in the short term. .
Airline Transavia is busy carrying out these repatriation flights. A spokesperson says that the company has applied for the permits for the flights and is awaiting approval from the Moroccan government. When this is arranged, the people whose flight has been canceled will be the first to be notified.
Travel organization TUI, which previously reported that they currently have 78 Dutch people under their care in Morocco, has also been able to arrange that these people can return home. Today they fly from Morocco to Brussels, and then take the people to the Netherlands by bus.
Watch our trending news videos in the playlist below:
Free unlimited access to Showbytes? Which can!
Log in or create an account and don't miss out on any of the stars.

Yes, I want free unlimited access
First Dutchmen back from Morocco via Brussels: 'It was really chaos' | Inland
Source link First Dutchmen back from Morocco via Brussels: 'It was really chaos' | Inland