World
"Germany extends and tightens lockdown due to virus mutations: Medical masks compulsory" | Coronavirus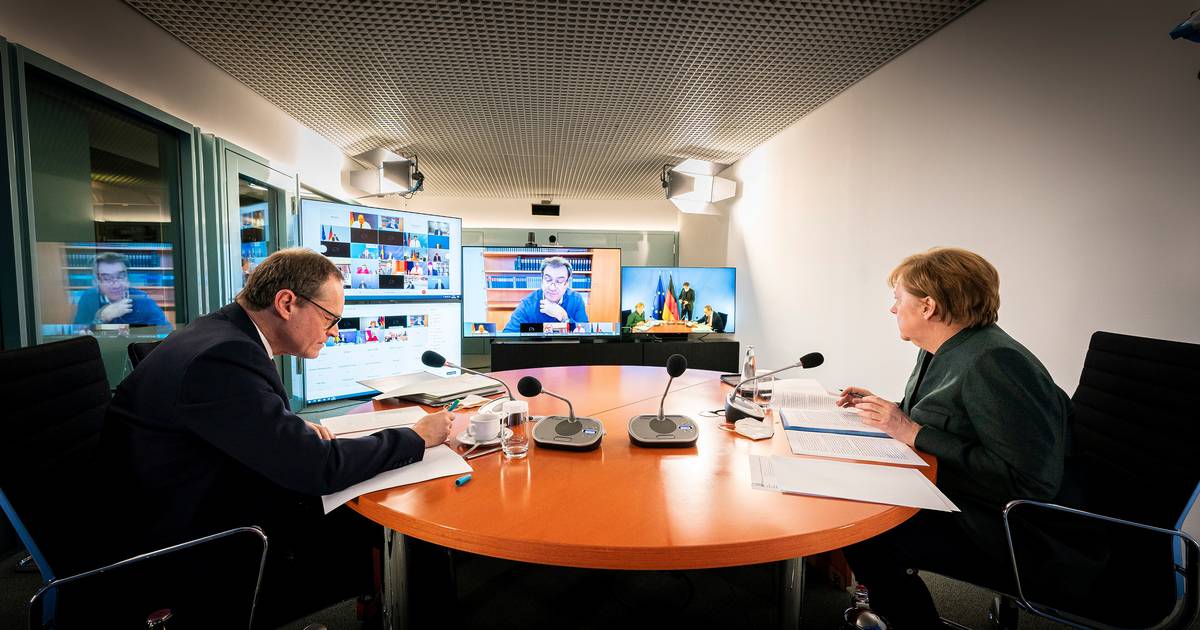 Despite the cautious decline in the number of corona infections in Germany, the lockdown will be extended until mid-February. There will also be stricter rules for the use of mouth masks and working from home, German media report. According to them, Berlin and the sixteen federal states also agreed to decide well before 14 February how things will proceed afterwards and to work out a draft relaxation strategy.
"Because we can no longer tell people in April that the hairdressers should stay closed," Chancellor Angela Merkel said. Bild at the start of the video conference with the sixteen Prime Ministers.
In Germany, a hard lockdown has been in place since mid-December, whereby essential stores are still open but otherwise almost everything is closed. The measure was extended by three weeks at the beginning of January until the end of the month, but now at least another two weeks have been added. A decision on a possible extension was scheduled for next Monday, but that date has been moved forward a week, mainly because of the British and South African variants of the coronavirus, which are more contagious than the original virus and also circulate in Germany.
Medical masks
Stricter measures must prevent the spread of these viruses and overload the healthcare system. That is why public transport will soon only be accessible with medical mouth masks, such as surgical masks or masks of the FFP2 and KN95 type. The same would apply to stores in the future, reports Der Spiegel. This medical mask obligation has been in effect in the state of Bavaria since Monday. Until now, ordinary mouth masks have been sufficient.
According to the research magazine, working from home is also becoming the norm and employers must motivate it when that is not possible. In that case, they must protect their employees as much as possible with medical mouth masks and they must use flexible working hours. This is to avoid crowds in public transport. The German Ministry of Labor lays down all this in a regulation.
The schools are still under negotiation. For the time being they still provide distance education, but a number of federal states want them to gradually return to classroom education from 15 February as soon as the regional corona figures allow it. Day-care centers will remain closed, but emergency care is available for children of parents who cannot work at home.
Contact restrictions
The contact restrictions remain unchanged. A household may meet no more than one person from another household at a time and people must keep at least 1.5 meters away. A travel restriction of 15 kilometers and a curfew can also be imposed in cities and districts where the seven-day incidence (number of new infections per 100,000 inhabitants in a week) is above 200. There are currently 66 of the total of 401.
Only in coronahotspot Thuringia, where the incidence in 18 of the 23 cities and districts is above 200 and in four of them even above 400, is a curfew in effect between 10 p.m. and 5 a.m.
Downward trend
After a sharp increase in the number of corona cases in early December, a decrease during the holidays and an increase again in the first week of January, the number of new infections now seems to be stabilizing. In some regions there has even been a decline, says the Robert Koch Institute (RKI).
The figures of the past 24 hours (11,369 new infections) were indeed higher than those of the day before (7,141), but according to the RKI, this was due to the addition of delayed weekend reports from three federal states. Compared to last Tuesday (11,369), 1433 fewer new infections were detected. The seven-day incidence is steadily declining and now stands at 131.5 for Germany as a whole. This incidence is considerably higher in the eastern states of Brandenburg, Saxony, Saxony-Anhalt and Thuringia.
The number of corona patients in intensive care units is also declining and now stands at 4,947 of whom 2,862 (58 percent) are on ventilation. That were 56 and 7 fewer than Monday, respectively.
R number
The reproduction rate R is currently around 1 in our eastern neighbors. This means that someone who is infected with corona will infect roughly one other person. "Due to the still very high number of infected people in Germany, this means a large number of new infections every day", according to the German RIVM. Only when this R-number is below 1, the virus will slowly disappear.
Chancellor Merkel reminded state leaders again this afternoon. "This number has to go down, not up," she said Bild in an ardent argument.
Watch all our videos about the lockdown here:
Free unlimited access to Showbytes? Which can!
Log in or create an account and don't miss out on the stars.

Yes, I want unlimited access for free
"Germany extends and tightens lockdown due to virus mutations: Medical masks compulsory" | Coronavirus
Source link "Germany extends and tightens lockdown due to virus mutations: Medical masks compulsory" | Coronavirus