Education
Half of childcare employees think work pressure is too high, government is sounding the alarm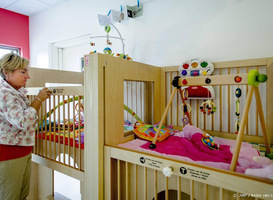 The government is taking measures to combat the workload in childcare. Outgoing State Secretary Dennis Wiersma (Social Affairs) wrote in a letter to the House of Representatives that employees in training can be deployed more easily and that the Inspectorate is more lenient with certain rules.
As of January 1, employees in training may work in a group together with an accomplished employee. Until now, only one in three employees was allowed to be in training. The amendment of this rule applies for six months.
Deploy fewer employees
In addition, Wiersma wants supervisors to take more account of extenuating circumstances or force majeure if a childcare facility cannot meet certain requirements due to staff shortages. For example, shelters may deploy fewer employees for more than three hours than prescribed. It is also easier to deviate from the so-called 'permanent face criterion', which means that there is always at least one familiar face per child.
Numbers are worrying
Research by the sector shows that more than 70 percent of organizations experience a staff shortage and almost 50 percent of employees find the workload (much) too high. Wiersma writes that these figures have been worrying him for some time. He wants to prevent groups from closing by taking measures.
Other rules
Childcare problems have been around for a long time. The sector is struggling with an aging workforce and the influx of new employees is not large enough, according to the Childcare Branch Organization. The organization has previously indicated that it wants different rules, such as allowing people in training to stand in front of the group.
By: ANP
Half of childcare employees think work pressure is too high, government is sounding the alarm
Source link Half of childcare employees think work pressure is too high, government is sounding the alarm