Netherlands
'I have to stop her, or she'll give everything away for free'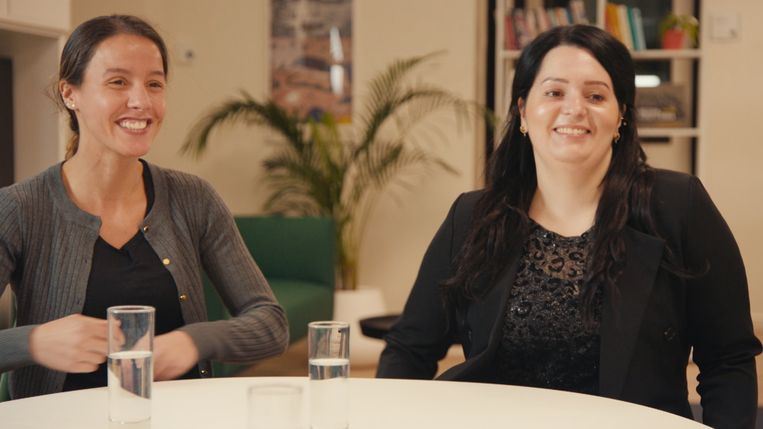 If your company gets into a slump and the balance sheet looks increasingly red, who you gonna call? Bankruptcy buster Kamal Kharmach of course: in other people's business he again helped one ailing self-employed person after another. But one business had to close its doors: the Antwerp fruit and vegetable shop Fruithofje ML of Meryam Boujamaa (31) and Leyla Yachou (30).
"We have been able to save many companies. It breaks my heart that it didn't quite work out in my hometown," wrote Kharmach after the broadcast on Facebook. Meryam and Leyla did not take the closure of Fruithofje ML too seriously: together they are now twice a week on the market in Antwerp with a fruit and vegetable stall, and it has been very busy there since the broadcast.
Meryam Boujamaa: "Many customers that we have never seen before come to us especially to support us. Sometimes they don't even need fruit, they just want to give us something. A lady who did buy something then handed us an envelope. When we opened it at home, it turned out to contain 20 euros and a very nice text."
Leyla Yachou: "The reactions are so positive, I really didn't expect that."
How did you two get to know each other?

Boujamaa: "I was working at clothing store Forever 21 in Antwerp as a responsible when Leyla was hired. I had to train her and during the breaks we started talking to each other. That's where our friendship started and we also experienced our first bankruptcy there, because that store also had to close its doors. (laughs)†
Yachou: "We see each other every day and do everything together: going on holiday, sports, shopping… It goes so far that when I'm alone with my family, I immediately get the question: 'Where is Meryam? Are you arguing or something?'"
And then you got the idea to start a shop together.

Yachou: "It was my big dream to become self-employed. Making my own money, being my own boss, doing my own thing and no one telling me what to do."
Boujamaa: "Leyla had been working on the market for a fruit and vegetable stall for years and got me involved. When our boss quit, I thought it was a good time to start a store."
But soon after the opening of the Fruithofje you thought: we have to other people's business switch?

Yachou: "I saw a call on Facebook and gave up on us, without thinking much about it."
Boujamaa: "We mainly wanted to participate because the program seemed like a nice challenge. What can we improve on? What would they teach us? We had no idea at the time that help was really needed."
Did you realize that during the tomato assignment, when you discovered that tomatoes were also sold at seventeen places in the immediate vicinity?

Boujamaa: "Yes. At that time we were also going through our bookkeeping. Of course we knew that it was very quiet in the store every day, but we thought it was because of the corona virus. We didn't realize it was the store. If it hadn't been for Kamal, we would probably still be pouring money and energy into it seven days a week with no return."
How hard was the decision to close the doors?

Boujamaa: "We were given four options: try to save the store with the team of experts, close the business, move or try out a new concept, such as selling cupcakes or dresses.
"Kamal left that decision to us, but by now we had seen the hard numbers and knew that with one day on the market we achieved more sales than with the store in a whole month. It quickly became clear to us."
Yachou: "And we should have invested again for a new location or a different concept."
Leyla, you had put tens of thousands of dollars in savings into the store.

Yachou: "Yes. I have always worked a lot and saved a lot. Sometimes I startle myself: oh my, where do I get all that strength? But I like to work. I can't sit in front of the television all day. I have to do something and if I'm not working, I'm going to exercise."
You didn't sit around for long either.

Boujamaa: "Everyone processes bankruptcy in their own way. Leyla always remains very level-headed: 'It will be all right, money comes and goes, this is a learning moment.' I had a hard time, but we never blamed each other. We can argue, but we won't get our money back. Leyla supported me a lot during that time, we would go out for dinner or exercise."
On the broadcast you told that you also found comfort in your faith.

Boujamaa: "It calms me down. Sometimes things happen in life that you struggle with or don't understand, but then I know that God probably has a purpose for it. Maybe that call on Facebook was also a sign from God for Leyla to sign up for the program so we could close the store in time before we really got into debt."
You did not take out a loan to set up the business: was that also prompted by your faith?

Boujamaa: "Yes. Not every Muslim sees it so strictly – my brothers took out a loan to buy a house – but I would never want to borrow money myself. In fact, you are not the real owner of what you buy, but a kind of crazy intermediary. I'd rather work hard for something so I can say it's my shop, my car, my apartment.
"In other people's business did you see an expensive clothing store? Those people have invested a lot, but they also have several loans. If they have to stop, they will have to pay it off for years to come. We were able to close the doors without one euro of debt."
Is that more common than two young Moroccan women who run their own market stall?

Yachou: "No, I want to show that women can do that too. I often hear in the market: 'Leyla, those fruits and vegetables, that's men's work, isn't it?' No, it is not! We do everything ourselves. We negotiate ourselves, buy goods and carry heavy pallets. Men do respect that."
Boujamaa: "Leyla is very good at negotiating. She knows exactly where to be and always closes good deals.
"By the way, we also drive the truck, we load and unload, and drive it ourselves to the inspection."
Perhaps you also get along well with difficult customers?

Yachou: "Meryam is slightly better at that than I am."
Boujamaa: "I'm just very direct. You have to have a big mouth in the market, because it is a hard world."
Yachou: "I have a softer character."
Boujamaa: "Yes, way too soft. For Leyla, nothing is ever a problem."
Yachou: "Everything is always right for me."
Boujamaa: "That's an annoying characteristic. When a customer asks: 'Can I have those potatoes for free?' I hear her answer: 'Yes, take it.' No, sorry, you don't get anything for free here!"
Yachou: "(laughs) We are a very good match in that regard. We on the market together: that is an ideal combination."
Boujamaa: "Can you also mention that we are at the market in Borgerhout every Friday, and at the bird market every Sunday?"
At your service. And is there a product that needs to be promoted?

Boujamaa: "We are known for our tomatoes."
Those tomatoes again!

Boujamaa: "Yes, that really is our top product, fresh from the farmer. Lots of customers come and we sell all 90 cases in two hours every week, so you'll have to be quick."
© Humo
'I have to stop her, or she'll give everything away for free'
Source link 'I have to stop her, or she'll give everything away for free'