Sports
In the footsteps of DeChambeau: top golfers hit the ball further and further, thanks to extra hours in the weight room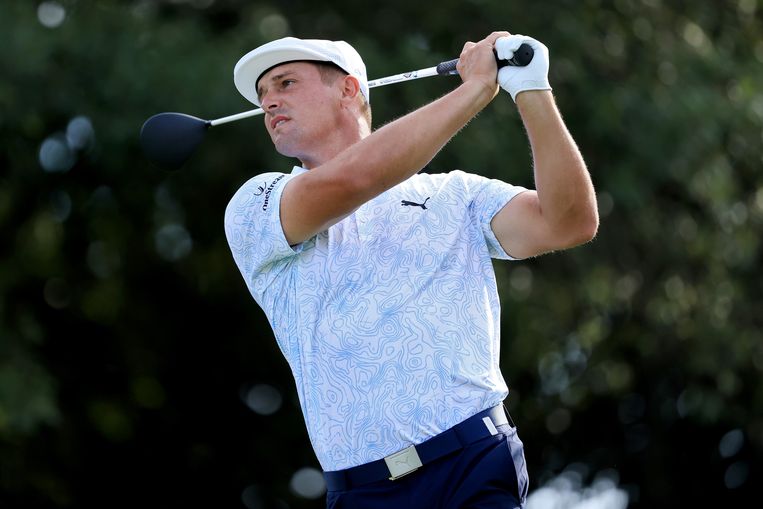 Called the golfing hulk, or the 'Mad Scientist', he is known as the man who has brought a new dimension to the concept of 'monster drive' with his gigantic faraway turns. The American Bryson DeChambeau (28) is one of the most controversial top golfers in the circuit, but is an example for many talented Dutch golfers.
Where golf legend Tiger Woods played by feel in his prime, DeChambeau approaches golf in a scientific way. The graduated physicist knows better than anyone how to use body mass to generate speed with the club head (the place where the ball is hit).
20 kilos heavier

After last year's lockdown, DeChambeau stunned the golf world by returning to the course twenty pounds heavier; mainly thanks to building extra muscle mass and consuming about 3500 calories a day. This season he hits the ball on average 296 meters from the teeing site. His club speed when he hits the ball with his driver is 214 kilometers per hour.
Dutch professional golfer Lars van Meijel (27) looks in awe at his American colleague one year older. "DeChambeau is the only player on the track who has built drastically more muscle and actually converts his increased strength into more club speed. He has not only continued to hit, but also straighter and I think that is very clever.'
Following DeChambeau, several other top players have also started doing much more strength training, but not everyone benefits from the increased muscle mass. For example, the Northern Irishman Rory McIlroy soon came back to it. He hit the ball a lot further because of his extra hours in the weight room, but he got less control over the direction of the ball.
longhitter

Van Meijel – who will make his appearance at the Dutch Open in Cromvoirt on Thursday thirty kilometers from his hometown Best – is known as a so-called 'longhitter'. His launches average 283 meters with his club speed around 192 kilometers per hour. That is better than the average in the European professional circuit: 272 meters and 185 kilometers per hour. Van Meijel: 'In my youth I unconsciously worked a lot on the length of my strokes. I often played games against friends to see who could hit the furthest.'
Although DeChambeau's biceps under his slightly too-tight polo shirts appeal to the imagination, Van Meijel has no intention of copying his approach. 'I've been training in the weight room three times a week for six years and that's enough for me. What DeChambeau does is very injury prone. I would also be afraid that I would not be able to perform my swing technically if I became a Michelin man.'
Van Meijel's physical program includes bench presses, squats and growing abs, and he is often busy with heavy medicine balls. 'With these balls, varying from one to four kilos, I try to make a good swing movement from a standing position', says Van Meijel, who is in his second season at the highest European level (European Tour).
Dutch talents

Young Dutch talents who train in the association program of the Dutch Golf Federation receive specific training from the age of twelve to become stronger. This is mainly aimed at improving their motor skills, explains national coach Maarten Lafeber. This includes jumping exercises and standing on one leg. Lafeber: 'They certainly don't train with weights at a young age, we gradually build that up from the age of 15.'
Lafeber does not believe that DeChambeau's way of working will become commonplace. 'What he does in terms of strength training in combination with his diet is very extreme. Many players who gain that much extra muscle mass will completely lose their way with their swing. DeChambeau has a different swing than most golfers, so he manages to keep control of the ball flight. For others, muscle strength comes at the expense of swing flexibility and suppleness. I experienced that myself when I decided to go into the weight room more during my career. I was just going to hit shorter.'
Robert-Jan Derksen, former professional golfer and current commentator at Ziggo Sport Golf, calls it a must for today's top golfers to hit far. Distance and club speed are becoming increasingly important. Talents of about 19 or 20 who now have a club speed of 169 kilometers per hour and do not hit further than 260 meters will almost certainly not make it when they switch to the pros. Nowadays you have to hit at least 275 meters and have a speed of 185 kilometers per hour.'
Material

Technological developments have significantly changed the sport of golf over the past 25 years. 'Especially the evolution of the material of golf clubs plays an essential role', says Derksen. 'Nowadays the clubs are made of graphite and carbon, which makes them very light and you can hit very far with them. A device such as the trackman that measures the ball flight in detail has also been essential.'
Derksen does question the development that balls are being hit more and more. 'Where is it going? I fear that many golf courses will no longer be suitable for international competitions. For example, think of the old Scottish course St. Andrews or in our own country the De Pan golf course in Utrecht. Beautiful courses rich in tradition, but they are actually too short for today's top golf. I would be in favor of adjusting the golf balls so that they don't fly that far anymore. That is of course very sensitive to the manufacturers.'
In the footsteps of DeChambeau: top golfers hit the ball further and further, thanks to extra hours in the weight room
Source link In the footsteps of DeChambeau: top golfers hit the ball further and further, thanks to extra hours in the weight room