Netherlands
In the German Ahr valley, the flood also washes away a piece of the future
Yes, Hubertus Kunz, mayor of the village of Mayschoss on the Ahr, also sat on his roof the night the water came, with his wife and youngest son. His elderly mother-in-law lay in the gutter. But he doesn't want to talk about that anymore. "So much has happened in a week, I can't start telling Adam and Eve all the time."
The mayor receives in paradise. That's what he calls the bungalow of relatives, safe on top of the vineyard, where he stays until it is clear whether his own house will still be habitable. The tan, 70-year-old will soon return to the badly battered Mayschoss for consultations with the local crisis staff, who are coordinating the clean-up activities.
Kunz is a religious teacher by profession, which explains all Old Testament analogies. He compares himself these days with the patriarch Abraham, who at an old age was forced by God to build a new life. That's how Kunz feels now too. In fact, he was supposed to retire in September after 25 years as mayor. Now behind that departure is a question mark, as behind everything related to the future of the villages in the Ahr Valley.
But Abraham could do it, so so could he, Kunz decided. "I am only looking forward. We're going to build Mayschoss. Mayschoss has a future. There is no doubt about that."
Doubt among scientists

As a loyal reader of various national quality newspapers, Kunz should know that this doubt does exist among climate scientists. That they doubt whether narrow river valleys, where the Romans already grew wine, will still prove suitable places to live in a warmed climate. Excessive rainfall, they warn, will be less and less exceptional. But this scenario is beyond the imagination of the Ahr. For example, two weeks earlier, people could not imagine that the friendly river could produce a deadly water wall of 8 meters.
The future of Mayschoss begins with a road. Because the provincial road that meandered with the Ahr has been swallowed up near the village, the winegrower's village with 970 inhabitants can only be reached via a number of unpaved hiking and mountain bike trails. But from Saturday – ten days after the disaster – there should be a brand new asphalt road, or rather a former cart track that has been given an unexpected upgrade to the 21st century.
When the first trucks with tar pulled up on Thursday morning, the policeman was beaming with pride at the crossroads on top of the mountain. For many villagers, the road is a symbol that Mayschoss is more self-reliant than other municipalities in the vast crisis area. Thomas Solback puts it this way: "We are all winegrowers, some as main occupation, others involved, but everyone here can do something with their hands, has tools at home, a tractor and an emergency power generator. And everyone here thinks for themselves."
Some residents even see this common sense as an explanation for the small number of deaths in the municipality, so far 'only' three. Other people think that Mayschoss was especially lucky in this regard.
disaster manager

According to Mayor Kunz, Mayschoss is especially lucky with one resident: his childhood friend who by a twist of fate ended up at the UN and became a disaster manager in crisis areas such as Afghanistan. After retiring in 2018, he returned to Mayschoss. "I was in total shock after the flood, but he knew what had to be done. He said: you have to declare a state of emergency now, that gives you the power to call for help from authorities, then you don't have to wait for them to take the initiative." The idea of ​​a local crisis staff to coordinate the relief forces also came from this man. That is why even the twenty soldiers of the Bundeswehr who have been sent to Mayschoss now work under the leadership of a couple of young winegrowers.
However, despite this logistical prowess and the new road under construction, the first thing you notice when you arrive in Mayschoss is the devastation. The roses in the highest gardens still bloom as if it were a normal summer, a few meters below they are covered with an ominous layer of mud. A little further, it is impossible to verify whether anything has ever grown in the gardens. On the bank, the water has devoured the facades. The first house of the village has completely disappeared, along with the German-Dutch couple who lived in it.
Only after getting used to the smell of dried sludge and putrefaction – it's been hot in the Rhineland-Palatinate state for a few days – do you notice how hard work has been done here over the past week, by villagers, by hundreds of volunteers who have descended the mountain on foot. . Towering piles of rubble on the outskirts of Mayschoss: furniture, white goods, cars and plastic, trees and vines. Even after a natural disaster, they separate their waste here.
Vintage

Opposite the waste mountain range is the Winzergenossenschaft, founded in 1868 – the oldest in Germany. Here the residents of Mayschoss produce over a million liters of wine a year, most of which was washed away last week. The rest try to save about twenty employees, bottle by bottle is fished out of the mud, displayed on a dry piece of floor, wheeled out in wheelbarrows, washed, sorted.
In passing, big questions pass: who is going to harvest this year? Are we losing our customers because we can't deliver them? Communications officer Alina fears that large supermarket chains have little mercy. An elderly colleague is concerned about the tourists in the village; they too often came for the wine, for the tastings. And does it actually make sense to build the wine cellars in this place, less than 5 meters from the Ahr?
Probably not.
"I can see that the area around the Ahr will become a park, without houses," says Mayor Kunz. But he does not want to be too specific about his plans, because he does not want to cause unrest among the population. "If people now hear that they are no longer allowed to build their houses, that is not a good idea."
On-site water collection

It seems that the fear of further distressing people in need also plays a role in the political arena outside the Ahr Valley, where the election campaign is gaining momentum. Because while all parties – except the climate-denying AfD – are now advocating rapid anticipation of climate change, no one is addressing the thorny habitability issue in concrete terms, not even the Greens. Party leader Laschet of the CDU, traditionally supreme here in the Rhineland, emphasizes emergency aid, on the generous sum of 400 million euros that the federal government and the sixteen federal states are making available. Money whispering softly: Folks, it will be back to the way it was.
Hubertus Kunz is also a CDU member. "But only for practical reasons," he says defensively. "When I became politically active, in the 1970s, 80 percent voted CDU here. So if you wanted to move something, you had to become a member." He doesn't think everything will be the way it was. "I'm not an idiot." He has also been calling for more water collection locally for years. "When building Mayschoss we have to learn from the mistakes we made. Which I made."
Kunz sees it as his personal task, even after his mayoralty, to ensure that all residents want to stay in Mayschoss. "I want to talk to people about that personally and I want to create the economic conditions for everyone that make that possible."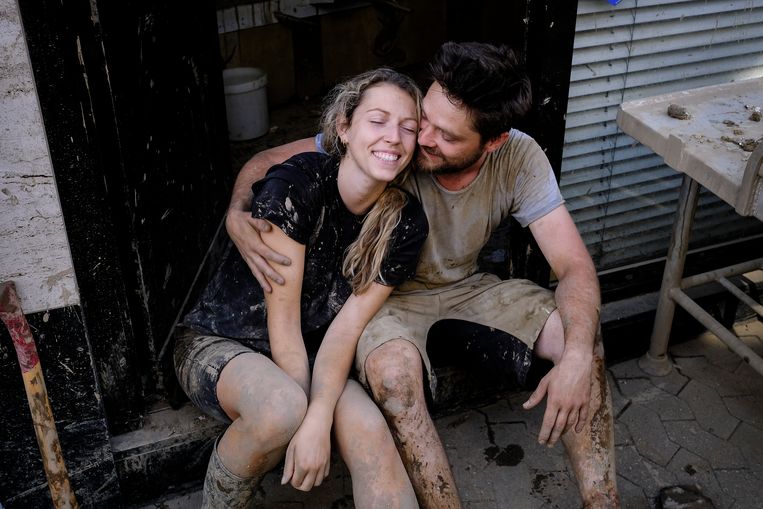 Death in the basement

But not everyone wants to stay after the disaster night. Carmen Poppelreuter can no longer live "in the place where I found my best friend dead in the basement". The 57-year-old in overalls lived above cafe Zum Dorf Krug, run by her daughter-in-law. Now she is clearing rubble in the beer garden with a contorted face. Only the auxiliary troops, a group of stage builders from the Berlin theater world, can make her smile every now and then. Sometimes the men, with beards or mohawks, sing a song by Brecht: "Und weil der Mensch ein Mensch ist…" A communist text about what a person needs to lead a dignified existence. Things that Carmen Poppelreuter would rather look for outside of Mayschoss in the future.
Most villagers do want to stay, it turns out around the church, which has been turned into a give-away supermarket and meeting point. A joker has displayed the women's underwear on the altar. "When you see what we were able to do together this week, I have no doubts about a future for Mayschoss," said young firefighter Lukas Bäcker, member of the crisis staff.
Outside, large pans of pasta are simmering and the Red Cross has set up toilets and showers. It must be the first time that the medieval church sees members of the congregation appear in bathrobes. There is a makeshift pharmacy and a 'vaccination pew', where people can be vaccinated against corona or tetanus.
village festival

"Sometimes it looks like a village festival," says Stephanie, who is sorting canned goods in the church. She has the idea that most residents live on a cocktail of sleep deprivation, adrenaline and beer – quite a few crates go through every night. "But at some point in the near future, everyone will have to realize that we are still in misery for the time being."
Mayor Kunz experienced such a slump Wednesday afternoon. "Suddenly I really saw destruction, I realized that I was traumatized myself." It took a night of good sleep and a game of frolic with his 1-year-old grandson to regain faith in the resolve to be as flexible and optimistic as Abraham was in his old age.
What Kunz also realized at the time: that Mayschoss can do a lot on his own, but not everything. That is why it is so important that the asphalt road is ready on Saturday, so that the large vehicles of the army and the fire brigade can descend to the village. Request from the mayor de Volkskrant: "Pray for us on Saturday, or if you don't pray, remember us. Thinking helps."
In the German Ahr valley, the flood also washes away a piece of the future
Source link In the German Ahr valley, the flood also washes away a piece of the future