Tech
iOS 15 will be released for your iPhone next week, but that's how you install the big new update now | Tech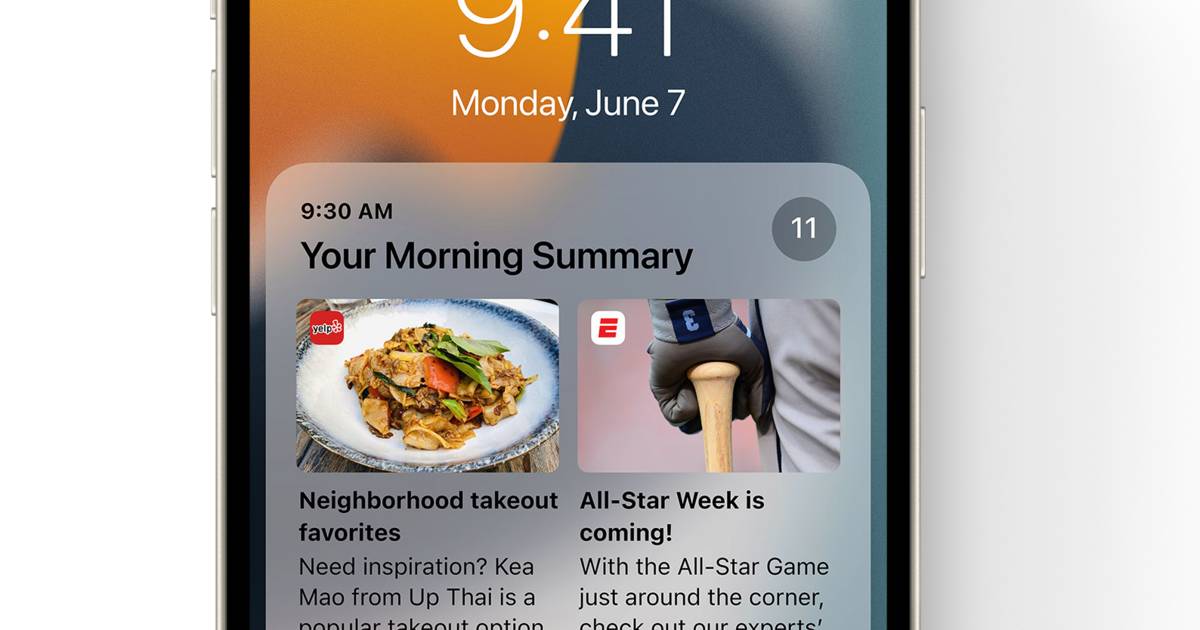 Amid all the violence over new iPhones, iPads and an Apple Watch, Apple also announced the release date for the major software update iOS 15. It will be available for all supported devices from Monday 20 September – but you can install it today via a detour.
Apple annually releases major updates to iOS, iPadOS, tvOS, macOS, and watchOS, bringing new features to their devices. This time, Apple's video calling app FaceTime is being overhauled in iOS 15, so you can watch movies and series on Apple TV+ together, for example.
The iPhone also gets a new Focus option, with which you can adjust exactly how your phone looks on a working day or on the weekend. With a press of the button, messages from your boss are muted and the business chat app is nowhere to be found for a while. Anyone who tries to send you a chat message will see that you do not want to be disturbed for a while.
iOS 15 comes out on September 20
Apple will release its major new software updates on Monday, September 20. What time is not yet known, but usually major iOS updates are made available somewhere around 7 p.m.
Installing on Monday is pretty simple: you open the Settings app, go to 'General' and then tap 'Software Update'. If iOS 15 is available, there will be a download button to download the update.
Make sure your phone installs the update. You need an iPhone 6S or newer. And if you don't see anything right after appearance, try again later. Updates are often made available to everyone step by step.
An iPhone for little: the lowest prices for the iPhone SE can be found below.
This is how you can already install iOS 15 on your iPhone
If you can't wait, you can already install iOS 15 on an iPhone via a detour. This can be done via the beta program of the tech giant, with which test versions of iOS are normally shared. Apple released the final update for all testers yesterday, as a kind of preview for everyone who tested along.
Open the Safari web browser or your iPhone and visit the beta.apple.com website. Tap 'Sign in' and enter your username and password with Apple. On the next page, tap 'iOS'. Then scroll to the link 'enroll your iOS device' under the heading 'Get Started' and click on it.
On the next page is an explanation page from Apple, where the tech giant advises to make a backup of your current iPhone. You can follow these steps if you want to be extra careful. After this, return to the site, navigate to 'Install profile' and tap on 'Download profile'. A special profile will be placed on your iPhone.
Then go to the Settings app on your iPhone. At the top there should be a quick link to the page where you can permanently install the profile. Enter your code lock and follow the steps. Then restart the iPhone.
According to you, you can install iOS 15 as with any update: go to 'Settings', tap 'General' and go to 'Software Update'. If all goes well, the update is ready for you.
Delete your profile again
After installing iOS 15, it is wise to delete the downloaded profile again. If you leave this one, your iPhone will try to install future test software as well, which is often still full of bugs and other defects.
You delete a profile in the Settings app, where you go to 'General' again. There, this time tap on 'VPN and Device Manager', where you will find a list of configuration profiles. Open the one that starts with "iOS 15 and iPadOS 15," then press the big red delete button.
Free unlimited access to Showbytes? Which can!
Log in or create an account and don't miss out on any of the stars.

Yes, I want free unlimited access
iOS 15 will be released for your iPhone next week, but that's how you install the big new update now | Tech
Source link iOS 15 will be released for your iPhone next week, but that's how you install the big new update now | Tech