Education
Jochem van den Broek winner of the National Chemistry Olympiad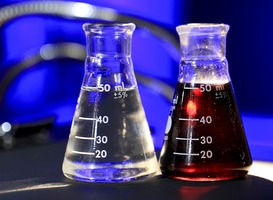 Seventeen-year-old Jochem van den Broek from Eindhoven has convincingly conquered first place during the 42nd National Chemistry Olympiad (NSO). Very surprisingly, Mitchell Rikken from Arnhem finished in second place. It is the first time in the history of the NSO that a student from 5 havo finishes in the top 4. This is what SLO reports.
Bas Krikke from Vught came in third and fourth place went to Jeramy Kop from Heerhugowaard. The four gentlemen will soon represent the Netherlands at the International Chemistry Olympiad (IChO).
Dutch team at the international olympiad
The team representing the Netherlands at the International Olympiad is:
Jochem van den Broek – 17 years, 6 vwo from Eindhoven, Lorentz Casimir Lyceum Eindhoven
Mitchell Rikken – 17 years old, 5 havo from Arnhem, Lyceum Elst.
Bas Krikke – 16 years, 5 vwo from Vught, Gymnasium Beekvliet in Sint-Michielsgestel
Jeramy Kop – 18 years, 5 vwo from Heerhugowaard, Huygens College in Heerhugowaard
Corona also turns NSO upside down
Despite the limited opportunities that schools had this year, just under 2,500 students took part in the preliminary rounds. About half of the regular number, but still very clever that teachers and students have come up with creative solutions. Students received online lectures from former Olympians and a day of physical seminar at Domstad University of Applied Sciences in Utrecht. This enabled the students to prepare well for the theoretical NSO exam that was held on 9 June. 16 boys and 3 girls participated in the final; fourteen participants from 6 vwo, three from 5 vwo and two from 5 havo.
International Chemistry Olympiad in Japan Online
The four winners will represent the Netherlands at the International Chemistry Olympiad (IChO), which will be organized as an online event from July 24 to August 2 in 60 countries. A five-hour theory test that is taken under exam conditions. In addition to the competition element, the students can get to know each other online during this period and all kinds of virtual excursions and activities are organised.
By: National Education Guide
Jochem van den Broek winner of the National Chemistry Olympiad
Source link Jochem van den Broek winner of the National Chemistry Olympiad