Netherlands
'Let's also vaccinate young people quickly'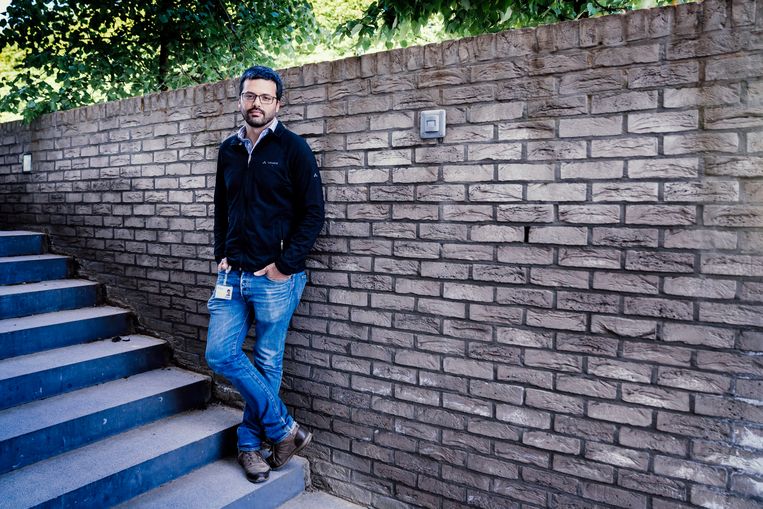 When he warned of a third wave, it met with resistance. But even now he argues for persistent: to less than a thousand infections per day, says virologist Emmanuel André. And he has an idea for the vaccination.
"Whether this is the last lockdown? I would say yes, if we get the infection level low enough before we open everything again, "says Emmanuel André, virologist at KU Leuven. "Let's not get stuck on data. This time we have to do it right and not give up halfway, because then there is a chance that the fire will flare up again. "
On January 31, when many were still in a sunny mood, André warned The morning that a third wave was looming because of the British variant. And that we could choose between a preventive lockdown, to prevent such a wave, and a reactive lockdown, to keep the hospitals afloat for the third time. We then opted, that much is now clear, for the reactive lockdown.
"At the time of that previous interview, we had objective information that allowed us to predict that the fragile balance would not hold," says André. "We were on a plateau, but that was too high, with more than two thousand infections per day. Because the British variant is more contagious, we knew the curves would rise. We also see that the British variant makes you sicker at all ages. There are young people without underlying conditions in our hospitals. The good news is that thanks to the vaccination, we have been able to prevent the curves from shooting up as hard and vertically as in the first two waves. But he is there, that third wave. "
That interview at the end of January angered many people. Because you warned at a time when many thought we were safe.

"That resistance is normal. This pandemic is not only a medical phenomenon but also a social phenomenon, and people are taking up positions. One wants measures that are as strict as possible, the other gets tired. As scientists we try to abstract those feelings and explain which way things are going and what the options are. At the end of January was a moment of great tension, because things went well and people no longer wanted to hear bad news. Today we are in the same logic. "
The impatience is palpable again.

"As soon as the first positive signs become visible, some politicians, including MR chairman Georges-Louis Bouchez, want to relax as soon as possible. Fortunately, there is a functional balance at the political level, thanks to Prime Minister Alexander De Croo (Open Vld) and Minister of Health Frank Vandenbroucke (Vooruit), who maintain rather sustainable objectives. The relationship between experts and politics is now more mature. Partly thanks to the strength of Vandenbroucke, who dares to take up difficult positions. "
What is the main message today?

"The good news is that the vaccination is really up to speed: tens of thousands of people are being injected every day. That was not the case in January. At the same time, we have managed to break a major third wave. So now it is crucial to reduce the number of infections as low as possible. We are still around four thousand a day and we should be under a thousand a day. The positivity ratio, the proportion of positive tests to the total number of tests, is still above 8 percent – and ideally it should drop below 1 percent. "
So low? How do you do that?

"By continuing to vaccinate en masse, of course. And by, when we reopen at a contamination level of a thousand per day, by mass testing and tracing. You can only control an epidemic if you start screening systematically, and not just the case tests that present themselves. Because that way you miss half of the infections. Mass screenings, not only in schools, but also in any neighborhood or community where many infections are detected, are becoming very important. To be able to check every fire quickly. "
We've always said that education is the last thing we want to close, but we haven't delivered on that. The companies continued to run at full capacity, the schools were closed for an extra week before the Easter holidays.

"In French-speaking Belgium, the educational field agreed that the extra week was a good idea. More and more teachers became ill and more and more classes closed. I then talked to some of the school principals and they felt it was going to start for the third time. They would rather close than let it get worse. "
Is the impact of the workplaces greater than that of the schools?

"The impact on the epidemic is about the same. Schools and companies are clearly communicating vessels. But it is easier to close schools than to close all businesses, because you can make decisions about education with fewer people. "
Pfizer is testing whether children 12 to 15 years old can be vaccinated. Do you think it would be a good idea to do the same later?

"I would follow two strategies in vaccination planning. In a first phase you vaccinate the people who are most at risk. That is happening right now. Once you are done with that group, I would prioritize the people with the most contacts. If you want to control a disease, it is better to vaccinate potential super spreaders as quickly as possible. "
That is not the current strategy.

"No, but I do hear signs that we can pass on better instructions to vaccination centers, especially when surpluses are available. Currently, these are often given to people from the network of the people who do the vaccinations and who are already aware of the importance of vaccination. We must ensure that surpluses are distributed as a matter of priority to potential super spreaders and groups at the margins of our healthcare system. Then every dose will have a maximum impact. "
Who are you specifically thinking of?

"It is known that young people have more contacts since before the pandemic. This is also clearly visible in the models of biostatistician Niel Hens and colleagues. The same goes for hairdressers, of course. And for teachers. And for prostitutes. If we vaccinate such people quickly, it will improve the safety of the entire population. What do healthy people in their thirties want? That grandfather and grandmother are vaccinated and that their children are safe. I am a doctor myself so I was vaccinated, but I still hear that from people of my generation. So let's also vaccinate young people quickly. "
You are now very much loved by our young readers, who will be put to the test of the current vaccination strategy the longest.

(laughs) "I don't need to be loved, that's not my point. If we want to be as safe as possible by the summer, I think this strategy is worth considering. In some municipalities this is already happening, and teachers, for example, are already being punctured. See, doctors are getting a vaccine to protect their patients. For example, people with many contacts should also receive a vaccine to protect their contacts. "
How do you view the confusion surrounding AstraZeneca?

"The risk of a thrombosis is much higher if you are infected with the coronavirus than if you receive that vaccine. Much bigger. It's always good to be flexible, but here I would just be calm and keep vaccinating. New vaccines are still on the way, so side effects will crop up. In a year's time we will know which vaccine is the best and safest, and then we will choose if we need it again. "
Should we fear the South African and Brazilian variant?

"They are already in Belgium, but they make up a limited percentage of the total number of infections. I am optimistic: it looks like our vaccination coverage will be very high. And then we don't have to worry too much about those new variants. There are clusters, but we can keep them under control with testing and tracing. "
Who is Emmanuel André?

– Born in 1982
– Doctor, clinical biologist and virologist
– Professor of microbiology at KU Leuven
– Specialized in combating infectious diseases at an international level
– Permanent medical staff and responsible for the reference lab for respiratory viruses (including SARS-CoV-2) at UZ Leuven
'Let's also vaccinate young people quickly'
Source link 'Let's also vaccinate young people quickly'