Sports
Lots of atmosphere at Bosuil, few class flashes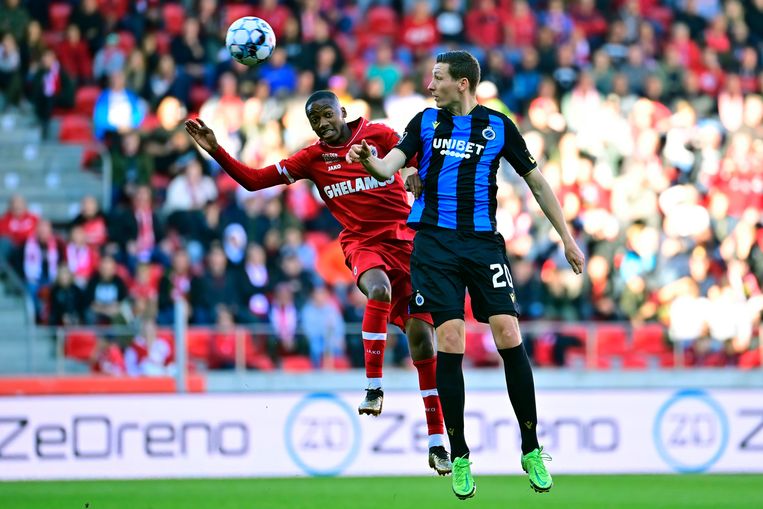 Another draw for Club Brugge. That makes five in barely twelve matchdays. You don't get much with that as a title favorite. At Union Saint-Gilloise they are now homesick for Teletext page 505: only leader in the Jupiler Pro League.
"A nice match", said Antwerp coach Brian Priske the topper. Then Philippe Clement hit the ball correctly: "A lot of struggle, too little football."
There were a lot of bad checks, bad passes and other impurities. Fortunately, the spirit and the atmosphere obscured the level of the clash.
The league's top scorer, Michael Frey, wouldn't give home an entire afternoon. Club's goldcrest also disappointed. Is it possible that Charles De Ketelaere is tired at the end of October, after all those matches of the past weeks and months? After all, he is only twenty. A good De Ketelaere had always made it 1-2 after the break, only for Jean Butez, but just like in all his other actions, it lacked precision and sharpness.
Noa Lang, in turn, appeared to be recovering from his direct duel with Manchester City's Kyle Walker earlier in the week. Then the danger in the front quickly takes a dive. "The fact that we created fewer chances before half-time was also because some boys did not perform their duties and walked out of position," said Clement.
"They are young players", Hans Vanaken also protected the duo. "You cannot think that they will decide every match. It's nice that the cup match is now coming, in which she and others can get some rest."
Goalkeeper Simon Mignolet: "Offensive players always have good and bad periods in a season. They've already played everything. On Wednesday they can finally stay aside, in case the trainer wishes of course."
Clement: "It is true that they are less, but that is mainly because they have set the bar for themselves so high with their performance. Those guys can't be the best on the field every three days. That is normal. This time others were better, but you see that in other European fields too. Deinze? Before my time here they had an 'accident' once and I have not forgotten that. I will not give rest to give rest, we have to look at this carefully. However, we can only bridge this busy schedule by rotating."
Mignolet saves

To put it simply: it was no coincidence that the only two goals of the match always came after a standstill phase. And without Mignolet's save on a solid neck blow by Abdoulaye Seck in the absolute final, it would have been three.
Björn Engels had already scored before the break. On a corner kick by Birger Verstraete, Engels headed past Mignolet with a strong lead. The defender cried out, walked past the Bruges branch, sprinted along the line and formed a heart for the Antwerp crowd. "I thought English played very well," Priske said. "Although he is still looking to get rhythm in his game."
Verstraete was substituted at half time after a tap on the head in the equalizer phase. There was a fear of a concussion. Priske didn't want to go too deep into it. "But I hope it's not that bad."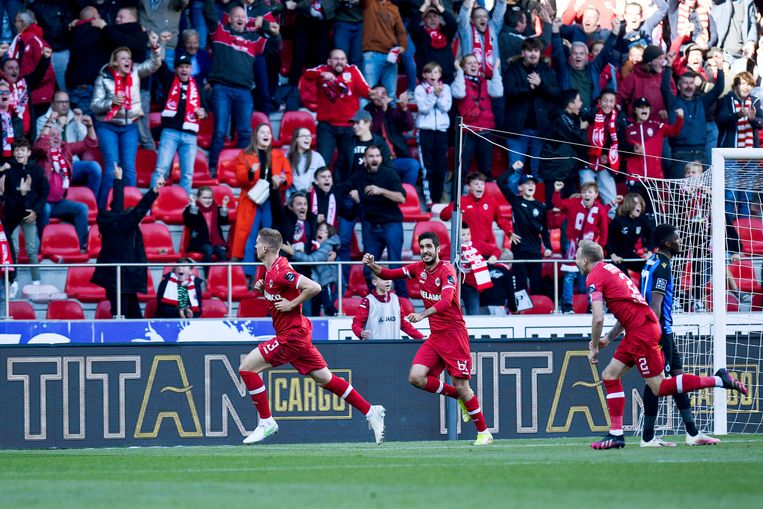 The 1-1 was fair anyway. More than a few weeks ago in the Astridpark, where the best chances were for Anderlecht. It does not alter the fact that Club has not yet been able to win a top match this season. Disgracefully lost in Ghent (6-1), equal in Anderlecht and on the Bosuil. Add to that the draws against Eupen, Cercle Brugge and OH Leuven and you get as many matches without a win as victories. That is certainly not a good balance for Club. "Such draws depend on small details," Clement said. "For the same money, we now had four or six points more."
Don't be blind

There is the story of the glass half full again. Club is still second in the standings – a lot of other top clubs would sign up for that today – and did not lose on a visit to a direct competitor for the title. But the national champion should not be blind to the problems in his search for the best Club in the Jupiler Pro League. It is remarkable that the blue-black with all that talent is not even part of the top three of the fastest scoring teams – Union, Eupen and Charleroi, among others, do better.
The many praises after Paris Saint-Germain and Leipzig last month were well deserved. So was the moderate tone after the pandoering against Manchester City. But gradually Club Brugge must also make the balance of power clear in its own competition. It owes that to its status in 2021. Because in addition to that one demonstration at the Gaverbeek, after the lights went out in Waregem, the title holder was unable to meet the high expectations in his tour through Belgium. It is still waiting for a statement.
Lots of atmosphere at Bosuil, few class flashes
Source link Lots of atmosphere at Bosuil, few class flashes