Sports
Louis van Gaal celebrates with Orange players in the dressing room, even though he is perishing from the pain | Dutch football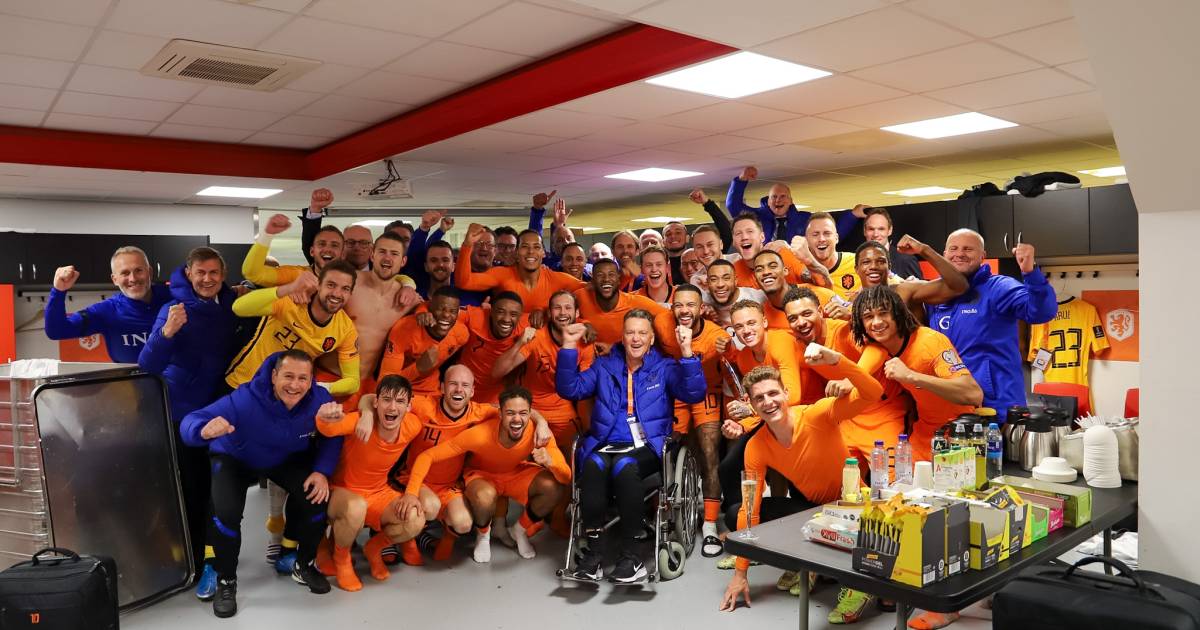 Van Gaal saw from a skybox in an empty Kuip that the Orange secured the ticket for next year's world championship in Qatar thanks to a business-like 2-0 win over Norway. It eased the physical pain Van Gaal has been feeling since Sunday after he fell from his bike and sustained a hip injury. Despite all the pain, the 70-year-old national team rushed to the dressing room after the liberating win and then posed with all the players cheering behind him.
"We drank champagne," said Van Gaal after the success. "And Memphis Depay gave a nice speech after his 75th international match." Memphis Depay, after Steven Bergwijn had opened the score, completed the party with his 38th goal in the shirt of the Orange.
Van Gaal could not celebrate the liberating hits of Bergwijn and Depay exuberantly, he stated. ,,But that is mainly because of my broken hip. If I move even a little bit, a huge pain shoots through my body. That is almost unbearable."
That it was one big party in the dressing room could be seen from the images that went through Our orange were shared on social media. "We're back and that's great", the famous song blared Viva Hollandia by Wolter Kroes through the speakers. The players happily danced and drank champagne.
Later in the evening, the protagonists fully shared the success of Orange with their supporters. For example, captain Virgil van Dijk, Frenkie de Jong, Memphis Depay, Georginio Wijnaldum and Matthijs de Ligt shared beautiful pictures with their millions of followers. In addition, the photo with a beaming Van Gaal accompanied by his exuberant troops regularly passed by.
Football podcast about Orange
In a new episode of our football podcast, presenter Etienne Verhoeff discusses with our reporter Sjoerd Mossou the qualification of the Orange squad for the World Cup. Listen to the podcast below.
Watch our videos about the Dutch national team below.
Louis van Gaal celebrates with Orange players in the dressing room, even though he is perishing from the pain | Dutch football
Source link Louis van Gaal celebrates with Orange players in the dressing room, even though he is perishing from the pain | Dutch football