Netherlands
Marc Noppen (UZ Brussel): 'Doctors do amputations they have not seen in 20 years'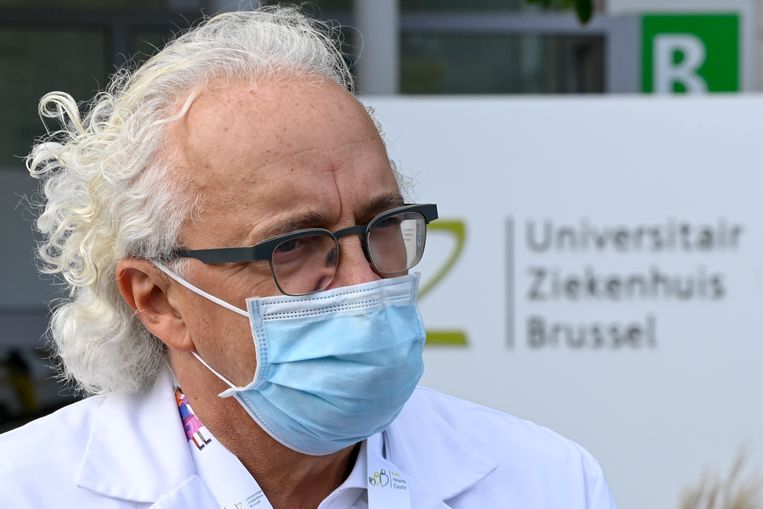 "You see that quite spectacularly in a number of areas. Colleagues say that they have had to perform amputations that they have not seen for 20 years due to postponing care and operations, "says Noppen. "In the field of oncology, we had only half the number of new cancers at one point. You only see them later in their illness. Some people have the misfortune that the procrastination piles up. We will have to deal with that ", he realizes.
The debate from the Kanaal Z studio was an initiative of the consultative body Medical World, in collaboration with the VUB, Ethias and UZ Brussel. In the first part, all studio guests indicated that they were very anxious about a possible third wave, now that the decline in the second wave has come to a standstill and the incidence in some – mainly Flemish – provinces is increasing sharply.
The Consultation Committee decided yesterday that the curfew in our country remains unchanged and that everyone must still stay in between midnight and five o'clock. In Brussels and Wallonia there is a curfew that starts at 10 pm. During the corona debate, CEO of UZ Brussel Marc Noppen and CEO of Zorgnet – Icuro Margot Cloet made it clear that they would also have liked a stricter curfew in Flanders. "I had hoped that a number of measures would be tightened up temporarily, because we saw in the summer that they work in the short term," says Cloet. "The whole concern is somewhat tongue-tied. We do not understand why certain nuances have not been laid. Much emphasis has been placed on enforcement, but sometimes you can take small measures such as the stricter curfew that is in force in Brussels. "
The CEO of UZ Brussel agrees with that idea and even believes that the stricter curfew also has an effect on the mental level. "First of all, I am happy that no easing has been announced. We experienced that last time with rising figures ", Noppen repeats." We are worried, because the nice decline is stagnating. It is starting to get a bit tough. I had hoped that the measures also had a psychological effect, like that curfew in Brussels. The psychological effect of empty streets in Brussels does have an effect, "he says.
'Stay sleeping'

Virologist Steven Van Gucht, in turn, nuances, because he does not know how effective the two-hour difference in the curfew is. He asks himself where the real risk lies. "That's when people visit each other at home. And even with a curfew they will still do that and better agree where they can sleep. It is important that the measures are simply followed properly. We also see from contact research that the number of contacts has increased again, "says Van Gucht.
In a recent survey by Medical World, involving a thousand doctors, 60% of GPs indicated that they were overworked. Something that is considerably lower for the specialists. Noppen is not surprised at all. "Many specialists were almost 'technically unemployed' because non-covid patients continued to postpone care. Where possible, we pulled our doctors out of their comfort zone and gave them crash courses so that they could participate in Intensive Care ".
Dual hospitals

Within hospitals, Covid-19 is currently responsible for a division whereby two hospitals are actually created. However, ordinary healthcare does not stand still, notes Margot Cloet of Zorgnet – Icuro. "Throughout November we see 2,000 patients on intensive layers for non-Covid care. The hospitals have made exceptional efforts there. In the second wave, we can attribute it to them that they absorbed a lot of undercare from the first wave, "says Cloet.
Noppen adds that it is even "one of the major sources of irritation that we have a double hospital". A Covid-19 department also requires extra manpower. "You cannot deploy the people you deploy in the Covid-19 department twice. These are not completely separate matters. The critical care of patients after major surgery and operations is only 60 to 70 percent. This creates an accumulation of people who need care and cannot receive it. That is a second damage and at the end of the day it can be significant, "said Noppen.
The mental overload of hospital staff, he says, is "really becoming apparent". "We have temporarily converted our Villa Samson into Villa Resilience, where our people can give their hearts to a team of psychologists during working hours. Fortunately, we have little dropout, but it happens. Our people are really tired. We have employees who have not been able to take leave for ten months. That weighs. "
In the second part of the debate, the impact of corona on society was discussed. VUB rector Caroline Pauwels, who as a cancer patient this year also had to contend with a corona infection, is standing up for her students. She sees how the study results are generally relatively higher than in other years. On the other hand, the waiting times for the above-questioned student psychologists increase seriously. "A university is more than just studying. Because of corona they are seriously curtailed in the aspect of 'becoming human'. They had to learn to deal with freedom, while now they have to learn to deal with limitations. Something unseen since World War II. Some have lost the balance. We have to give them every confidence that things will work out. I really think that young people generally behave responsibly. "
Marc Noppen (UZ Brussel): 'Doctors do amputations they have not seen in 20 years'
Source link Marc Noppen (UZ Brussel): 'Doctors do amputations they have not seen in 20 years'