Netherlands
Mississippi still has one abortion clinic. But it may also have to close soon now that the Supreme Court is considering it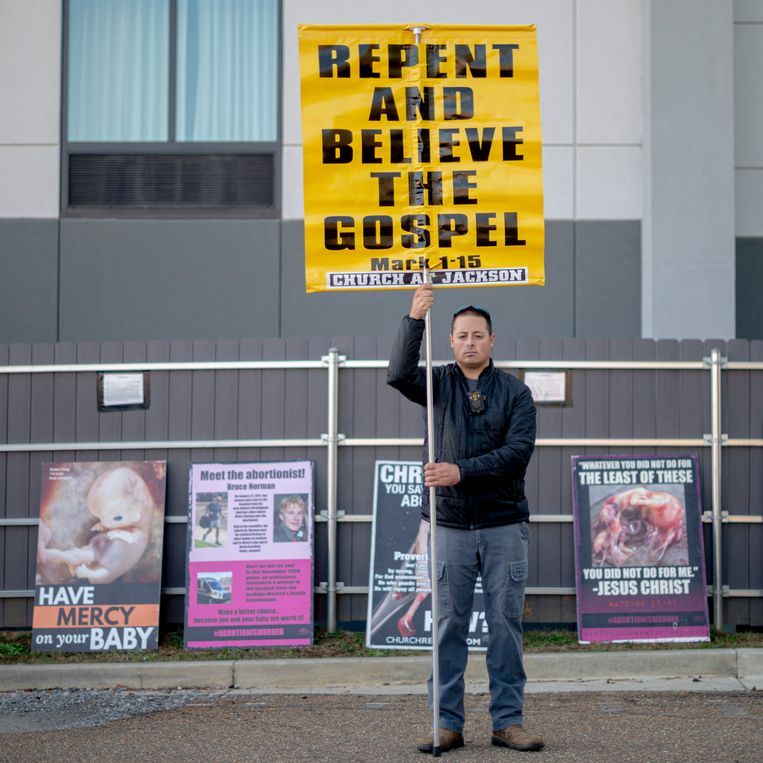 'There's murder in your heart! Don't kill your child!' Coleman Boyd's cries rise above hard rock music designed to drown out people like him. "Young lady," he yells at a girl who can't be much older than 17. 'That baby is already alive and what you're doing is murder! Do not do it! Let us take care of the child!'
Coleman Boyd stands in front of abortion clinic The Pink House in Jackson, the capital of the state of Mississippi. Since his surrender to Jesus Christ, this 49-year-old doctor has been here several days a week. Today he has taken three of his thirteen children with him. Demonstrating against abortion has become a kind of school subject in their homeschooling.
In the conservative south of the United States, The Pink House is the battleground of the anti-abortion movement. This faded pink building is Mississippi's last remaining abortion clinic. The question is how much longer: The state of Mississippi has asked the Supreme Court for Roe vs. Wade — a court ruling that has guaranteed the right to abortion in the constitution since 1973 — illegal. Because of this law, states are not allowed to ban the right to abortion, but conservative states like Mississippi want to be able to make their own decisions.
The judges will consider the case in Mississippi from Wednesday, and a decision is expected in the first half of 2022. If Roe vs. Wade off the table, the right to abortion will be abolished not only in Mississippi, but possibly in 20 other states as well. This would take the US almost fifty years back in time when it comes to reproductive rights.
Long journey

At abortion clinic The Pink House, a car drives up the hill every ten minutes. Texas and Louisiana license plates reveal that some women and girls have traveled more than a thousand miles to get an appointment here. Most of them have no idea who that orating mob is that awaits them with gigantic posters of deformed and bloodied babies.
Blonde Anna, Coleman Boyd's 15-year-old daughter, is standing by. She taps on the window, puts in stacks of leaflets. 'Don't have your child slaughtered!' her father shouts into the car. 'You don't have to listen to them,' shouts a volunteer from the clinic.
The rock music from the clinic has to get louder and louder, says pro-abortion activist Derenda Hancock, because more and more people are shouting louder and louder. Every day she helps the girls into the building. "Some of these guys are so shocked that they sit in their car crying before entering the clinic. Take your time, honey, I say, take a few deep breaths.'
An abortion is difficult for all women, Hancock says, but here in religious Mississippi, the guilt runs deep. 'They often drive here without support from their families and then they hear people shouting that they will soon be the mother of a dead baby. It's crazy! Fucking crazy!'
No Sex Education

Mississippi is the most religious state in America: 82 percent of the inhabitants are sure that God exists, only 4 percent think not. Both in capital Jackson and in the surrounding countryside, churches and religious institutions are dotted with so much power that they have managed to keep sex education out of the curriculum in many schools. Many young people learn little or nothing about safe sex, but they do learn that having many children is a blessing from God. As a result, the teenage pregnancy rate for girls between the ages of 15 and 19 is 65 percent higher in Mississippi than in the rest of the country.
Yet the state has one of the strictest abortion laws in the country. Women are not allowed to terminate their pregnancy after 15 weeks. Even that may soon come to an end. The neighboring state of Texas previously passed a controversial law that no longer allows abortions after six weeks, many women do not even know they are pregnant.
A victory for Christians like Boyd, who fill their days with abortion prevention. They are affiliated with the Church in Jackson, which does not associate with any known denomination. The followers, who also hold services for other 'pagan' places like clubs and cafes, consider themselves 'believers in the Lord Jesus Christ who have personally accepted Him as our Saviour'.
deeply religious

"Sorry to have to do this," Boyd says two days later, placing a camera on the bar of his kitchen. He wants to record the entire conversation. 'We don't trust journalists here.'
Despite this, Boyd is willing to tell his story. He sits down on a sand-colored couch next to his wife Robin Boyd, 47 years old and pregnant with their ninth. They also adopted four more children. They live in rural Mississippi in a gigantic yard, among grazing cows. Their front yard is like a playground, with a volleyball net, trampoline and seesaw. Inside, the walls are hung with framed psalms and crosses.
One of their adopted children is a 5-year-old girl who sits on an older sister's lap. "Her mother," Boyd says, "came in to the emergency room at the hospital where I work. She was addicted, pregnant and had drunk turpentine to get rid of her baby.'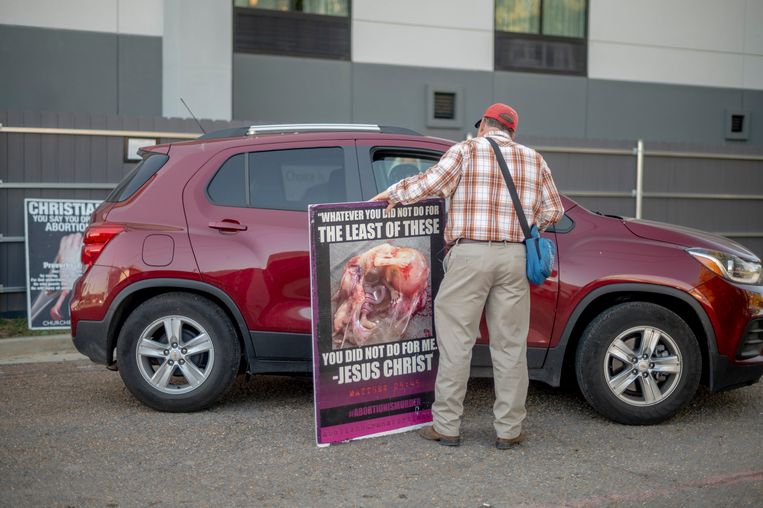 The deeply religious Boyd made the 25-year-old woman, who had already had a baby just before this pregnancy, a proposal: what if he and his wife adopted the child? Without consultation at home, he knew his wife and children would think it was a good idea. The woman agreed. A few months later, Boyd ran into the woman on the street, 37 weeks pregnant, drinking from a bottle of champagne, he says, shaking his head. Boyd: "The next day we took her to the hospital and had the girl out by caesarean section." He looks at his adopted daughter. "She wasn't safe in there."
If a woman is pregnant, Boyd believes, then there is another body in her body and that body belongs to God. That's why he and his wife are yelling and screaming in front of the clinic. They do God's work. 'Life begins from the moment that the sperm cell and the egg cell meet. It is our responsibility to see that life as worthy. If someone gets killed right in front of you, why don't you just sit there and watch? No, then you get up and protect that life!'
Referred to the church

Religion and poverty are inextricably intertwined in Mississippi, the poorest state in the US. Almost 20 percent of the inhabitants here live below the poverty line, but they rely almost entirely on the church for social assistance. If you end up in prison in this part of America, develop mental problems, a drinking problem, a drug addiction, somewhere there is a pastor or pastor who will reach out to you and guide you to the right path: the straight path of Jesus Christ.
Boyd was also on drugs as a child. "As a teenager I sniffed everything I came across." Even the chemicals in fire extinguishers. One night this got him so high that he destroyed a girl's house. "Then I was touched by the Holy Spirit and turned my life around." At church, he met his wife, who had recently found God, on the run from a boyfriend with a heroin problem.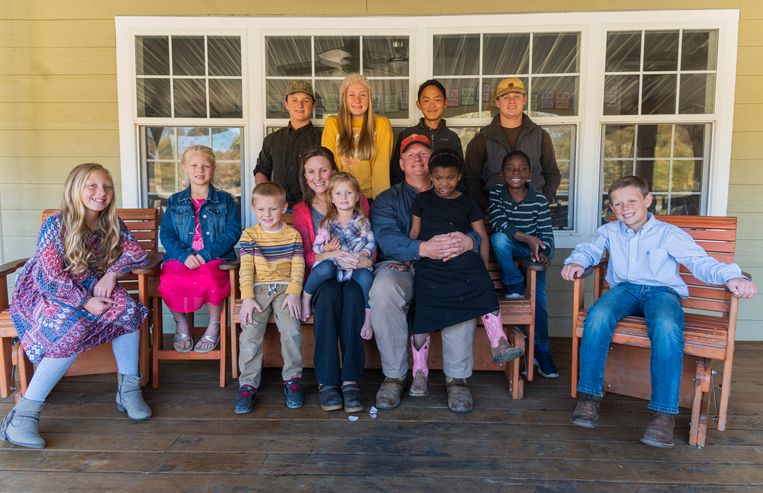 One day in 2017, one of his sons accidentally shot another son in the back. Then the neighbor ran into one of his daughters. "God gave me spanking," said Coleman's explanation of this calamity. "He disciplined me. I knew what he meant: that I had to start saving the lives of children who would otherwise be slaughtered.' Since then, the Boyds can be found on the sidewalk in front of The Pink House.
They think they have saved many more 'people' from death. Mothers who changed their mind because of their protest in front of the clinic and who would have thanked them later. "We offer them help," says Robin Boyd. "Some women say they don't want to keep the child because they can't pay their bills. Then we give them money.'
abortion pill

Only 27 percent of Americans want to get rid of the Roe vs. Wade law, a recent poll by Washington Post– ABC News. But since former President Trump's appointment of three conservative judges, who now form a majority in the Supreme Court, the fight against abortion has a significant chance of success.
If abortion is indeed banned, residents of Republican states like Mississippi will be able to travel to states where abortion is still legal. In practice, this means that abortions are only possible for rich people. After all, not everyone can afford such a trip and take a few days off from work. Another possible consequence of a ban is that the use of the abortion pill, which costs between 130 and 300 euros and can be taken at home, is becoming more common. Now many women are hesitant to take it, because they know little about it, but also because there are fake pills in circulation.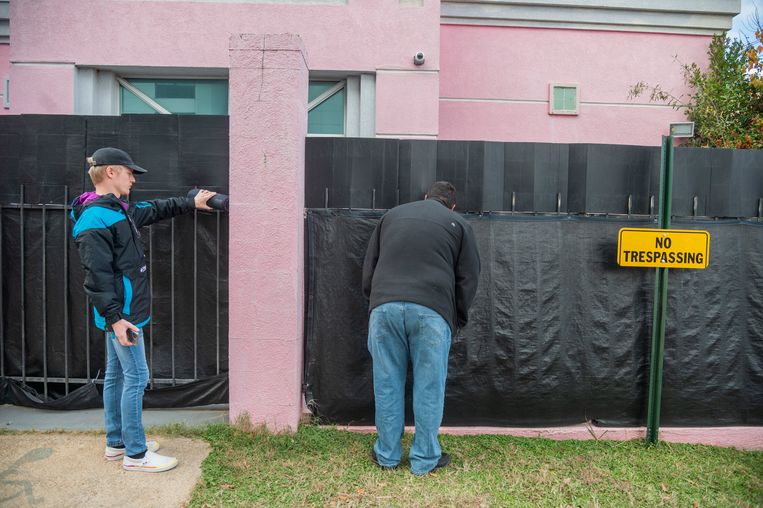 Boyd does not believe that abortion will be abolished by the Supreme Court. He thinks conservative politicians and judges say they are against abortion in order to win votes among conservative Americans, but do nothing about it when it comes down to it. Boyd was disappointed in Donald Trump, who wasn't anti-abortion enough, not even his evangelical running mate Mike Pence, in Boyd's view.
But what if the Supreme Court eventually outlaws abortion and Mississippi's last abortion clinic really closes? A big grin fills Boyd's face. "Then we'll drive a bulldozer over The Pink House and build a church there."
Mississippi still has one abortion clinic. But it may also have to close soon now that the Supreme Court is considering it
Source link Mississippi still has one abortion clinic. But it may also have to close soon now that the Supreme Court is considering it