Entertainment
Nearly 2.8 million viewers for the first semifinal: 'We can be proud' | Show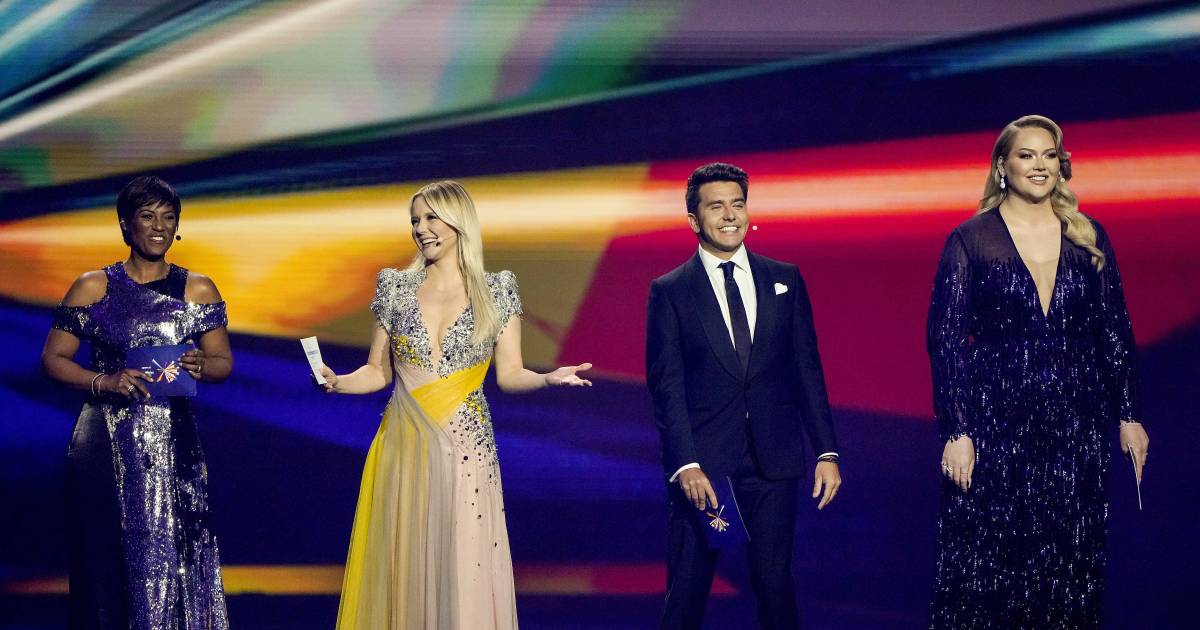 With almost 2.8 million viewers, the Eurovision Song Contest was by far the most watched program of the evening. The best viewed alternative was Snackmasters with 650,000 viewers on RTL 4. The 2.8 million viewers is considerably more than the number of viewers who watched a semifinal in recent years without a Dutch participant in it. This often did not exceed 1.5 million. Although there was no Dutch entry – Jeangu Macrooy will only appear in the final on Saturday – the Netherlands was in the spotlight with Rotterdam as the host city.
Many viewers were lyrical about presenters Chantal Janzen, Edsilia Rombley, Nikkie de Jager and Jan Smit, which this year presents the Eurovision Song Contest from Ahoy in Rotterdam. 'What nice, enthusiastic presenters we have, a beautiful location and a well-organized festival. We can be really proud. '
Earlier, the presenters indicated that they mainly want to show that they are a team. According to them, everyone has their own qualities and it is important to complement and strengthen each other. ,,, Each has its own quality. I think that that way you only push each other up ", said Jan Smit.
That Chantal, Edsilia, Nikkie and Jan reinforce each other is evident from the reactions of the viewers at home. Spectators of the musical spectacle proudly write that the foursome 'is doing incredibly well' and makes themselves more than perfectly understood. That is not surprising, the presenters previously took English lessons and were trained in reading the autocue.
Shining roles are reserved for Chantal and Nikkie. For example, the act of Ireland had not yet been built up and Janzen had to stretch the time and fill the show. With that move, the blonde scored points with viewers. 'Chantal just pops through an improvisation. Potjandorie, how proud we can be of our country! '
Watch below how Chantal Janzen deviated from the script when a camera suddenly went out:
Nikkie's presentation arts are also noticed by interested parties. Although Nikkie has hardly any experience as a television presenter, her followers and viewers of the Eurovision Song Contest are doing very well. 'Nikkie de Jager !!!!! It is doing so well. She makes the presentation almost carelessly. What a good pronunciation of the English. What a natural talent. It is very easy for her. So it seems, 'someone writes. And another: 'May we just say that @NikkieTutorials is really doing this fantastic! As if she has been presenting shows like this for years. AWESOME!'
React can be found at the bottom of this article. Only comments with a full name will be posted. We do this because we want to have a conversation with people who stand for what they say, and therefore also add their name. Those who still have to enter their name can do so by clicking on 'Login' at the top right of our site.
And read a selection of the reactions from viewers here:
Watch our videos about the Eurovision Song Contest below.
Nearly 2.8 million viewers for the first semifinal: 'We can be proud' | Show
Source link Nearly 2.8 million viewers for the first semifinal: 'We can be proud' | Show