Education
New energy neutral gym 'Gymadora' opened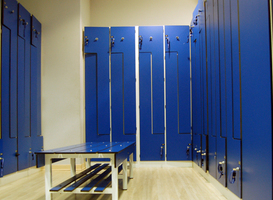 After the May holiday, the moment had arrived: Alderman Schokker, together with Alderman Bloemendaal, opened the new gym on Van Groeneveltlaan (former location Burmanlaan). After the welcome speech by both aldermen, the new name of the gym was revealed: 'Gymadora'. The children of Wassenaar were given the opportunity to participate in a contest about the new name. The new name was invented by Hugo from group 8 of the Nutsschool and playfully refers to the "adoration" of gym.
Alderman Schokker: "I am pleased that I was able to open the new gym together with the students and that they have contributed by coming up with the new name. After all, they will soon be one of the major consumers of the gym."
Investment
Director Erik Los of the Nutsschool: "As a school, we are very happy with the investment that the municipality of Wassenaar has made in this accommodation, where students can also be challenged through new forms of exercise".
Better understandable
Director Jos Dohle of the St. Jozef School: "What our gym teacher immediately noticed was that there was no longer any reverberation in the gym. This allows our gym teachers to make themselves better understood. In addition, there is much more space: where we normally had a full gym with one class, we now only fill half of the space".
The students of the St. Jozef School got a taste of the new, innovative gym. They were allowed to take a gym class there. Afterwards it was time for a healthy snack.
Interactive moving wall
In July 2019, the council approved the construction of the new gym with the ambition to introduce a different form of physical activity education. The hall therefore contains a MultiBall installation (an interactive moving wall) that will soon be ready for use.
Energy neutral
During the delivery process on 7 March 2022, Mr. Van Gurp (director of Blanksma Bouwbedrijf BV) handed over the energy label to Alderman Schokker. The gym has an energy label A+++++. According to the calculations, the gym is energy neutral. This means that the same amount of energy is consumed as the building itself generates. The gym is well insulated, has energy-efficient equipment and solar panels.
By: National Education Guide
New energy neutral gym 'Gymadora' opened
Source link New energy neutral gym 'Gymadora' opened