Auto
Nike One 2022: still the future after 18 years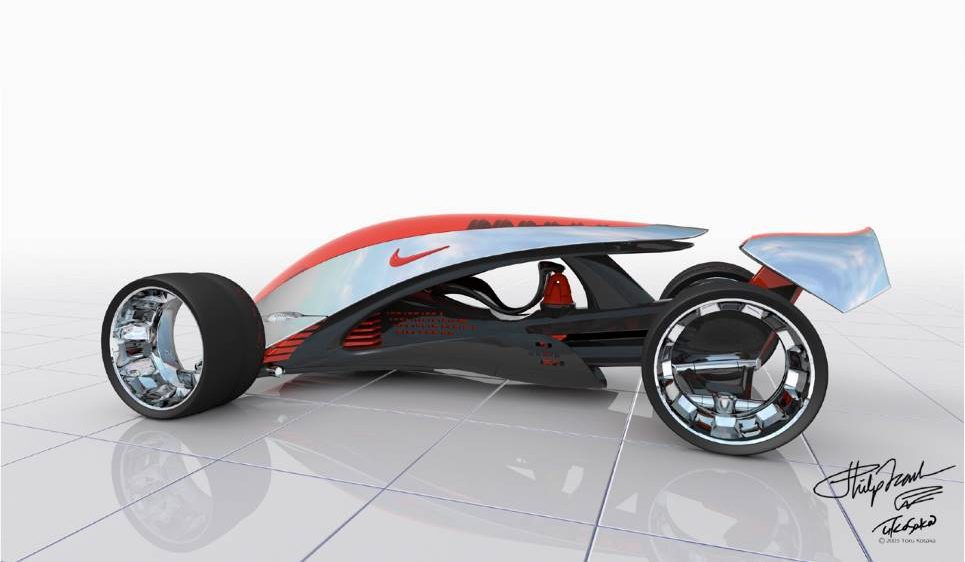 Most of us experienced our first introduction to driving by playing video games. Today, many digital concept cars are specifically designed for games like Gran Turismo. This is common practice today, but in 2004 this had never been done before. Until Gran Turismo teamed up with sports brand Nike to design the first-ever concept car exclusively for Gran Turismo 4, the Nike One 2022.
Nike and Gran Turismo
Nike and the company behind Gran Turismo, Polyphony Digital, wanted to create an exclusive concept car for Gran Turismo 4. It was decided that that car would be the ultimate expression of what a Nike car could be. Phil Frank, who also designed the stunning Saleen S7, was tasked with bringing this vision to the television screens of millions. It was decided to design the car around the brand's 50th anniversary, which happens to be in 2022. So designing a car from scratch, looking 18 years into the future and for a company that has never made a car before sounds easy right?
Designing the Nike One 2022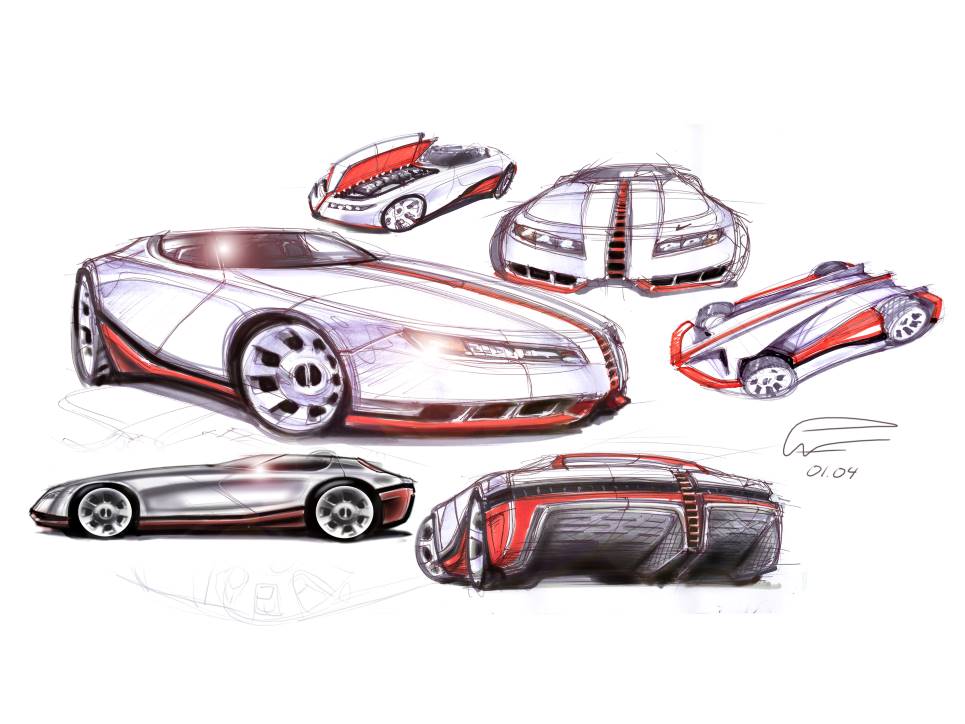 Well, as you might have guessed, it took some tries. Phil said in an interview in 2004; "We went to great lengths to understand what a Nike car should be," explaining that "there were a lot of discussions and concepts that evolved towards the ultimate solution, a typical Nike solution for what a future sports car should be." .". And indeed, the starting point of the Nike One 2022 is a bit different from how the ultimate concept car would end up.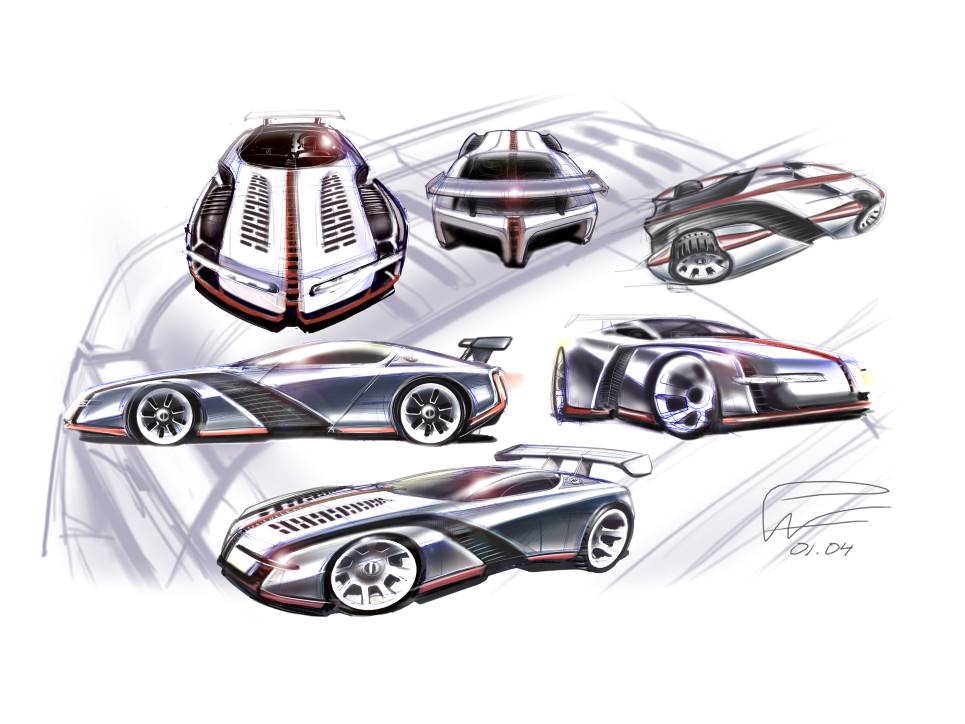 The first concept sketches show a car that looks a bit like the Alfa Romeo Brera concept from 2002 if it had been a roadster. A clean design, with a few shoe elements like a lace stripe down the middle and the Nike Swoosh at the bottom. This concept was later revised to look a bit more aggressive with sharp corners in the design. You can already see that Nike wanted a car that looked a bit more muscular and toned.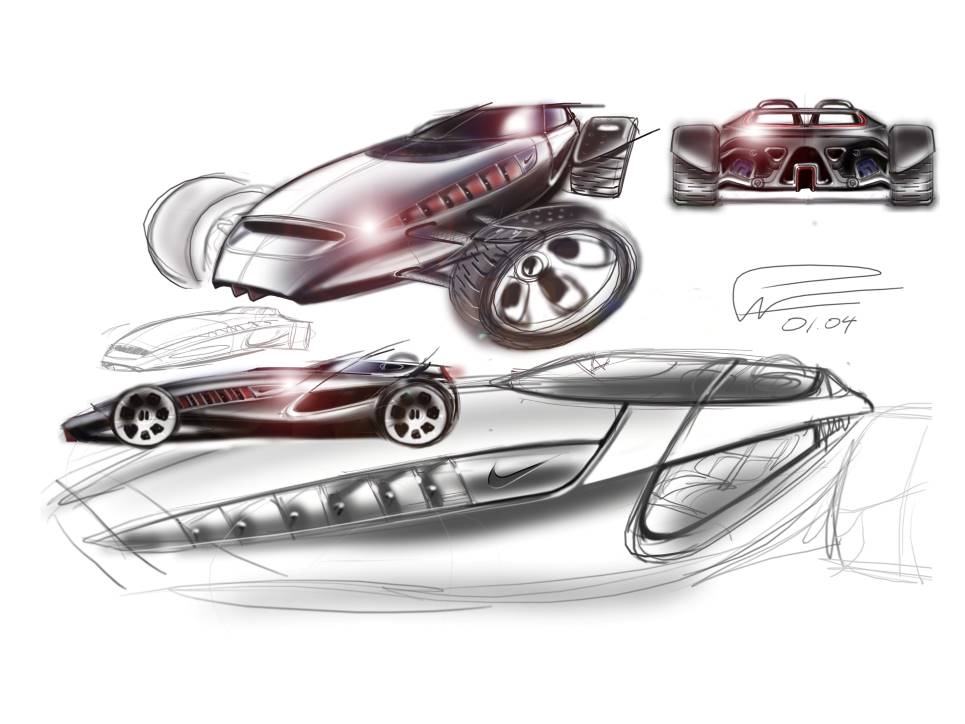 The Nike One Concept's third attempt was arguably the biggest step yet in discovering its final form. All wheels are now connected to a central body in which the driver sits in the back between the rear wheels. The car has been transformed in three steps from a kind of lifestyle GT car to a full-fledged track racer. However, Nike was looking for the next step and so Phil decided to go in a very different and daring direction.
The concept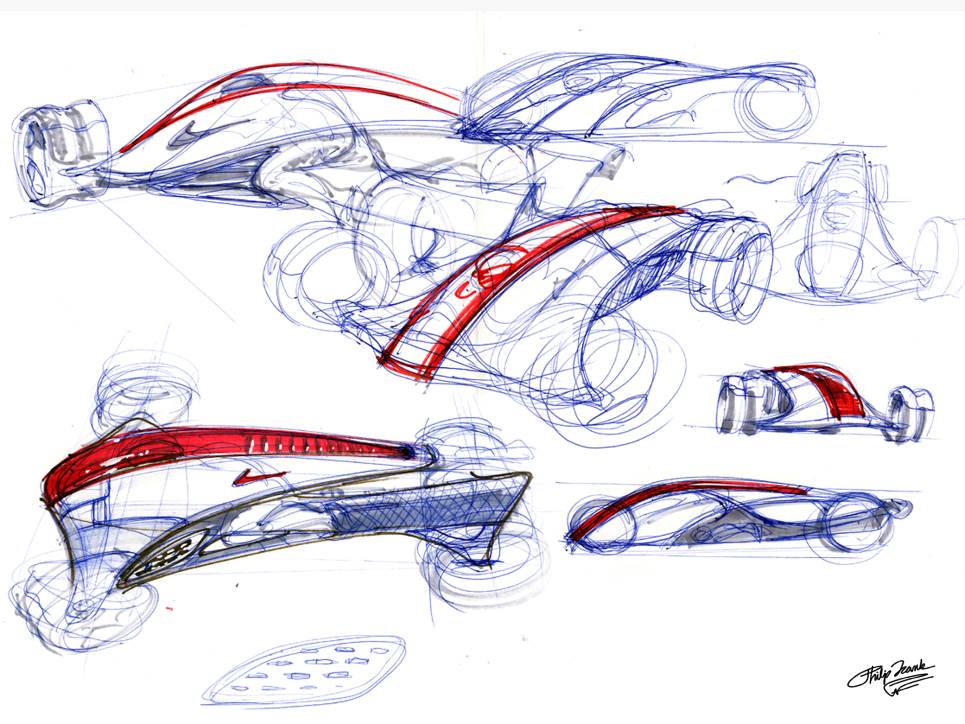 The end result is a concept that went in a completely different direction, but fully portrayed what Nike wanted. Rather than designing the car to look like the product, it was designed to fit the company's ethos; "Less is more". Not only that, the concept now resembled the human form more than ever. "Because Nike is an athletic company, we understood that the concept had to be more than just a fast car," said Phil Frank "the athlete is the critical part of this vehicle, so we designed from that perspective, taking inspiration and learning of the human body, its movement and dynamics.".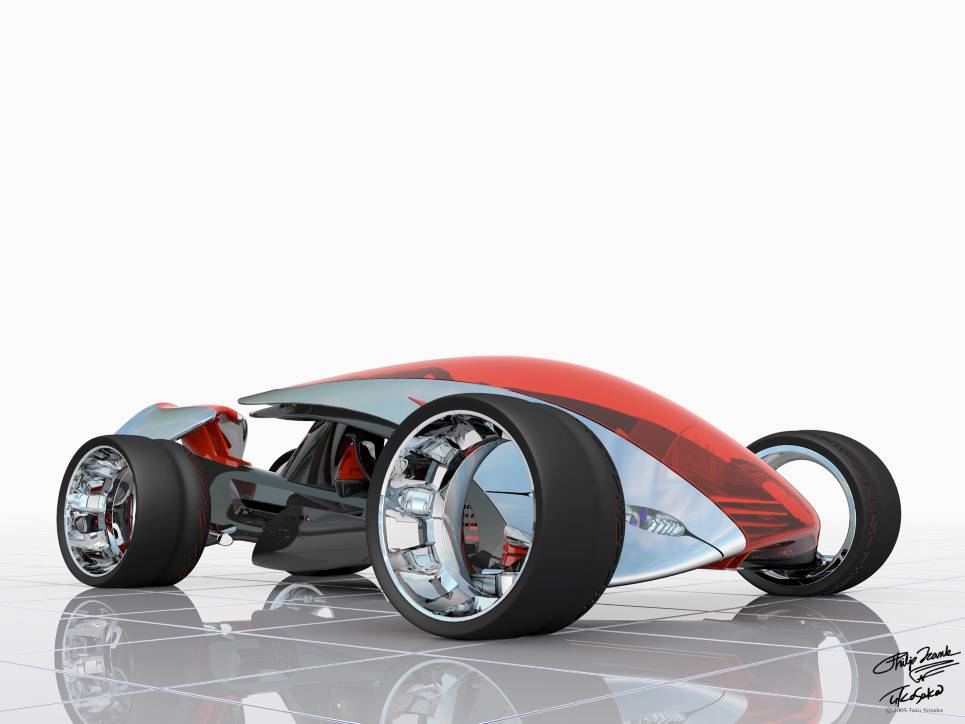 The most striking feature of the human form integrated into the Nike One is the car's unusual stance. With a much wider front axle compared to the rear axle, it looks like a runner ready for the starting blocks. But the concept of the Nike One 2022 goes a step further than just aesthetics. The seating position resembles that of a motorcyclist but with clip-on pedals. These are controlled by using your arm and leg muscles for a more intuitive experience. Even the tires are designed to reduce rolling resistance on the straights, but at the same time have a maximum contact patch in the corners.
Faster than a Saleen S7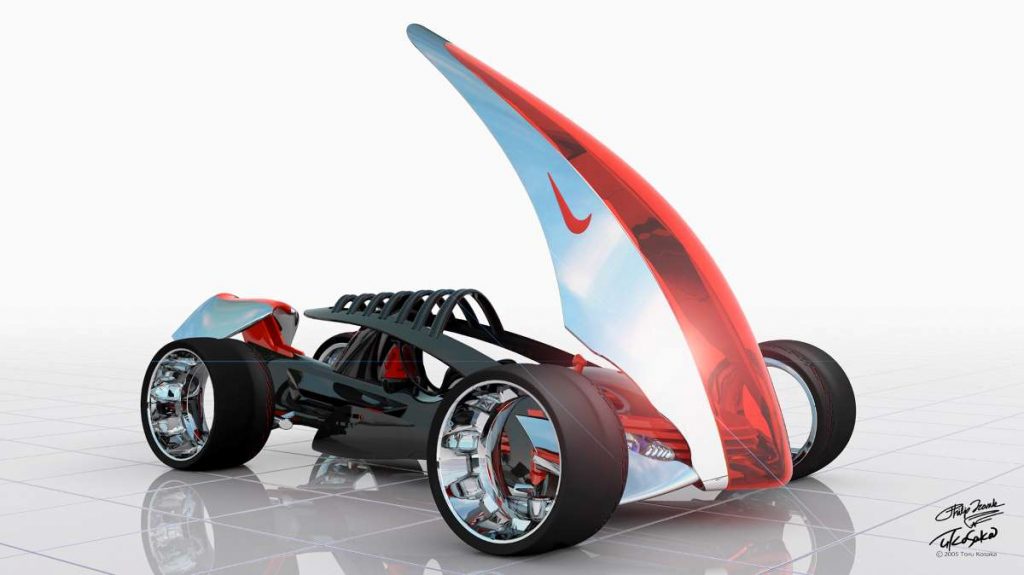 By incorporating all these incredible details into a digital concept car, you could imagine that the car would be a cinch to drive. But that is not the case. With its 8-speed gearbox, 750 kg weight and active aerodynamics, it is a very manoeuvrable car to drive. That said, it takes some experience and training to master the car's particularly sharp handling. As with any sport, you need to practice well before you can get good at it. However, once you get the hang of the controls, it's well worth the drive. 2003-2004 Japanese GTC Champion Satoshi Mayamoto, who was responsible for tuning the car, was able to beat the Saleen S7's lap time on the Fuji Speedway track.
Nike One 2022 into 2022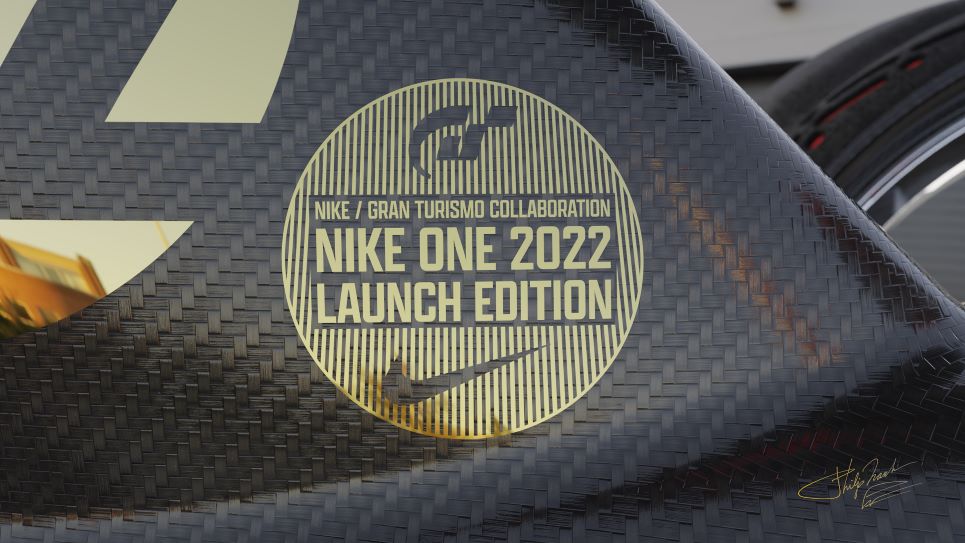 So the Nike One 2022 was not only the first digital concept car in a video game, it was probably one of the best. Even though at first glance you might think it is an exotic study of form, there is much more to it than meets the eye. It's an experience, it's a new way of thinking and in that sense it's exactly what Nike and Polyphony Digital were trying to achieve.
Phil Frank's creation is now 18 years old and has been at the forefront in many ways. Today it is not so uncommon for a supercar to have active aerodynamics. The styling might still be a little extreme, but it's aged gracefully somehow. If a new unknown brand of electric cars came out with a concept car, it could very well look like the Nike One 2022.
To celebrate this special concept, designer Phil Frank shows several new renderings of the Nike One 2022 this week. A tribute to a special design that he and his team managed to create in 2004.


Nike One 2022: still the future after 18 years
Source link Nike One 2022: still the future after 18 years