Education
Noordhoff and Studytube join forces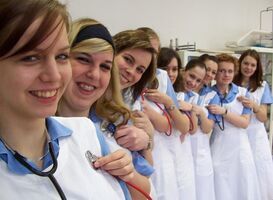 Noordhoff Professional, the learning partner for the healthcare sector, and Studytube, the fastest growing online learning platform, are joining forces. Together they will make learning and development accessible and simple for healthcare workers. In addition, they support healthcare organizations in the personal and professional development of their employees. This unique total solution for learning and development in healthcare will be available from this autumn. Noordhoff reports this.
Stimulating lifelong learning, focusing on the full potential of every professional and constantly challenging. Based on these core ideas, Noordhoff Professional and Studytube have joined forces.
Best of both worlds
At Noordhoff, an 80-person team develops advanced learning solutions for healthcare. At Studytube, a team of 120 employees works to innovate and enhance the learning environment, with an extensive online training library, an integrated authoring environment and a catalog with the offerings of leading educators. That means quality content on an innovative platform. The result of the close collaboration between these specialists is a versatile training partner for healthcare, with a wide range for personal development and professional growth.
Intensive cooperation
The two market leaders will work closely together. Noordhoff focuses on the further development of high-quality digital learning content based on its knowledge, didactics and content development, while Studytube uses its expertise in the field of learning processes and software development to further strengthen the learning platform, with new functionalities, specifically tailored for healthcare. .
Organization and professional unburdened
With the platform, a healthcare organization has one place for all training questions. Managers have various reporting options for insight into all learning activities of the employees. Healthcare professionals can easily find suitable and challenging learning paths for their further development and for support in the workplace. They can easily keep an overview of their progress on the platform and continuously discover relevant training courses and new sources of knowledge via smart algorithms.
By: National Education Guide
Noordhoff and Studytube join forces
Source link Noordhoff and Studytube join forces