Entertainment
ONE the Musical is the most exciting premiere of the year
It can't be otherwise ONE the Musical tomorrow is the most exciting musical premiere of the year. New story, new music, a completely built theater (the first LED Box theater in the world) and that in a place that a large part of the musical audience is not yet familiar with, Studio's Aalsmeer. Plus… with the new corona measures.
Subway will be there tomorrow and already spoke with one of the protagonists, Nienke Latten, who returned from Germany.
Press conference for ONE the Musical very exciting
As cast, crew and production, they will have pinched themselves last night, during the corona press conference of Mark Rutte and Hugo de Jonge. The theater in Aalsmeer should not close at 5 p.m. or close completely, just on the weekend of the world premiere of ONE the Musical? Closing? It wasn't even open after some try-outs!
Unfortunately… the corona woe is producer and writer of ONE the Musical Roel Pieters was not spared. And yet the premiere continues tomorrow, with a quickly arranged room occupancy of about 30 percent. In the coming weeks, only afternoon performances can be played on Saturdays and Sundays. It is currently being considered whether matinee shows can also be organized on Wednesdays.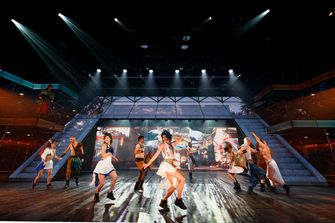 You don't wish corona measures on anyone, but certainly not Roel Pieters. He conceived his baby of tomorrow more than 20 years (!) ago. And now it's finally here. Subway saw him busy on a press day, where he dressed himself in purple boxing gloves with the words kick ass what was over the top. Pieters then to the journalists: "With ONE the Musical we are going into battle at a time with about fourteen other fantastic musicals."
Will the musical audience find Aalsmeer?
The boxing gloves action of Roel Pieters is also understandable. After all, the man who worked in Joop van den Ende's studios a quarter of a century ago is starting something. Finds the audience ONE the Musical well? An equally exciting question was asked eleven years ago about Soldier of Orange by the way, when it turned out to be at a former army airfield between Leiden and Katwijk. if Soldier of Orange set the example with eleven sold-out years ONE the Musical well, then it's fine. But yeah…
However, the public does come to Aalsmeer for something that has never been seen before. ONE the Musical you see in a room surrounded by LED screens. Behind the stage, next to the audience, but also above the spectators: everywhere. Moreover, we do not only see musical stars such as Nienke Latten, Soy Kroon, Edwin Jonker, Peter Lusse and Jasper Kerkhof. But also a group of free runners and acrobats who provide the necessary spectacle. With all this you have to be in some kind virtual realityexperience, where flying through the LED theater over the Nile in ancient Egypt is just possible. But then virtual reality with real people singing, acting, dancing and performing acrobat antics.
Here's how to set up an LED theater in 53 seconds:
So ancient Egypt, that's where it plays ONE the Musical wonder. We see Amon (Soy Kroon), a tough worker who works on the Cheops pyramid. And princess Mira (Nienke Latten), a rebellious princess who falls in love with that worker. Something that King Cheops (Edwin Jonker) forbids 'naturally'. This results in a forbidden love that cannot be stopped by anything or anyone.
And that at a time when the Egyptian people are being pushed to their limits by the king (but where workers are also proud of the gigantic structure on which they are working). Cheops is the largest of the three pyramids of Giza. For more than 3800 years it was the tallest building in the world at 146 meters. Presumably it arose between 2551 and 2472 BC. It is considered one of the seven wonders of the world.
Now still unknown face the big star
The lead role in ONE the Musical is reserved for Nienke Latten, an unknown face for Dutch musical lovers. They who Puss in Boots or the concert version of West Side Story saw, Nienke was able to see. She then left for Germany to meet Princess Jasmin in Hamburg and Stuttgart aladdin can now be admired in our country in the Circustheater in Scheveningen (Metro's review of this can be read here).
Nienke Latten is 26 years old and comes from Voorburg. She graduated with a 9.5 from her music theater education at the Fontys Hogeschool in Tilburg. In her unemployed corona time, Nienke started making music herself as a singer-songwriter. She released four singles, including these:
Subway said Nienke after a rehearsal, during which she sang the stars of heaven for the press and her colleagues. She is now ready for perhaps the biggest challenge of her life: tomorrow, together with Soy Kroon and Edwin Jonker, she will play the lead roles during the premiere of that brand new production, ONE the Musical.
Have you gone for the other big lead right now, that of Princess Jasmin in Aladdin? Or have you seen it now?
"No, I didn't go for that. But I'm definitely not done with that role yet. When that ran for Scheveningen, I still had a contract in Germany. It couldn't. But hey, I'm really happy to be part of this project, this beautiful new show."
Nienke Latten is the first Mira in the world
Exciting, something completely new and built from the ground up?
"Certainly, certainly exciting. But also very cool because it is from scratch and people have been working on it for so long. I am the first in the world to play Princess Mira and I was able and allowed to figure it out completely to make the role my own. We did that all together."
Suppose ONE de Musical goes out into the world. Then everyone everywhere probably looks at you first…
"Well…that would be a fantastic honor."
Do you also find it exciting that it just has to be successful with ONE? The Netherlands must find its way to you and Aalsmeer.
"That is exciting with every show and especially after such a time with corona. But I don't think much about it. I think it's just nice that I go for something with such a large group with a lot of talents. The cast and crew have such a passion for the profession that I can't imagine the audience not ONE the Musical going to keep."
Via The Lion King to ONE the Musical
What did little Nienke Latten want to be when he grew up?
Until I was twelve I wanted to be a pop star, a pop singer. With my friends from primary school we sang with hairbrushes as a microphone. But then I went to The Lion King went to Scheveningen, my first musical. There I saw that dance, singing and acting were combined and I immediately fell in love with this profession."
And what do those school friends think that you are now on a poster with Soy Kroon?
"One of them visited me at Aladdin in Hamburg. I think they'll all come and have a look now that it's closer."
Nienke Latten recently appeared on TV in Tijd Voor MAX with a song from ONE the Musical. Astronaut André Kuipers watched with pleasure:
Is Mira in ONE the musical as huge as that of the princess in Aladdin?
"Now I have even more songs to sing and more scenes to play. That way I have even more responsibility. Actually, I am now taking a step again and I always like that."
Sober cheerful Nienke, may put down the rebellious princess.
"Nice is not it?! I love that. In a role, however, you should always look for similarities with yourself, I think. You can then play it quite easily in a natural way. They almost happen automatically. But I like to look for the edge. And things to say and do that you would never see from me otherwise. And then figure out how I'm going to present that as believable as possible. Diving completely into a character is what I like the most."
Nienke Latten about the rebellious Mira
Is Mira really rebellious, or is it really not in her character?
"Around her father, King Cheops, she is exactly as she should be. According to the rules of the palace. But Mira lives very much from her feelings. That is where her choices come from. Certainly in the love for a worker, something that was not possible in ancient Egypt. The love between Mira and her father – although there really is unconditional father-daughter love – consists of rules. But yes, in the forbidden love for the worker she follows her heart. And that can only happen outside the rules. She is free-spirited and I think that's a nice theme, even for this time. I hope many girls and women can identify with Mira."
Something else: graduating with a 9.5. What was wrong with that half?
"Hahaha. I think you have to see it this way, that something is never quite perfect. That's good, what then can you always strive for better."
You've played the lead role of princess twice now. You said you wanted to be a pop star, but didn't little Nienke secretly want to be a princess?
"Certainly, all girls want to be princesses, of course. I managed to do just fine."
After the premiere on Sunday 28 November, ONE de Musical can be seen exclusively and five days a week in Studio's Aalsmeer. More info can be found here. Curious about Nienke Latten? Then look here.
Visiting Prince Charming Chris: 'Never experienced love at first sight'
Seen a mistake? Mail us. We are grateful to you.


ONE the Musical is the most exciting premiere of the year
Source link ONE the Musical is the most exciting premiere of the year