Education
One third of the second graders do not know whether the Netherlands is a democracy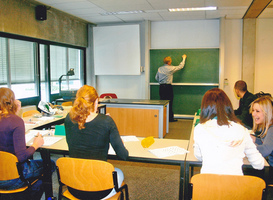 Thousands of students and dozens of schools in the Netherlands are participating in the multi-year study by the UvA, the Adolescent Panel on Democratic Core Values ​​and School Careers (ADKS). The young people are followed for several years to monitor their development of core democratic values.
Political and social problems
The research shows that political and social problems are not often a topic of discussion for second graders (children between twelve and fourteen years old). This applies to both conversations they have at home and conversations at school. Between 60 and 70 percent of second graders indicate that they only talk to their parents about these topics a few times a year. The same percentage of children say they never talk to teachers about political and social issues, or a few times a year.
Researchers Laura Melder and Paula Thijs are particularly shocked by the knowledge gap between second graders in VWO and VMBO. 71 percent think democracy is important among VWO students, while this percentage is 34 percent in VMBO.
Citizenship Education
It is expected that a law will come into effect next summer that will set out which rules must be met by citizenship education in primary and secondary education. The researchers see their research as a baseline measurement on the basis of which it can be determined where to start with citizenship education. Schools are currently allowed to decide for themselves whether and how they organize citizenship education. Partly because of this, Dutch children receive far less lessons in citizenship than children abroad, and they only receive social studies in the upper years of secondary school. "As a politician, you must now determine at what age you want to start the citizenship learning path," says Thijs.
By: National Education Guide
One third of the second graders do not know whether the Netherlands is a democracy
Source link One third of the second graders do not know whether the Netherlands is a democracy