Netherlands
One woman breaks the rules, 5,000 people in quarantine: the huge consequences of an 'innocent' ski trip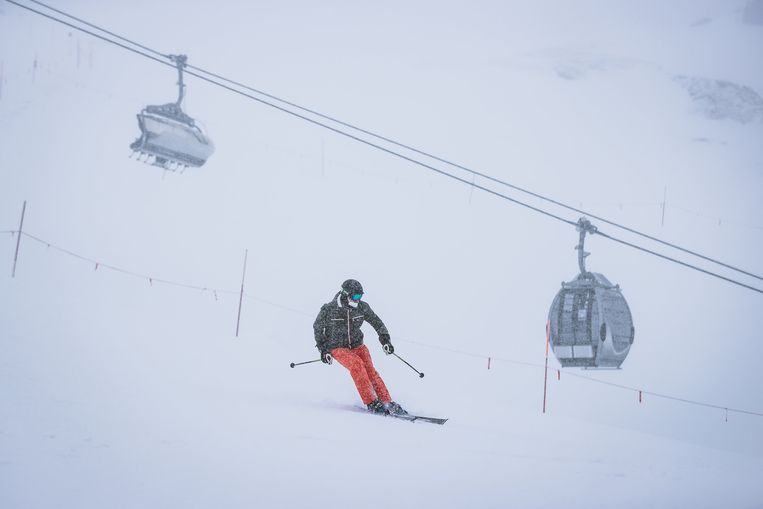 A negative travel advice and all ski areas turned red. Still, many Flemish people decide to get on their feet during the Christmas holidays. For example, a mother from Edegem, who packs her suitcases on December 19 and heads towards the Swiss mountains. The woman is divorced, her daughter will stay with her daddy for a week, while she goes on winter sports until December 26. The rules are clear to all travelers returning from a red zone: at least seven days in quarantine and two tests. The mother ignores this: her daughter is allowed to stay with her again on December 27. The day after, the woman is tested for the first time, which later turns out to be negative. The following weekend the woman has herself tested again. That test will prove positive, but before she has the result, the daughter will return to her daddy.
When the child returns to primary school OLFA Elsdonk in Edegem after the holiday, there seems to be no problem. Until she gets mild symptoms on Wednesday evening. Whether the mother already knew that she had tested positive is not clear. In any case, the dad, his daughter and the rest of his family will be tested on Thursday. The day after they are told that the test is positive. Another three days later they receive the clear message from two doctors – a general practitioner and a microbiologist from UZ Antwerp – over the phone: 'Extend your quarantine. This could well be the British variant of the virus. '
Too late

But it was too late. The daughter had already infected another girl during those 2.5 days of school. That pupil in turn infected her mother, who works as a teacher at the Sint-Jozef school in Kontich. It was indeed about the particularly contagious British variant. Both schools did not take any chances and decided to close for a week this weekend. More than 5,000 people – students, teachers and their families – have been ordered to go into quarantine for at least seven days, 2,000 of whom must be tested. 550 students and more than 50 staff members of the school in Edegem already got a wiper in the nose yesterday afternoon. Those results will be announced today. In Kontich it concerns 1,450 students and about 250 teachers, they are being tested today. Again, a possible negative test does not mean that they can be removed from quarantine, that is only possible if the second test is also negative.
Additional checks

"If everyone had followed the quarantine rules after returning from a trip, we could have avoided this," said Edegem mayor Koen Metsu (N-VA). "It's about a crushing responsibility that is now underlined. But we have promised not to culpabilize people." The mayor himself is in quarantine because his two children, aged 6 and 10, go to primary school in Edegem. "Hopefully we will be there on time. The number of infections in our municipality does not seem to have risen noticeably for the time being. But those figures will not drop in the coming week, I fear. For the time being no more than those two infections have been diagnosed at the school. Or. "We are going to check the residents extra for the completion of the quarantine? We are raising awareness and making the rules very clear again. But it is not the case that the police will ring the bell at every door." Yesterday morning the city council decided to stop all activities of youth associations and sports clubs and all academy lessons for a week.
Bart Seldeslachts (N-VA), the mayor of Kontich, asked and received permission in the city council yesterday evening to carry out additional checks on compliance with the home insulation. "If we have the data of the people who have to be quarantined, we can initially start raising awareness with our municipal services about the importance of complying with the rules. If problems arise, we can call in the police and proceed to sanctions. . "
Compensation

Finally, can the quarantined families claim compensation from a mother who went skiing? "A difficult exercise", says lawyer Lukas De Graeve, who specializes in liability law. "If you are claiming damages, three elements must be proven: error, damage and causation. Failure to follow the rules could be a mistake, but how do you prove that she caused all those contamination? If here is a case. I suspect that the woman from Edegem would win them, because things like this are simply very difficult to prove. "
December 19-26:

Mother leaves for Switzerland, daughter goes to her dad
December 27

Daughter goes to mother again
December 28

Mother undergoes first test, which later turns out negative
January 3rd

Daughter back to dad. Mother undergoes second test, which later turns out positive
January 4-6

Daughter goes to school
6 January

In the evening daughter develops mild symptoms
January 7th

New family of dad and daughter undergo test
January 8th

Test shows positive
January 11th

Father is asked to extend quarantine, because it may be a British variant
January 17th

Two schools in Edegem and Kontich will close for a week
January 18

550 students and 50 staff members of the school in Edegem undergo the first test
January 19

Results of tests in Edegem will be announced. 1,450 students and about 250 teachers from the school in Kontich are being tested, the results will be known tonight or tomorrow.
One woman breaks the rules, 5,000 people in quarantine: the huge consequences of an 'innocent' ski trip
Source link One woman breaks the rules, 5,000 people in quarantine: the huge consequences of an 'innocent' ski trip