Auto
only 100 pieces for the world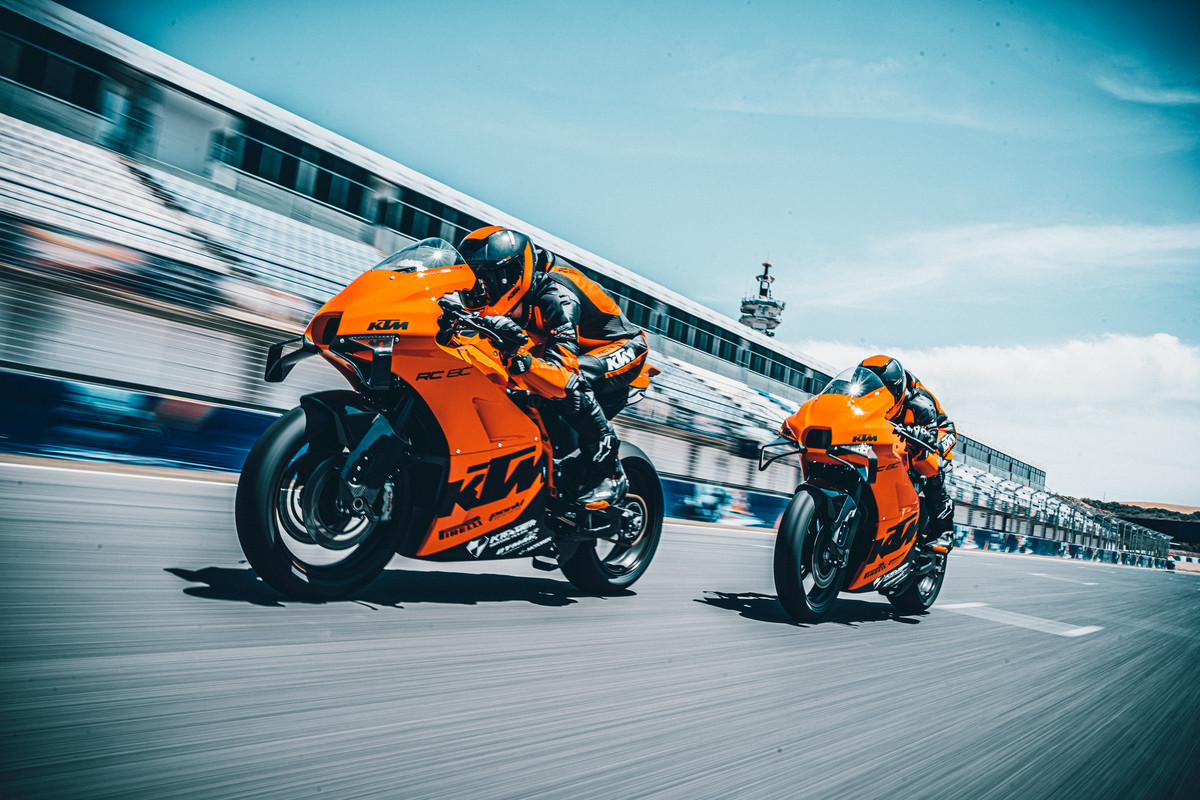 In a limited edition of 100 pieces, KTM introduces the RC 8C. All copies are built by hand and are only suitable for the track.
KTM RC16
The lightweight GRP sheet metal is inspired by the KTM RC16 and made from Kevlar-reinforced carbon fiber. Underneath is a 128 hp, 889 cc LC8c power unit. This DOHC 8-valve parallel twin is housed in a custom 25CrMo4 tubular steel frame.
WP suspension
At the front, a handcrafted 43mm WP APEX PRO 7543 closed cartridge fork is used, produced from lightweight material. The shock absorbers have been developed based on the experiences of the KTM Factory Racing team in various international tournaments and are installed by the same department that builds and maintains the shock absorbers of the KTM RC16. The fork also has no hydraulic stroke limitation, allowing riders to continuously adjust the damping characteristics.
At the rear is an A WP APEX PRO 7746 shock with a preload adjuster, which can be easily adjusted to the needs of all riders and can handle almost any situation with separate settings for compression and suspension at high and low speeds.
Ready to race!
Because this bike is purely track-oriented, every detail is tuned for racing. The look of the KTM RC 8C leaves no room for doubt as to its purpose, from the quick-release tank and body panels to the lightweight Dymag wheels and Pirelli SC1 racing slicks.
Brembo Stylema
Brembo racing collection components ensure maximum braking performance, with Brembo Stylema calipers at the front and 290mm full-floating discs with aluminum rotors secured with titanium screws, and a Brembo twin-piston caliper with 230mm fully floating discs at the rear placed directly on the hub.
Also, the KTM RC 8C is equipped with a radial Brembo 19RCS Corsa Corta master cylinder with numerous innovations, many of which are taken directly from the master cylinders used in MotoGP. The main feature is that riders can set their target point exactly where they want. want, using an easily accessible selector on the top of the master cylinder itself.
AIM MXS 1.2 RACE dashboard
To ensure data is collected and aggregated, the KTM RC 8C uses the AIM MXS 1.2 RACE dashboard and associated data logger with an integrated GPS function. All information is displayed on a 5-inch TFT screen with integrated data recording that is continuously tracked and can be analyzed in AIM Race Studio.
Highlights KTM RC 8C
// Limited to 100 pieces worldwide
// Hand-built and exclusively for track use
// 128 hp, 140 kg dry weight, power/weight ratio almost 1:1 1
// Special racing exhaust with titanium Akrapovič muffler
// Special air box and racing air filter
// Customized 25CrMo4 tubular steel frame
// WP APEX PRO shocks front and rear
// Brake parts from Brembo racing collection
// Ultra-light aluminum Dymag wheels
The exclusive KTM RC 8C will be available for pre-order starting at 4:00 PM on July 22.
One-time customer event
In addition to the KTM RC 8C itself, buyers will also have the chance to participate in a one-time customer event with the Red Bull KTM Factory Racing test team. This exclusive event is limited to 25 participants and offers the unique opportunity to ride with racers like Dani Pedrosa and Mika Kallio, who will also give you tips throughout the full day at the Circuito de Jerez. Anyone who opts for KTM RC 8C track experience will also get the KTM RC 8C track package.
This package consists of:
// Extra set of Dymag wheels (front and rear)
// Extra set of front and rear brake discs
// Paddock stands for front and rear
// Tire heaters
// KTM Race mat


only 100 pieces for the world
Source link only 100 pieces for the world