Sports
Overwintering as an almost sacred assignment for Ajax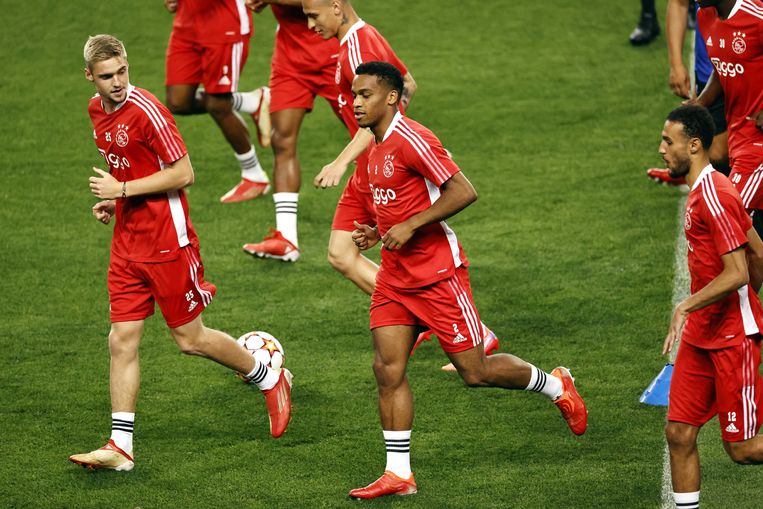 Around a monumental stadium like José Alvalade, feel the tingling of European football, of burning ambition. Finally, in this late summer, with supporters traveling with them, 1200 even from Ajax, after a year and a half without traveling abroad.
Here, in Lisbon, Ajax will start on Wednesday with the sporting mission that should actually succeed: to reach the last sixteen in the Champions League. Trainer Erik ten Hag: 'We have to be ready. Top shape will come in the spring, if all goes well, but we've grown over bumps. We are more attuned to each other. We are looking forward to.'
Ajax rigorously reformed its policy in 2018, signing Daley Blind and Dusan Tadic, raising the salary cap by a few floors and setting new goals. Participating in the top, as in the past, no matter how difficult that is in the current financial conditions of top football. The first season of the new wind was an invigorating breeze right away, with a near-final.
Since that golden season, the line has been declining. Elimination from the top European competition by clubs that Ajax wants to stay ahead of, Valencia and Atalanta, failed performances one division lower in the Europa League, with elimination by Getafe and AS Roma. No, the policy has not changed for that. It must be better, captain Dusan Tadic also realizes: 'Our goal this season is to be in shape when the Champions League starts.'
No one has left this summer, although the club would have liked to sell David Neres and Nicolas Tagliafico, and the suspended goalkeeper André Onana is a burden because he refuses to sign. Ten Hag in particular still talks nicely about him, because he continues to see a good keeper in Onana, in addition to the 'oldies' Remko Pasveer (37) and Maarten Stekelenburg (almost 39), who has recovered from an injury and is a goalkeeper on Wednesday.
To hibernate and earn millions is the almost sacred task. Certainly in the group with Borussia Dortmund, Besiktas and Sporting Portugal, no group with a clear favorite. Stadium José Alvalade is a beautiful theater for the opening, with cinemas, numerous shops and a museum. Occasionally a supporter buys a ticket on Tuesday: 50, 40 or 35 euros, in the limited capacity due to corona. The lion from the emblem roars stately as an image. Befitting the multi-sports club is the memorial stone for Joaquim Agostinho, the legendary, very strong cyclist who fell in the Tour of the Algarve in 1984 due to a collision with a dog and finished the stage, after which he died in hospital more than a week later.
football school

Cristiano Ronaldo broke through as a teenager at Sporting. Watch on Youtube the stunning footage of the stadium's opening game against Manchester United in late 2003, when he was not yet a goal machine but a dribbler with tricks full of fantasy and guts, with unparalleled dribbles. Named after Ronaldo, the famous youth academy has spawned numerous stars, from Bruno Fernandes to Luis Figo and Paulo Futre, another blissful ping-pong player. Sporting is proud to report that ten of the fourteen players in the final of the European Championship won by Portugal in 2016 once received Sporting's training.
In that sense, Sporting resembles Ajax, as a cradle of talent, although Sporting, usually eclipsed by Porto and Benfica, only grabbed its first title in nineteen years this year. Pedro Luiz de Castro is 72 years old and a supporter since I was born, because Sporting is more than a club. It is a family for which I feel passion, always within the rules of the proper. That never changes, even if we went years without a championship. I suffer when we lose, but I always patiently search for causes. I like the leading and democratic spirit of this club. And of course because of the football school of talent.' Trainer Rúben Amorim, adding: 'Ajax and Sporting have the same philosophy, although the momentum is different. Ajax is more mature. You can't compare the teams right now. For us, the competition is an enriching experience.' Ten Hag can live with the favorite role: 'We eliminated Benfica three years ago, despite the bad reputation of Dutch football against the Portuguese.'
Just like Ajax, Sporting is forced to sell the best players. The current star player Goncalves has been injured and captain Coates has been suspended. Ajax misses Davy Klaassen, who was injured by the Orange squad, who will be replaced as number 10 by Steven Berghuis. By the way: supporter De Castro, formerly soldier in Angola, TV journalist and lobbyist, is also missing on Wednesday. It's harvest time this week at his wine farm, 200 kilometers south of Lisbon.
Overwintering as an almost sacred assignment for Ajax
Source link Overwintering as an almost sacred assignment for Ajax