Education
Princess Laurentien opens 'tree rose fish' exhibition in Education Museum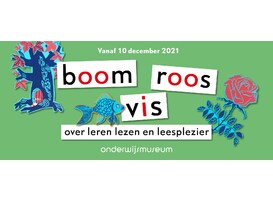 The exhibition tells the story of the Safe Learning to Read method with which millions of Dutch and Flemish people have learned to read. The reading method of Brother Caesarius Mommers started with the well-known triptych 'tree rose fish' and is now in its fifth version. Children in third grade now learn to read with 'i sim'. The 60th anniversary of the method was the immediate reason for the exhibition. But there's more.
Low literacy also addressed
Learning to read is a minor miracle. In the exhibition, for example, the visitor discovers the answer to questions such as 'how do we learn to read?' and 'how important is it that we keep reading?' Current questions now that there is increasing de-reading and low literacy among young people. This issue is also explicitly addressed in this special exhibition. The Education Museum is pleased that Princess Laurentien, who has been committed to people who have difficulty reading and writing for more than 10 years, will open the exhibition on 9 December.
Lots to experience
The exhibition focuses on reading pleasure and there is plenty to experience. In the Letterbos children are challenged to play with letters and in a forest full of life-sized illustrations everyone can read, be read to, discover books, participate in a treasure hunt and try to escape from Paul van Loon's De Griezelbus escape room. Of course there are also a lot of books. Cheerful, exciting, adventurous, romantic and scary: you'll find them all in 'The ideal school library'.
Reading with a warm heart
The exhibition has been made for a broad target group: from children and their (grand) parents, to teachers, PABO students, pedagogues and anyone who cares about reading in the Netherlands. The exhibition also has a rich educational programme, extensive fringe programming and surprising holiday programming. The website contains the most current information.
By: National Education Guide
Image: National Education Museum
Princess Laurentien opens 'tree rose fish' exhibition in Education Museum
Source link Princess Laurentien opens 'tree rose fish' exhibition in Education Museum