Sports
Project 400: suddenly the Dutch athletes are participating again at the full round – also in Tokyo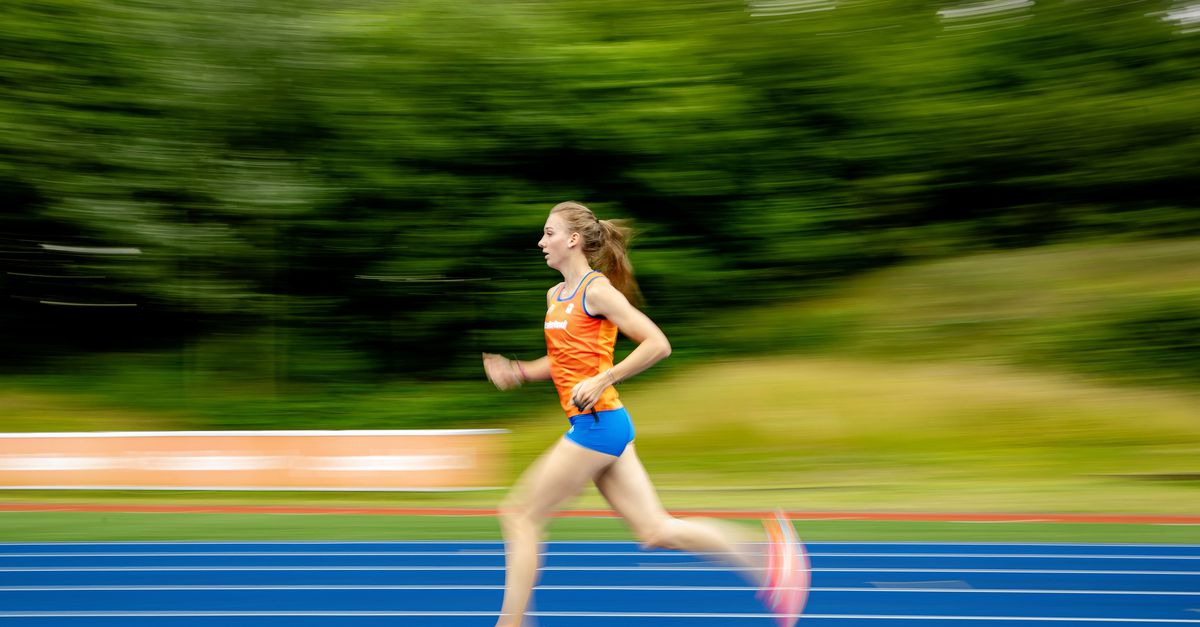 In the restaurant of Hotel Papendal, a group of about six athletes are seated at the table, most of them with their telephone in hand. They are 400-meter runners, recognizable by their impressive stature – broad-shouldered, long limbs, tight jawline. They are clearly having a good time together, right after lunch and before the strength training starts. It is a happy company, even now that a decision will soon be made about which of them will be allowed to go to the Tokyo Games, and who will drop out at the last minute. If you didn't know better, you might have the impression that a group of friends are discussing the plans for the summer holidays here.
A few tables away, Bram Peters (29) watches the scene with satisfaction. It concerns his athletes, and those of his fellow trainer Laurent Meuwly from Switzerland. Together they started 'Project 400' two and a half years ago, an ambitious plan to take the 400 meters in the Netherlands to a higher level. It is one of three GAP projects – shorter before close the gap – in which the technical leadership of the Athletics Union in October 2018 designated javelin throw, pole vault and the 400 meters (hurdles) as parts that Dutch athletes, who are above average tall and strong, should be physically well. In Belgium they have had world champions in the 400 meters for years. The men's relay team, nicknamed Belgian Tornados, took bronze at the 2019 World Championships in Doha. The idea at Papendal was: we should be able to do that too.
The Netherlands has a fairly rich history in the 400 meters. Esther Goossens, Harry Schulting, Arjen Visserman – they ran times in the eighties and nineties that meant they belonged to the European sub-top. And even now there was enough talent on the Dutch athletics tracks. The only thing that needed to be added was structure.
That was missing in the period after the Rio Games. Specialists in the 400 meters trained with a sprint coach, the American Rana Reider, but when he unexpectedly returned to the US, all sprinters, including those of the 400, ended up with Bart Bennema. And he already had his hands full with Dafne Schippers and Nadine Visser.
In the meantime, Bram Peters, himself a more than creditable 400-meter runner with a best time of 45.9 seconds, had started a top coach training at the Athletics Union. After ending his career early due to injuries and motivational problems as a club coach at Ciko'66 in Arnhem, he had the then only 19-year-old Femke Bol under his wing and saw that he had to grow with her level to continue to guide her.
Also read: 'Press, press, front side, knee high!' – In the head of Femke Bol, the new sprint phenomenon

Just before the end of the eighteen-week trainer course, he received a phone call from technical director Ad Roskam. Whether he could start at the Athletics Union immediately. As a talent coach, he would work with, among others, Meuwly, the Swiss who had let mediocre runners win relay medals together by perfecting the substitutions. Exactly what was expected of him in the Netherlands, with not often an absolute world top. Project-400 was started not long after.
Russian and Polish literature
Peters and Meuwly started in April 2019 with a group of three athletes: Terrence Agard, Eva Hovenkamp and the best 400-meter runner at the time, Liemarvin Bonevacia, who left for Bahrain not long after, but returned during the lockdown. The restrictions in the oil state were so far-reaching that Bonevacia was barely able to train. He was welcomed with open arms at Papendal, but a lot had changed during his absence.
Laurent Meuwly drew in part from Russian and Polish literature for his training programmes. It resulted in elaborate schedules, emphasizing endurance, which he applied to all his runners. Everyone kind of did the same, says Peters. But according to him, you can approach the 400 meters in all kinds of ways. The training had to be adapted accordingly.
Some view the one-lap race as a long sprint and see when the lights go out, while others start conservatively and hope they can maintain their speed until the end. One thing is certain: on the last fifty meters the body screams 'stop'. Athletes get an iron taste in their mouths because lactic acid is pumped through the body. That is released when oxygen debt occurs – the mind demands more than the body can handle. At that point it comes down to what Peters calls "readiness to die." The mental ability to go through a wall. It's about motivation, about fear of the pain, awe of the opponents. Can the athlete straighten his shoulders and surrender to the acidification with full surrender?
The 400 meters is seen by connoisseurs as the most feasible part of athletics, because you can go far with very hard training. The 400-meter runner doesn't necessarily have to have incredible speed or an absurd ability to absorb oxygen. Both aspects can be built up to a certain extent. With the right training.
As an athlete, Peters had experienced it himself: when he had to do speed workouts, he blew his buddies away, but when they completed longer sessions that called on his aerobic energy system – his endurance – he was outclassed. On the trainer course he learned about British 400-meter runner Christine Ohuruogu, Olympic and world champion. When she switched to Rana Reider, the former coach of Dafne Schippers, her progression stagnated. She did get faster on short distances, but not on the 400 meters. She was also often injured because her hamstrings could not tolerate the speed work. It wasn't until she picked up her old workouts, with slower, longer runs, that she made progress again.
Peters calls her a diesel, a runner that starts slowly, but can maintain a high pace for a long time. At the other end of the spectrum, you have the flyer; it flies off the starting block, and breaks down completely at the end of a 400 meters. It was this distinction that he and Meeuwly wanted to apply to their new training group.
Light-footed and lanky
With Femke Bol and Lieke Klaver, training buddies and friends, it is clear. You can see it in their physique as well as in their running style. Bol – light-footed, lanky – starts calmly and sets up in part two of her races; she is an extreme diesel. While Clover – muscular, heavily built – flies out of the blocks and starts to cramp after 250 meters; a typical flyer. Among the Dutch men, Bonevacia is such a runner. The young 400-meter runners Nout Wardenburg and Jochem Dobber are exactly in between in terms of profile. They followed a neutral programme, with duration and speed.
The flyers of the group suddenly had a lot less time to train. According to Peters, it made no sense to let them do as much size as the diesels. That would build up unnecessary fatigue and that would be at the expense of the shorter but more intensive sessions with which they were supposed to make the difference. At first, this approach met with resistance. Flyers feared they weren't doing enough. Until they saw that they were moving forward. They were going to do what suited them.
The training approach is not unique. In large sprint countries such as the United States and Jamaica, a 400 meter endurance based or speed based approached, which amounts to the same thing. But in those countries the vast majority of runners are flyers. It often concerns sprinters who are not good enough in the 200 meters and then move on to the 400. "If you look at the history," says Peters, the winners at the major tournaments are almost always flyers." It is one of the reasons why Femke Bol has more medal chances in the 400 meter hurdles than in the 400 flat. That race lasts about 4 seconds longer, which is favorable for a diesel.
What is unique, Peters thinks, is the refinement of the schemes he makes with Meuwly. They work with a self-devised system in which all athletes twice a year in different parts – key performance indicators – receive a number, from 0 to 10. They then enter into a conclave about the outcome and the meaning. The vision: "We believe that you should make athletes good enough for their weaknesses and even better for their strengths. We want to get weak points on at least a 6, strong points on a 10."
Goals in a picture frame
At the beginning of the season, each athlete is checked for acceleration, cruising speed between 50 and 250 meters, maximum speed, contact time on the ground, efficiency. That test is set against the final goal of that year; a time formulated by the coaches. In order to achieve that goal, Peters calculated what is needed per variable. He keeps track of everything accurately in files. Numbers in green mean that an athlete is on the right track. With red there is work to be done. This way athletes can see at a glance how they are doing. They take the numbers very seriously. Femke Bol recently asked for a printout of her goals. She put them in a picture frame for her bedside table. She wakes up with it and goes to bed with it. That applies to the entire 400-meter group. Peters: "No one comes to a training without a mission."
He has been working on tests by segment for a year to be able to assess athletes more objectively and create even better schedules. Then he often sits late into the night behind his laptop tinkering with all kinds of models, custom-made for fourteen athletes. It resulted for Tokyo in the largest Olympic delegation in the 400 meters ever. At these Games, the Netherlands competes in the 400 meters (men and women), the 400 hurdles, and three relay numbers, with the mixed 4×400 meters being a new part.
But it's not just the math that makes the 400-meter group so strong. With his background as a sports teacher, Peters likes to devise alternative exercises for the warm-up, often in competition form. Then he makes his athletes do the craziest things, as if it were a school class. "Then we are completely limp", Lieke Klaver would say later. "It's like we're pupils again. It works very well for team building."
Support and correct
Something unique has emerged at Papendal in the past two years, that much is clear. Part of the 400-meter group lives together in a house near the national sports center. Two athletes even got into a relationship. They support each other when someone is injured, and correct when someone is not motivated. At other times, they compete in training as if it were a competition. They can relate to each other, traveled as a group of friends to the Games. And that's how they look, Friday evening in the catacombs of the Olympic stadium.
Jochem Dobber, Lieke Klaver, Lisanne de Witte and Ramsey Angela have just finished almost eight seconds off their national record in the mixed relay. They qualify as second for Saturday's final, behind Poland. It was only the third time they ran the discipline, but still. All four of them run for a long time. When Angela sits down on a chair for a moment, Clover puts her arm around him. The chemistry is off. And the good sense too. Angela, grinning: "You can expect fireworks." They are going to compete for Olympic gold.
The four didn't hear who was going to walk until three o'clock on Friday afternoon. Meuwly and Peters can choose from six men and seven women. An unprecedented opulence. "That way they keep us all on our toes," says Dobber. "We have to ready are." And De Witte: "Everyone is hungry."
The other medal chance for the group of friends is for Femke Bol, next Wednesday, in the 400 hurdles. She suddenly ran 52.37 seconds in Stockholm at the beginning of July. That was almost a second below her national record, and the fourth time ever. Even Peters didn't see that coming. In a perfect race, he estimated her to be 52.75 seconds.
It was much harder than he could have imagined. With her, and also with Project 400.
Project 400: suddenly the Dutch athletes are participating again at the full round – also in Tokyo
Source link Project 400: suddenly the Dutch athletes are participating again at the full round – also in Tokyo