Education
Rotterdam University of Applied Sciences has appointed Anja Overdiek as professor of Cybersocial Design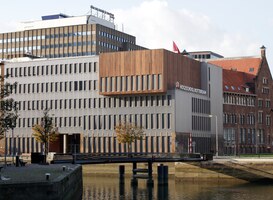 The Executive Board of Rotterdam University of Applied Sciences has appointed Dr Anja Overdiek as professor Cybersocial Design at Kenniscentrum Creating 010. In this capacity, Overdiek will focus on (learning to) design solutions for complex social issues. In doing so, she makes an important contribution to the ambition of Rotterdam University of Applied Sciences to bring education and research closer together and to connect regional professional practices, which are aimed at increasing social resilience through digitization. This is reported by the Rotterdam University of Applied Sciences.
Digitization and globalization have resulted in social issues becoming increasingly complex. Everything seems to be connected with everything and the increasing use of artificial intelligence presents opportunities, but also challenges. For solutions, existing institutes and disciplines must work together. Designing in and for these networks is complex, but can add a lot.
Cybersocial Design is 'Social Design', but focused on the design of digital applications. The professorship of the same name conducts research in collaboration with study programs and design agencies with the aim of opening up new possibilities and supporting governments and companies in their transition to circularity and inclusivity. This is in line with Rotterdam's ambition to position itself as a 'Smart and Social City'. An example is a collaboration with initiatives for local and sustainable food systems that can be facilitated and connected through digital designs.
Accelerating transitions
Anja Overdiek is also an Associate Lector at the Mission Zero Knowledge Center of The Hague University of Applied Sciences, where she specializes in living labs as an environment for the energy transition. Previously, she worked as Manager Europe of an international IT and telecom communication agency and facilitated various transition processes with her own company. Overdiek obtained his PhD from the Freie Universität Berlin (Germany) in 1998 on research into social movements and their knowledge production. She has been working with design researchers on social themes for ten years.
By: National Education Guide
Rotterdam University of Applied Sciences has appointed Anja Overdiek as professor of Cybersocial Design
Source link Rotterdam University of Applied Sciences has appointed Anja Overdiek as professor of Cybersocial Design