Education
Schools can remain open, but with walking routes and mouth caps on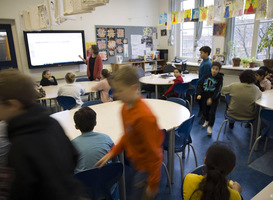 Schools are urgently advised to install walking routes in the buildings, whether or not again, and to stagger breaks. Where possible, the advice is to divide classes into smaller groups and to ensure that they do not come into contact with each other. For students in the upper years of primary education (groups six to eight) and in secondary education, the urgent advice applies to take a corona self-test twice a week, also for vaccinated people and students who have had corona.
Mouth caps on when moving
Students under the age of 12 who have mild complaints should stay at home. The rule was that they only had to stay home if they had a cough and fever. The measure has therefore been tightened. Finally, it has been agreed that all students at school must wear face masks when they move.
safe education
Earlier this week, the VO council indicated that it would like the schools to remain open. The General Education Association (AOb) also stated that it is important to keep education safe and that additional measures are desirable for this.
Secondary education also reacted with pleasure this week to the news that all sectors in education may remain open. School is of great value as a "learning and living environment" for MBO students, the MBO Council stated. Educational institutions are also well able to provide a safe working environment, emphasized the Association of Universities of Applied Sciences. Universities are also working hard to "continue to provide safe and responsible physical education", according to a spokesperson for the Universities of the Netherlands, formerly VSNU.
75 students per room
In secondary education there was already a maximum group size of 75 students per room. A face mask must also be worn outside classrooms and lecture halls.
By: ANP
Schools can remain open, but with walking routes and mouth caps on
Source link Schools can remain open, but with walking routes and mouth caps on