Education
Second national strike day Childcare on September 14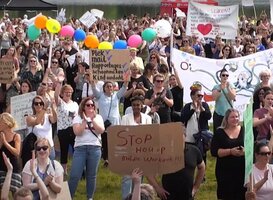 The FNV members working in childcare are furious at the bad collective labor agreement that employers' umbrella organizations BK and BMK have signed with the smaller trade union CNV. This does not contain any improvements for tackling the high workload in the short term.
"Since the first national day of strike on July 8, where more than 3,000 angry childcare employees were present, we have not heard anything from the BK or BMK," says Debbie van Leiden, FNV director of Childcare. "They continue to completely ignore the call for improvement of the high workload and only look to The Hague for long-term solutions. This can take years, while some of those workload problems cannot even be solved in The Hague. Think of the annual hours system and the availability day. These are regulated in the collective labor agreement and the employers themselves are and remain responsible for this."
Past actions and strikes
On July 1, 500 childcare workers from Noord-Holland and Almere kicked off with the first strike in 20 years on Dam Square in Amsterdam. The original idea was to organize more regional strikes afterwards, but because of the collective labor agreement that was unexpectedly concluded with CNV, the FNV immediately scaled up to a national strike. This took place on 8 July with more than 3,000 strikers who gathered in Nieuwegein to express their displeasure. Van Leiden: "As long as the employers do not want to adjust the bad agreement, the FNV will continue to fight with its members for improvements."
Concrete proposals FNV
One of the FNV proposals is that employers will adjust the group size. The group size that is legally established in the IKK Act sets limits to the maximum number of children in a group. However, it is an employer's choice to decide whether they want to make the groups smaller. In addition, the FNV members want the group helpers to return, so that they can devote all their attention to the children, instead of the dirty dishes.
The employees also want the availability day to be abolished. As a pedagogical employee you must be available on this day with the possibility that you will be called up. You won't hear that until that morning. Many young mothers work in childcare, who have to arrange (paid) care for their children in advance. The FNV wants this day to be abolished and hours to be included in the schedule. That offers much more security.
By: ANP
Second national strike day Childcare on September 14
Source link Second national strike day Childcare on September 14