Netherlands
Simone Biles had to perform for America. Now she's teaching the world: not being perfect is okay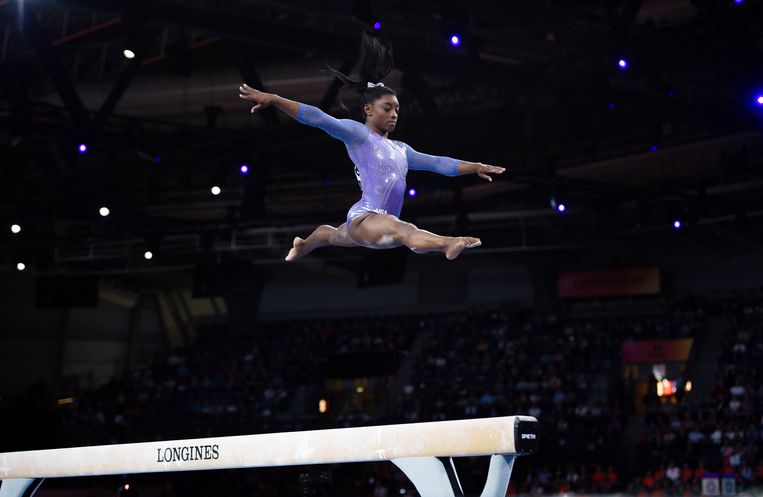 According to Time Magazine the right listener could have seen it when Simone Biles walked into the Ariake Gymnastics Center on Tuesday. "The expression on her face said it all." No smile, but a serious and even cracked facade. Anyone who thought she would perform a sublime double-angled Yurchenko as an aperitif – a breakneck jump she performed as the first woman in competition in May – was disappointed. Biles missed her slightly easier Yurchenko by two and a half screw, got one of her lowest scores ever and surprised the world with a very different message. "I'm done," she told one of the trainers.
"It just sucks when you're fighting with your own head," Biles said at the press conference afterwards, in which she clearly indicated that she was struggling with her mental health. Biles also dropped the all-round final "after a thorough medical evaluation", according to the statement from gymnastics association USA Gymnastics. Whether she will participate in the individual finals next week is highly uncertain.
Olympic shock

The story provides an Olympic shock. Simone Biles, who won four gold medals in Rio and went to Tokyo as the absolute star of the American delegation – or indeed of all athletes – to do that trick again. Who seemed unbeatable. Who entered the US Classic earlier this year with a kid in her tights: the GOAT, greatest of all timesof the gym.
BIO
• Born 1997 in Columbus, Ohio
• Adopted by her grandfather Ron when she was 6
• Seven-time American Champion and five-time World Allround Champion
• Won four gold medals (team, all-round, floor and vault) and one bronze (beam) in Rio 2016
• Testified in 2018 about abuse by the American team doctor Lawrence Nassar
• Leave Nike this year for female sports brand Athleta
• Covers from, among others vogue and Time Magazine
• Has a relationship with American Football player Jonathan Owens
Yet it does not come out of the blue. A week before leaving for Tokyo, Biles replied as follows, when The New York Times asked about the happiest moment in her career. "Honestly, maybe the free time I took." In 2017, Biles took a sabbatical, which included participating in the program Dancing with the Stars.
At the press conference, Biles said: "This Olympics, I wanted to do it for myself, but it felt like I was still doing it for other people."
Unwanted intimacies

Not everyone reacts equally understandingly to Biles' choice, but at the same time the support via traditional and social media is overwhelming, and other top athletes also support Biles. The other American giant, ex-swimmer Michael Phelps, among others, agrees with NBC how heavy expectations can weigh on the Games. "It was hard for me to ask for help." Phelps struggled with depression and suicidal thoughts after London 2012. "We are all human. Nobody is perfect."
Perfection. Biles seems to have struggled with that expectation for some time. Last year she gave in a cover interview with vogue She said she felt she had let her fans down because America wants her to be perfect. Please note: that statement did not concern a sporting achievement, but her testimony about sexually transgressive behavior within the American gym federation.
USA Gymnastics would have long looked away as Larry Nassar, a doctor on the national team, physically and emotionally abused hundreds of female athletes, it turned out just weeks after the Games in Rio. At the beginning of 2018, Biles publicly announced that she was a victim of sexual harassment. In the months that followed she slept a lot, she said in voguebecause that was "the closest thing to death without hurting myself".
Biles has not had an obvious childhood anyway. In her early years in Columbus, Ohio, she tumbled in and out of foster care as her mother struggled with drug addiction. Sometimes she watched as the cat was fed, and the children nothing. Her grandfather Ron adopted Biles when she was six, along with her younger sister Adria. She ended up in a white community in Houston, where her talent for groundbreaking, feline gymnastics was quickly recognized.
It will later get her four gymnastics elements named Biles and a mountain of gold medals. She has won every major all-around final since 2013, except for the 2017 World Cup where she did not compete. "Simone is so good that the rest can only hope to finish second all-round," said her teammate Sunisa Lee. Actually, Biles doesn't have to prove anything anymore.
Naomi Osaka

Why is it so hard today? There is no single answer, but the abuse story left a big scar anyway. Although the U.S. Olympic Committee invested in psychological support — according to ex-Olympian Aly Raisman, there was "no real access to mental health experts" in 2016 — Biles lives with the feeling that the unions were letting her down. She is the only one of Nassar's victims – or at least of those who came out before that – who is still active on the American team.
Before the Games, Biles stated that the year's postponement was heavy because she had to work with USA Gymnastics for another year. She didn't care much about it: she would represent the US and all colored girls all over the world with great pride. But: "At the end of the day, I'm not representing USA Gymnastics."
Maya Angelou

In order to be able to continue to deal with the pressure at the absolute top, a stable, warm relapse base is essential, according to sports psychologist Jef Brouwers. "Unfortunately, this is not obvious in top sport, because the hard law of 'up or out' is often used," says Brouwers, who supervises the Belgian gymnastics team in Tokyo. Note that the following words have recently been tattooed on Biles' collarbone: 'and still I rise', after a line in the poem by poet and civil rights activist Maya Angelou.
But according to Brouwers, we must not forget how Covid-19 has caused athletes to lose "the predictable element" and end up in a routine of rigorous testing and safe bubbles. "And there are more and more people who have an opinion ready 24/7 and question everything. All those things are drops that make the camel overflowing."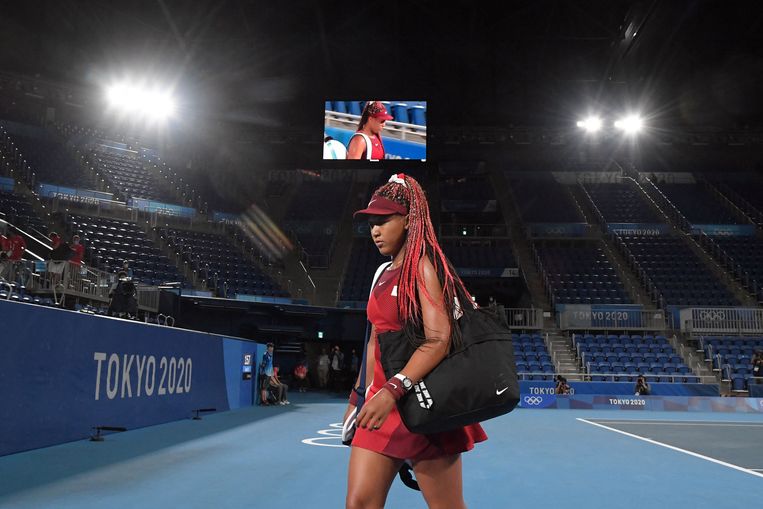 It is no coincidence that tennis player Naomi Osaka, the Japanese signboard of these Games, turns out to be a shadow of himself at the same time. After her loss of eighth finals on Wednesday, she stated: "I feel like my attitude wasn't that great because I don't really know how to handle that incredible pressure." Earlier, at Roland Garros, she refused to speak to journalists because of mental problems, after which the organization threatened fines and she resigned. She was also not there at Wimbledon.
During the press conference a day earlier, Biles called Osaka "an enormous source of inspiration" to take a step back, "even on the very highest stage". While those statements turned out to be unfortunate – "Look at her now, she's back at the Games and dominating" – there is some truth to it. Look at Tom Dumoulin. He took a step back, started to recharge and now wins silver in the time trial. He has experienced cycling as fun again in recent months.
Nike

Whether it is possible to charge the battery for the individual finals in such a short period of time is questionable. "Nobody knows what goes on in Simone Biles' mind, but if the spring has been stretched too far, you won't suddenly be able to get it right again," Brouwers fears.
Whether that is necessary is another matter. With the message she is now sending out, she may have more impact than with (another) gold medal. She is also not ready for her test. Biles tells her compatriots to vote, condemns violence against Asian Americans, is vocal about Black Lives Matter and notes that electricity and clean water should be more accessible. She left sports giant Nike in May after the company was criticized for its treatment of female employees and athletes.
In Tokyo, Biles shows himself vulnerable and human. Some will call that a weakness. Or you can approach it like CNN: "This is the most GOAT thing Simone Biles has ever done."
Simone Biles had to perform for America. Now she's teaching the world: not being perfect is okay
Source link Simone Biles had to perform for America. Now she's teaching the world: not being perfect is okay