Education
Start final exams, many complaints at LAKS and reverse school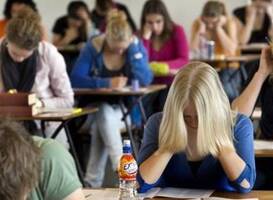 Monday: Final exam schedule 2022: this is the planning for vmbo, havo and vwo
The final exams in the first period will start this week! Pupils in vmbo, havo and vwo have their first final test on Thursday 12 May. What's on the agenda for the coming weeks? And what is different this year from previous years? This is the final exam schedule with an explanation of the exams in a year when corona seems to be slowly disappearing, but is still there.
Tuesday: 24-hour daycare Stadskanaal opens its doors in June
The 24-hour daycare 'Mamasthee' will open its doors next June. The shelter is an initiative of a couple who, after the birth of their daughter, had to deal with the question of how children of parents with irregular shifts could be cared for.
Wednesday: New construction of primary school stopped: 'The back is now at the front'
Primary school Tweemaster-Kameleon in Oost-Souburg is getting a new school building, but construction is currently on hold. The building was built the wrong way round. The foundation and the skeleton of the building are already finished, even the roof is already on it. Now it only appears that these have been rotated 180 degrees with respect to the drawings.
Thursday: Inform Ukrainian parents in time about 'shorter' summer holidays in the Netherlands
The Ministry of Education, Culture and Science advises schools to properly inform parents of Ukrainian students about the summer holidays in the Netherlands. This summer vacation is relatively short compared to what they are used to in Ukraine. In this way we can try to prevent any wrongdoing.
Friday: Above average number of complaints on the LAKS complaint line on the first day of exams
The complaints line of the Landelijk Aktie Komitee Scholieren (LAKS) received more than 31,000 complaints on the first day of the central final exams. "That is above average, especially for a non-corona year," said a spokeswoman for the LAKS. Most complaints concerned the Dutch exam for vwo, followed by the German exam for havo.
By: National Education Guide
Start final exams, many complaints at LAKS and reverse school
Source link Start final exams, many complaints at LAKS and reverse school