Education
Students deserve a better foundation and you plant that seed at school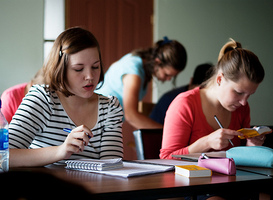 For this reason, Minister Dennis Wiersma (Primary and Secondary Education) is presenting a master plan for the basic skills of language, arithmetic/mathematics, citizenship and digital literacy in primary and secondary education.
The base
Wiersma: "Teachers do much more than teach students to read and write. They are arguably the most important link in child development. They offer a listening ear when children are being bullied or are not safe at home. And they teach children, for example, in the broadest sense of the word, how the world works around them. Yet we agree that children should also learn those basics. People simply cannot live without being able to read, calculate or know how the (online) world works. Whether you have to write a letter of application, do your banking, or, for example, want to vote carefully. No matter how hard teachers try, we see that that foundation needs to be strengthened. That is why we are going to help teachers and school leaders better and more specifically to help students move forward. This is not a question of more work, but of more focus. Let's reverse the trend now."
Many social issues end up on the school board. Important matters in themselves, but that means that teachers sometimes no longer see the wood for the trees. We therefore ask schools in both primary and secondary education to focus already on improving the basic skills of language, arithmetic/mathematics, citizenship and digital literacy. Some schools need extra help with this. That is why some 500 schools will receive extra money next school year to improve basic skills. With this money they can, for example, teach an extra hour a day in the basic skills for specific students.
Expert support team
For schools that cannot organize this with their existing team, extra support is available from a support team of experts. They go to schools to carry out a tailor-made plan together with the team of teachers. Extra hands at work in the school, under the direction of the school itself. This will help tens of thousands of students in the coming school year. Schools are not alone in this.
Improvement plans
Much is needed to sustainably and structurally improve education. In the meantime, we are working together with the educational field, but also with scientists and social organizations on further improvement plans for the coming years. So that teachers have the space to become even better and to do their work with the right teaching materials. They must have a clear assignment, so that it is crystal clear what students should know and be able to do. And we want a better view of the results of students, where things might go wrong and how we can improve this. In addition, we are also looking at how, with the help of the library, we can get extra attention for reading and books at school.
This cabinet allocates 1 billion euros annually to improve the quality of education, such as updating basic skills. In addition, last month Minister Wiersma concluded an Education Agreement with the trade unions and the PO Council and Secondary Education Council, in which 1.5 billion euros is invested annually in teachers, school leaders and other staff.
By: National Education Guide
Students deserve a better foundation and you plant that seed at school
Source link Students deserve a better foundation and you plant that seed at school