Education
Surcharge parent against Rutte in RTL debate: why can you stay?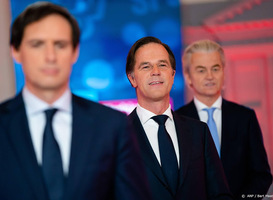 "Why do you think you can stay?" Prime Minister and VVD party leader Mark Rutte was confronted with that question during RTL's live election debate. Kristie Rongen, one of the victims of the benefits affair, faced the prime minister. "You have abandoned me, and all for your own gain," she snapped.
Rongen is one of the thousands of parents who got into financial trouble because of the tax authorities' fraud hunt that went off the rails. She had to repay enormous amounts of childcare allowance.
"Wow", said Rutte at the introduction of Rongen. "Very special that we are here like that." The Prime Minister explained that Rongen is one of the parents he spoke to at the Catshuis before. Rongen wanted to know why former minister Lodewijk Asscher has stopped as party leader of the PvdA, but Rutte stayed on. The VVD leader said he had "thought" about his political fate. "This is such a shame." But "on balance" much good has also happened under his responsibility, says Rutte.
"What you have experienced is terrible," he said to Rongen. He emphasized what the government has done in response to the benefits report to prevent citizens from getting into such trouble in the future as a result of the actions of the government.
The party leaders not only faced each other, but were also all confronted with a voter on a specific topic. Kaag faced a farmer who opposed D66's plan to halve the livestock population. Hoekstra spoke with entrepreneurs who had to close their restaurant doors for almost a year.
Wilders met a woman of Moroccan-Dutch descent who questioned him about his immigration and integration standpoint, and Klaver spoke to a student who expressed her dissatisfaction with the abolition of the basic grant. An entrepreneur who often works with the self-employed, wanted van Marijnissen to explain SP views on self-employed people without employees (self-employed persons).
By: ANP
Surcharge parent against Rutte in RTL debate: why can you stay?
Source link Surcharge parent against Rutte in RTL debate: why can you stay?