Education
SURF Education Awards awarded online for the first time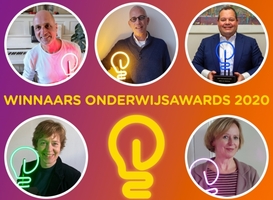 During the online edition of the SURF Education Days 2020, awards were awarded to five education professionals who contribute to educational innovation nationally and internationally. Eric Slaats (Fontys Hogescholen), Marja Adjustle (Leiden-Delft-Erasmus Universities), Robert Schuwer (Fontys Hogescholen), Ulrike Wild (WUR) and Willem van Valkenburg (TU Delft) received their SURF Education Award by Christien Bok, Innovation Manager Education at SURF. SURF reports this.
The five winners were surprised in a video call in which Christien Bok awarded them the SURF Education Awards 2020. Their enthusiastic reactions can be seen in a video that was revealed to the hundreds of participants during the first day of the SURF Education Days. "It is incredibly impressive to see how these five people have been committed for years, freely sharing their knowledge and commitment with others and thus getting so much done. It is a tremendous honor to be able to award them this award on behalf of SURF, "said Bok.
Since 2015, SURF has been awarding annual awards to people from the educational field (MBO, HBO and WO) who are committed to educational innovation using ICT.
The extensive descriptions of the winners, reactions from their colleagues and a full explanation from SURF about the choice for them, as well as links to the winners of previous years: https://www.surf.nl/surf-onderwijsawards.
By: National Education Guide
SURF Education Awards awarded online for the first time
Source link SURF Education Awards awarded online for the first time