Education
'Swimming lessons 100,000 children on the road through mandatory collective labor agreement for the swimming industry'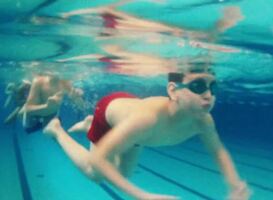 The sector can be divided into public swimming pools, which include municipal swimming pools with a commercial operator, and private swimming pools, which include swimming schools and commercial swimming pools. In total there are about 1,900 swimming pools and swimming schools. 100,000 children take swimming lessons at the commercial pools. Among them are a few major players such as the National Swimming Safety Council (NRZ), the Royal Dutch Swimming Association (KNZB) and the Association of Employers in Swimming Pools and Swimming Schools (WiZZ).
Lots of consultation
During the corona crisis, there was a lot of consultation between these parties with the Ministry of Health. The WiZZ has clearly indicated around the closure of the swimming pools that they cannot stand up for swimming schools because they have no one on the board on their behalf. Their membership therefore largely consists of public swimming pools with a commercial operator.
While commercial baths had to scrape everything together to survive, public baths were able to receive support from the Specific Benefit for Ice Rinks and Swimming Pools (SPUKIJZ), which had to close the operating deficit caused by lockdowns and measures, according to De Winter.
Mandatory collective labor agreement
In 2021, the WiZZ, together with the trade union FNV, decided that the staff in all swimming pools should be obliged to fall under the collective labor agreement. "The WiZZ, which therefore represents little or no commercial swimming pools, has acted incorrectly by pretending that they would also do this in the interest of commercial swimming schools," says the chairman of the NSZW.
"A swimming school currently uses salaries in accordance with the Collective Labor Agreement for Swimming Pools 2021. This already includes an increase because the minimum wage gives little appreciation. Looking at one of the requirements of the FNV to also upgrade the minimum wages in the commercial branch to at least 14 euros, the wage bill will increase by 30 to 40 percent."
Pass on costs
In order to keep your head above water, the costs will have to be passed on in the swimming lessons. Together with the increased energy prices, this results in a 25 percent increase in costs for the providers of swimming lessons. According to De Winter, the children who now swim at the private parties should not be the victims.
"Should the commercial branch be obliged to participate in the Collective Labor Agreement for Swimming Pools, then the Hague should also provide funding to absorb the extra costs. In this way swimming diplomas remain affordable and parents do not become the victims of this."
By: National Education Guide
'Swimming lessons 100,000 children on the road through mandatory collective labor agreement for the swimming industry'
Source link 'Swimming lessons 100,000 children on the road through mandatory collective labor agreement for the swimming industry'